To say that life has been hectic recently is an understatement.
The last 5 days have included a wedding, my very first vegan cooking class (for those of you who came, I love you!) and us being in the final stages of moving. Being without a kitchen table and half your cooking supplies in boxes means no time to cook, let alone blog. We've been living off pasta and sandwiches and I refuse to go grocery shopping because I don't to have to haul groceries to our new place. I am REALLY looking forward to our new kitchen and having more space to get creative. I'm also looking forward to planning my next cooking class, since my first one went so amazingly well. I feel like I'm really starting to figure out where I want this blog and my cooking to go 🙂
That being said, this is the last recipe I'll make in the apartment I've lived in for the past 4 years. This is the apartment I learned to cook in (sadly, my first dish was chicken, ziti and broccoli). This is where I became vegetarian and where I started the blog. So, it was only fitting that I go out in style-and this butternut squash risotto is an absolutely fabulous final dish I'm happy to share with all of you.
We'll be back after we've unpacked and set up our new kitchen 🙂 And we'll be looking forward to creating our vegan Thanksgiving menu!
1 butternut squash, chopped
1 1/2 cups Arborio rice
5 cups vegetable broth
1 cup white wine
1 yellow onion, chopped
1 cup dried cranberries, chopped
1 cup raw walnuts, chopped
3 tbsp olive oil, divided
1 tsp sea salt
1/4 tsp black pepper
Cook onions over medium heat in 2 tbsp oil until browned, about 7 minutes
Add rice and cook for 2 more minutes
Add white wine and stir continuously until absorbed
Start adding veggie broth 1 cup at a time, stirring continuously and only adding more once the liquid has been absorbed
Remove from heat and stir in cranberries, walnuts, salt and pepper
Heat 1 tbsp oil in a frying pan and add butternut squash cubes after 2 minutes
Cook over medium heat for 12-15 minutes, or until squash is soft and browning
Stir squash into risotto and serve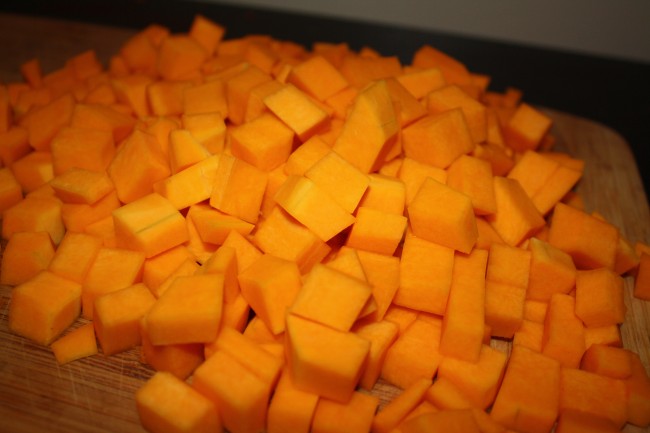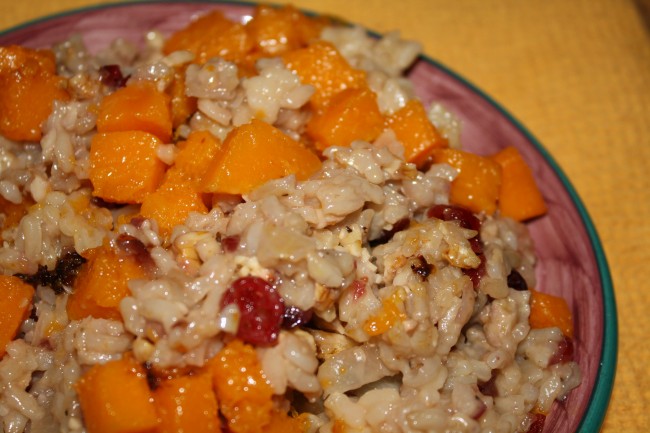 Related posts: