Wow, long time, no post.
It's really been bugging me that I haven't updated in awhile and hadn't come up with any great new recipes. Between our move, Thanksgiving, my birthday AND Christmas I had many opportunities to cook, but not enough time to get creative and especially not enough hours in the day to photograph and blog. Which is a shame, because I had some pretty awesome holiday recipes you'll probably never see because I've already forgotten how I made them!
Now that the year is winding done, I find myself falling into that cliche, "I will get back on track the beginning of 2013!". Bagels, pasta, bread and more bagels (bagel days are now a much anticipated work-week holiday now) have taken precedence in my diet, and I can feel, and unfortunately  see the difference it has had on my body. All the shopping, wrapping and parties means I have also not had time for yoga either.
So, for 2013 I vow to eat ALOT healthier. And to remember to document all my recipes better.
For now, enjoy this unreal recipe I came up with after receiving Dreena Burton's most recent book "Let Them Eat Vegan!". She has a recipe for walnut dressing and I changed it up a bit and paired it with roasted green beans and breadcrumbs. Truly an outstanding side dish, that I've been eating as a full meal 🙂
2 lbs organic green beans, trimmed
1/4 cup organic whole wheat breadcrumbs
1 tbsp olive oil
Salt and pepper to taste
WALNUT VINAIGRETTE
1/2 cup raw organic walnuts
1/4 cup pure maple syrup
1/4 cup water
2 tbsp balsamic vinegar
Juice of 1 lemon
2 tbsp olive oil
1 tbsp dried mustard
1/2 tsp sea salt
1/4 tsp black pepper
Preheat oven to 450 degrees
Toss green beans in oil, salt and pepper
Lay on a baking sheet and roast at 450 degrees for 10-12 minutes
Blend all vinaigrette ingredients together in a blender until smooth
When cooked, toss green beans in breadcrumbs and top with vinaigrette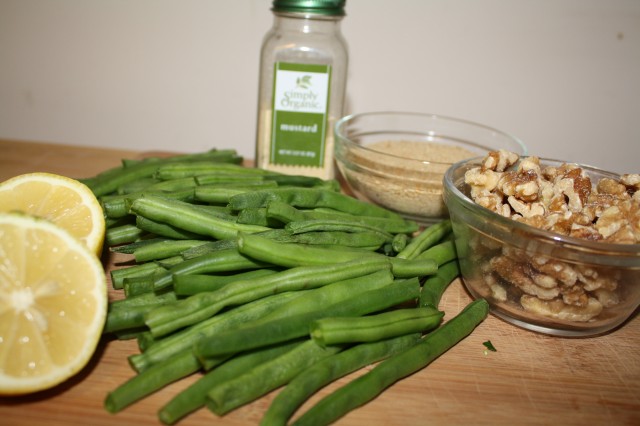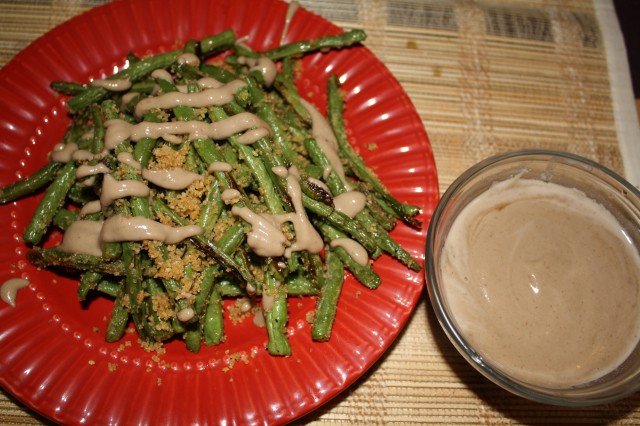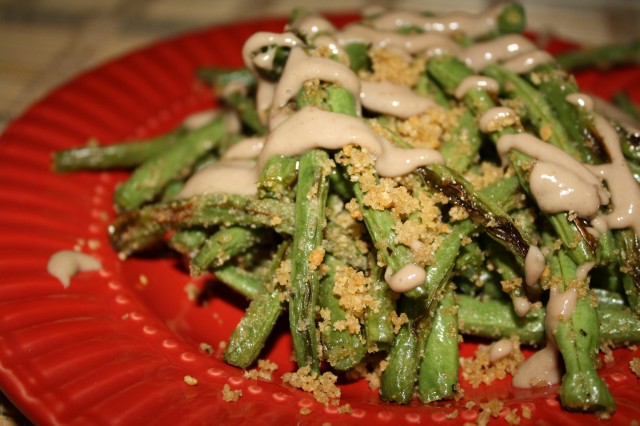 Related posts: