Considering I've never had any version of baked beans in my entire LIFE, I found it rather odd that I had a serious craving for them yesterday. The universe was calling to me. I needed to make these beans.
So without any real clue as to how to make them, or how they were supposed to taste, I just did some minimal research of the carnivore versions of baked beans, and substituted accordingly. They seem simple enough-some spicy, sweet and smokey ingredients are all necessary, but the measurements don't particularly matter. I actually love getting inspiration from omnivore recipes and usually get more ideas from meat-based meals than I do from most vegan sites. I don't rule out recipes that may involve chicken or dairy-I just make then vegan, thus making them better!
And with each serving of these baked beans costing only about 50 cents a pop, their cheap price tag makes them all that more delicious.
Jim's been eating them as is, but I find them super tasty served with chips or over potatoes 🙂
3 cups cooked Great Northern beans
1 package organic multi-grain tempeh
1/2 cup organic sweet BBQ sauce
1/4 cup apple cider vinegar
1 yellow onion, chopped
3 tbsp molasses
1 tbsp honey or maple syrup
1 tbsp organic brown sugar
1 tbsp Dijon mustard
2 tbsp olive oil
3 cloves garlic, minced
1 tsp sea salt
1 tsp dried pepper blend
1 tsp paprika
1 cayenne pepper, minced
1/4 tsp black pepper
Preheat oven to 325 degrees

In a large saucepan, cook cayenne pepper and onion in olive oil over medium heat for 5 minutes
Add tempeh and cook for an additional 5 minutes, stirring occasionally
Add remaining ingredients and stir together until well incorporated
Cover, and bake in the oven at 325 degrees for 40 minutes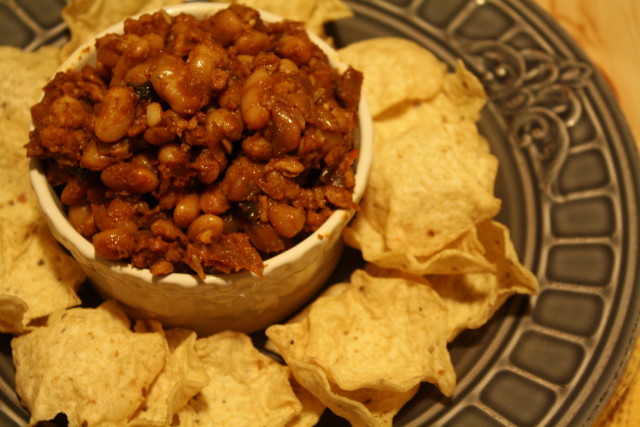 Related posts: