If you're a vegan/vegetarian living in Boston, chances are you've got a decent amount of places to choose from when you're dining out. But if you're out in the suburbs of the city, the odds of even finding an eatery with a decent veggie burger is slim to none.
With so little options close to home, it's difficult for me to enjoy a night out and relish is having someone cook (and do the dishes) for me. But this dilemma has quickly been solved now that the Walnut Grille has opened it's doors in Newton and given us the perfect spot to dine out for brunch, lunch, dinner or just for some organic drinks and appetizers.
It's hard to believe that after being open for just one month, this place has served some 1,800 happy customers and their fan base has amassed so quickly, that they've already got patrons coming in DAILY for a dose of healthy eating-whether it be Bourbon pancakes for brunch, cajun seitan for lunch or organic Tuscan fig and oyster pizza for dinner.
As I awaited a sampling of the menu from head chef and co-owner, Siva Kumar, I slowly sipped on a delicious mango lassi (a  creamy mango puree drink made with tofu and soy milk) and a woman next to me at the bar leaned over and looked as if she had a secret to tell me.
"I've been here almost every day since this place opened," she whispered  And then peered around as if not to let other customers hear and said, "And I'm not even vegetarian!".
It's easy to see why customers, both herbivorous and carnivorous, would enjoy the outstanding dishes served up at the Grille. From upscale pizzas, gourmet "chicken" dishes, garden loaves, veggie lasagnas, coconut-crusted tofu, raw and ocean salads and a plethora of organic boozes, this place has got something for everyone. And the fact that it's placed in such a centrally located suburban spot has it's 50 seats filled with people from all walks of life. Families with lots of kids, enjoying Drums of Heaven-a pureed vegetable pop that is amongst the most favored dishes thus far-sit right next to me. A boisterous group of women meeting for vegan wine, macro bowls and the ever popular Gobi Manchurian, sit center stage and openly rave about their meals. Lots of health-conscious couples and single guys fill the tables, munching on BBQ seitan and nachos, until there isn't a seat left in the house. They had already accumulated a full house on a chilly Tuesday night, and the place is filled with laughter and the feeling that you are amongst friends.
Kumar and co-owner Kaarthy Madhan have stocked the restaurant with an extremely welcoming and warm staff, who are knowledgeable as to what they're serving. Aside from catering to vegans and vegetarian, most of their dishes can be made gluten-free, with many of the ingredients being made from scratch and a good portion of them also being organic. At their core, they are not about just serving cruelty-free meals, but also using quality, locally grown produce and establishing a sense of connection to the community. Kumar especially liked the Newton area because of it's proximity to the city, and the fact that there are so many families close by-families that are raising their children to be more conscious of eating healthy. And you can tell by his repertoire e with every customer that he truly has a passion for the food he serves, which he calls "global, contemporary vegetarian". He also has big plans to do something really innovative-grow both herbs and produce inside the restaurant  as well as construct a rooftop garden to bring his patrons the freshest, organic produce they could possibly have while dining out.
And so on to the really pressing question-what did I eat here?
I can tell you that I don't think my taste buds have ever been as satisfied as they were for dinner at the Walnut Grille. I feasted on "chicken" fingers with house made sweet ketchup and creamy ranch dressing. I was completely impressed with their Garden Loaf which was an exquisite portion of quinoa, amaranth and millet, topped with asparagus and surrounded by a hearty tempeh bolognese sauce. It was a massive and filling meal, but was so intricately designed that it was also too beautiful to eat.
The most shockingly delicious part of this culinary experience had to have been the fact that Kumar magically turned me into a mushroom lover. For those of you who regularly read the blog, you know that I absolutely despise mushrooms and refuse to eat them. Which was true-until I had the pleasure of eating these stunningly simple grilled portabella mushroom steaks with Daiya, walnuts and a red pepper aioli  If the Walnut Grille can make a mushroom enthusiast out of me, then I doubt there is anyone who could find a dish on their menu they wouldn't love.
I imagine I will be stopping by this place at least once a week, when I'm feeling like I need to get out of my own kitchen. This place is truly one of a kind and it's wide variety of such gourmet veggie options set it apart from any other place I've ever been-especially in the Boston area. Bring an empty stomach when you do stop by, because you're going to want to try everything on the menu!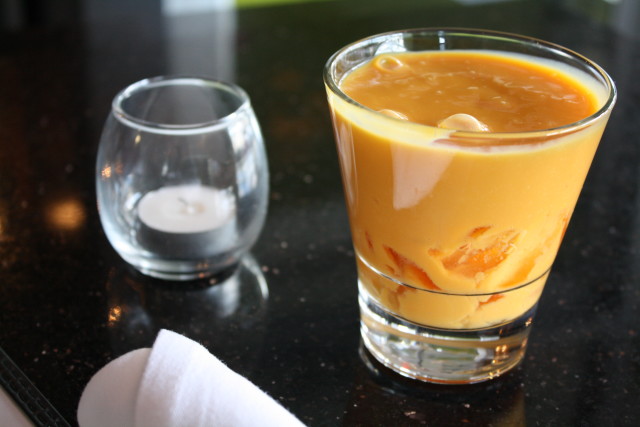 The crazy creamy mango lassi is a traditional Indian drink that I am now completely obsessed with.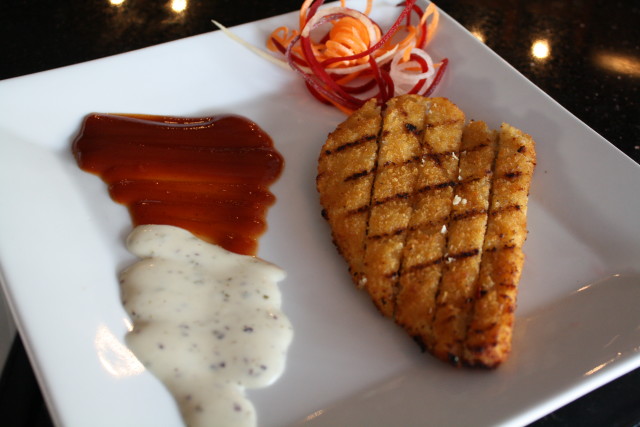 I swear, it's not really chicken! It almost tastes too good to be true…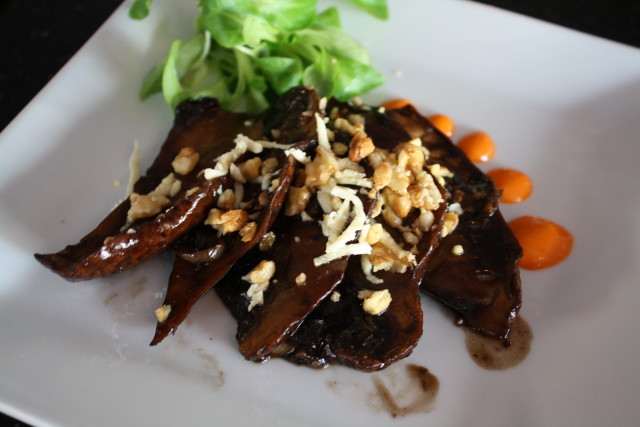 These portabella mushroom steaks may have changed my vegan life.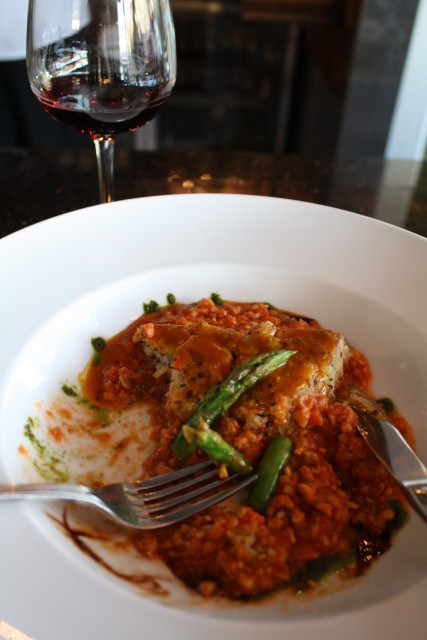 I was so excited to eat this Garden Loaf, that I was more than halfway done before I realized I hadn't snapped a photo. I was distracted by deliciousness.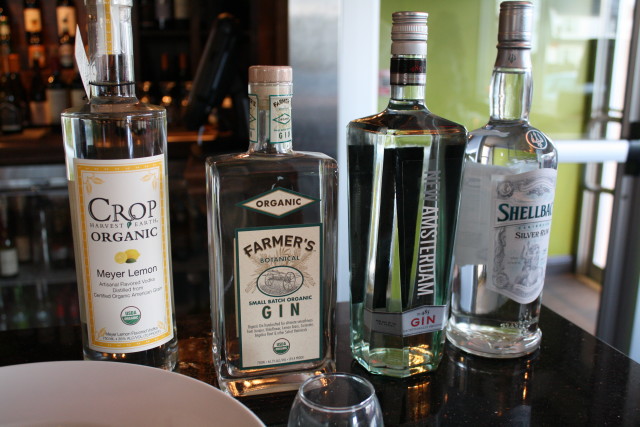 The first time I'd ever seen organic hard liquor. Can I take it all to go, please?
The Walnut Grille
Address: 1203 Walnut St, Newton, MA 02461
Phone:(617) 964-1029
walnutgrille.com
Related posts: