Joining the Virtual Vegan Potluck REALLY turned out to be one of the best decisions I've ever made.
I've connected with tons of other awesome vegan bloggers and found some stellar recipes of all shapes, sizes and ethnicities. It also revived me as a blogger. I've never been one to "follow" or even comment on fellow bloggers sites and that's a big no-no. Developing virtual relationships and being a bigger presence in this ever growing world of vegan bloggers is insanely important to me. And what the VVP made me realize was that as much time as I should invest in my own blog, I should really spend some quality time praising other people for their awesome recipes.
That being said, one of my absolute FAVORITE bloggers I recently found is Luminous Vegans. She has some truly beautiful dishes and the VVP dish that really caught my eye was her sweet potato salad. Void of mayo, I was particularly impressed with the tangy sauce she created out of ancho chiles. I've been trying to brush up on various chiles and peppers, rather than just sticking with my constant cayenne peppers (although, I will always love them). I'm now utterly obsessed with ancho chiles and you'll probably see them in almost every dish I make now.
I barely changed the original recipe from Ketty and it is absolutely, positively the BEST potato salad I have ever had the pleasure of eating.
4 or 5 sweet potatoes, cubed (I didn't have enough so I used some red potatoes too and they were perfect)
2 cups cooked black beans
1/2 cup raw organic cashews
1/2 cup chopped fresh cilantro
1/2 cup water
2/3 cup chopped green onions
1 dried ancho chile, minced
3 cloves garlic, minced
2 tbsp olive oil
Juice of 4 limes (or 3 if yours are larger)
1 tsp sea salt
1/4 tsp black pepper
Boil potatoes for about 8 minutes, or until tender but not super soft

When cooked and drained, immediately run under cold water and let chill
For the sauce, blend cashews, chile, water, garlic, lime juice, olive oil, salt and black pepper until creamy
Mix potatoes, black beans, cilantro and green onions together
Pour dressing over potato mix until well coated
Let sit in the fridge for an hour before serving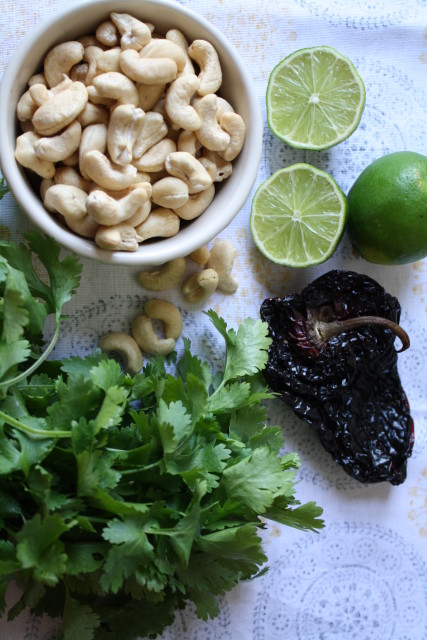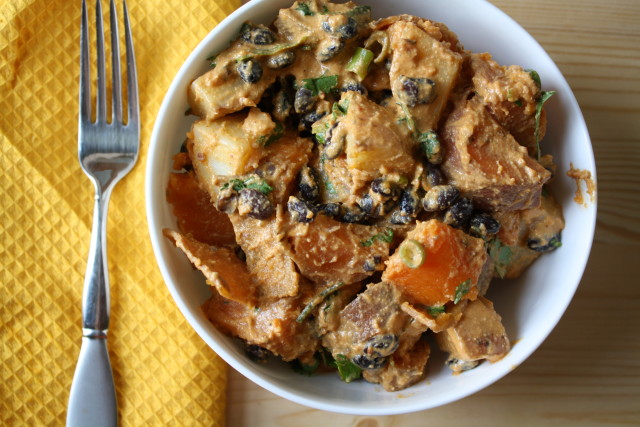 Related posts: