Damn. It's hot.
Almost too hot to blog.
But almost doesn't count…so here I am. Sweating my ass off, cooking over a sweltering stove and then blogging away with my hot laptop nearby. This is the part when I think happy thoughts and reminisce of a short few weeks ago when the miserably cold/rainy weather had me thinking of Thanksgiving recipes, rather than summer salads fresh from the garden.
…happy thoughts, happy thoughts, happy thoughts…
There. Now I feel better.
Adding to my happiness is this bowl of stir fried veggies with brown rice noodles. Or are they pad thai noodles? My brain is clogged by the humidity, but either way they are healthy and light. And great for eating cold in this weather.
I always thought you needed a wok to make a stir fry, but in reality, it's not need (told ya, Jim!). I found that the veggies crisped up nicely in a regular 'ol skillet and it went perfectly with the easy sauce. This will be one of those meals I whip up when I need to rid the fridge and freezer of produce that's starting to wither.
Enjoy—and stay cool!
8 oz package of brown rice or pad thai noodles, soaked in hot water for 10 minutes or boiled for 5
2 cups snow peas, sliced thin
1 cup frozen corn kernels
2 carrots, sliced into matchsticks
1 bunch scallions, chopped
1/2 red pepper, sliced
1/4 cup vegetable broth
1 tsp soy sauce
2 tbsp olive oil
(optional to add edamame and/or broccoli)
STIR FRY SAUCE
2/3 cup vegetable broth
1/4 cup organic soy sauce
6 clove garlic, minced
1/3 cup water
3 tbsp sweet chili sauce
2 tsp organic sugar
2 tbsp cornstarch
*Note: It's fairly important to try and coordinate cooking all three aspects (the sauce, veggies and noodles) at the same time, otherwise you run the risk of having one of them stick to the bottom of the pan or burn
For the sauce, dissolve cornstarch in 1/3 cup water
Bring  2/3 cup veggie broth, 1/4 cup soy sauce and sugar to a boil
Reduce to medium heat and stir in garlic and cornstarch/water mix and stir until thick, then reduce to VERY low heat

In a large skillet over medium/high heat, cook red pepper and carrots in olive oil for 5 minutes

Add snow peas, corn, 1/4 cup veggie broth and 1 tsp soy sauce and bring to high heat, stirring frequently
Continue cooking (and stirring) for about 5 more minutes or until veggies are sizzling and browning
Reduce to medium heat, add noodles and sauce to the veggies and continue cooking for about 5 more minutes
Remove from heat and serve-toss with chopped scallions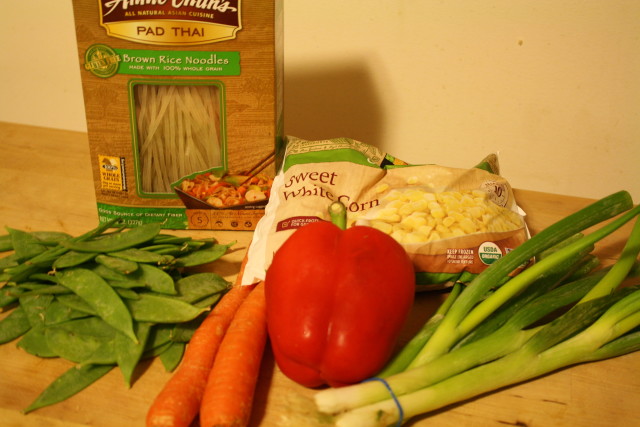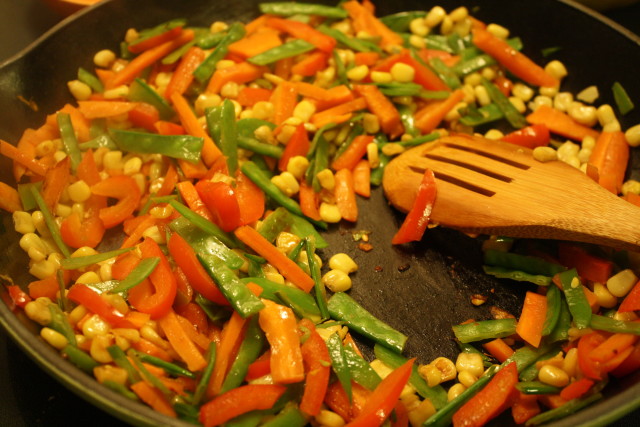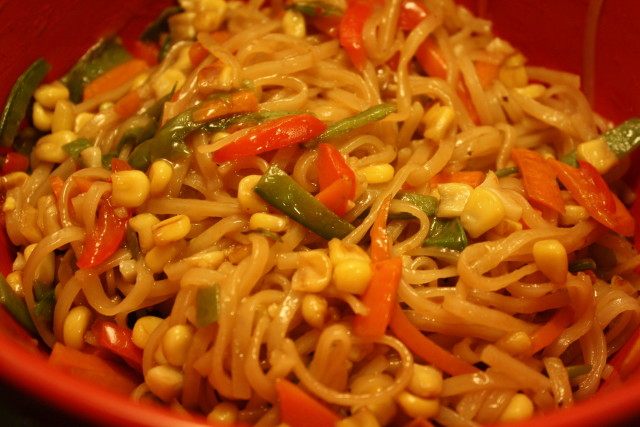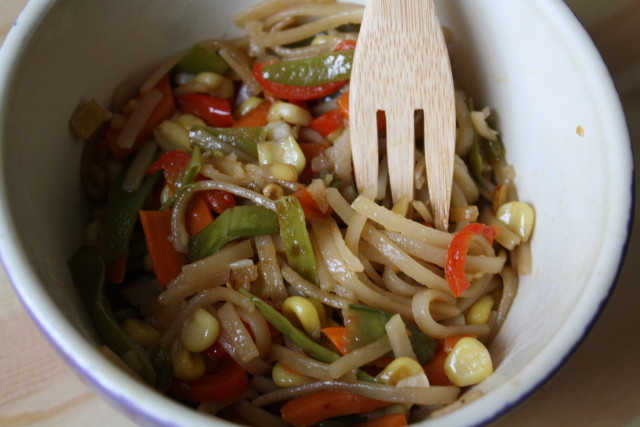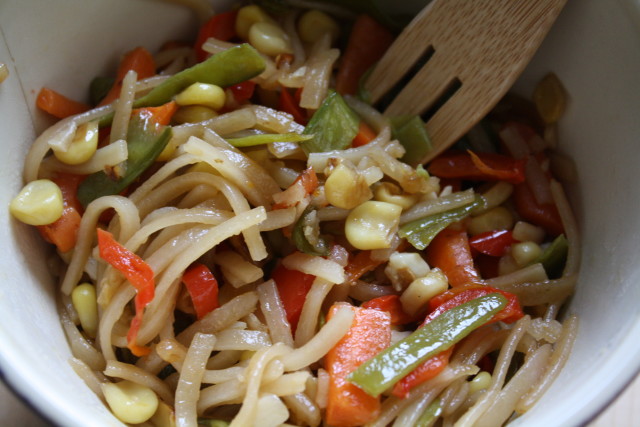 Related posts: