Even after eating the whole thing, I STILL can't decide if this was a bread or a cake. The shape resembled that of a sweet breakfast bread, but the decadence and flavor was all cake. But I ate it for breakfast…for lunch…and for dessert. So I guess I'll just be ambiguous and dub it a loaf.
I was particularly proud of said loaf, because I hardly ever bake anymore and when I do I follow other recipes pretty meticulously. Quite the opposite of my meal cooking. I don't know what in the hell came over me the other night, but I just felt compelled to bake something sweet. And I made homemade oat flour. For real!
Whatever possessed me to create this super yummy raspberry treat was a blessing though, because I was insanely proud of the results. With almost no added sugar, it is insanely sweet and the three main ingredients were seriously made for each other. Even if my baking side only comes out once in a blue moon (or a super moon, since we've been graced with one this week!), I'm totally happy when it makes an appearance.
1 3/4 cups rolled oats
2 ripe bananas, mashed
1 1/2 cups frozen or fresh raspberries, chopped or broken into smaller pieces
1/2 cup almond milk
1/3 cup olive oil
1/3 cup raw organic sugar
1/4 cup pure organic honey or agave
Juice and zest of 2 lemons
1-2 tbsp poppyseeds
3 tbsp Ener-g egg replacer (or any vegan egg sub)
1 tsp pure vanilla
2 tsp baking powder
2 tsp baking soda
1 tsp sea salt
Preheat oven to 350 degrees
In a food processor, pulse oats until fine or until they have a flour consistency
Mix oat flour together with Ener-G, baking powder, baking soda and sea salt
In another bowl, mix together bananas, almond milk, olive oil, sugar, honey/agave, lemon juice and zests and vanilla
Slowly pour dry ingredients into we ingredients and mix in 1 cup at a time
When mixed, fold in raspberries and poppyseed (the batter should become pink at this point)
Pour into a greased loaf pan and bake at 350 degrees for 1 hour
*NOTE: It's still pretty moist when it first comes out of the oven so let it settle for at least 20 minutes before eating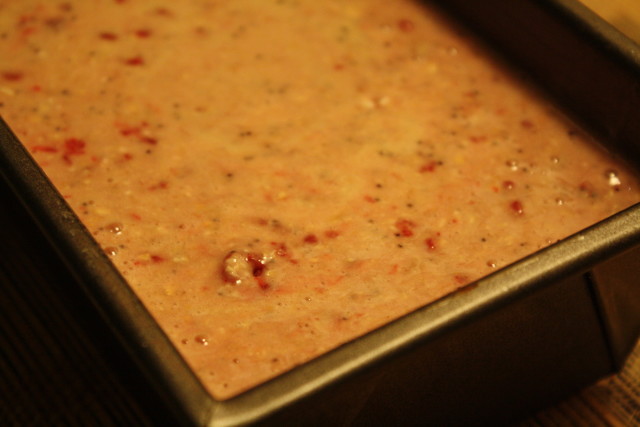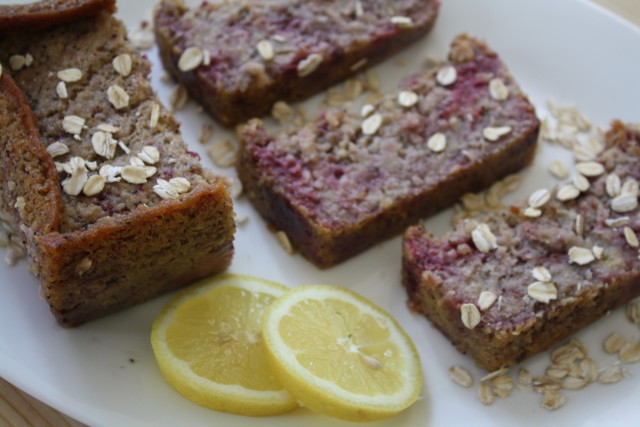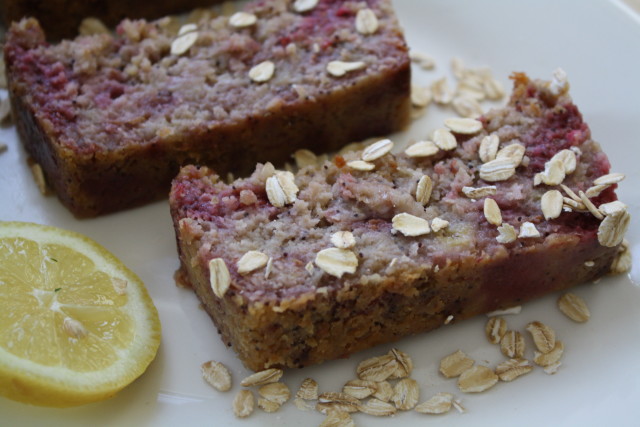 Related posts: