Raw vegan desserts are seriously so amazingly easy to throw together. And incredibly delicious.
This apple version is pretty similar to our raw blueberry one, and tastes as equally impressive. But I honestly think this one tastes even more like the real deal and the smell alone made me want to face plant right into it. Sadly, this delectable dish was for one of my clients and not Jim and I. That's the downside to most of my raw creations-I don't get to enjoy them all! I did sample an itty bitty bite and had to show incredible self control in order to refrain from eating more.
I will, for sure, be making this for myself next week. A bag of apples, some dates and some almonds is all it really takes!
CRUST
1 1/4 cup raw almonds
1 1/4 cup shredded coconut
2/3 cup dates
2 tbsp liquid sweetener (honey, agave, maple syrup)
1 tbsp olive oil
FILLING
5 apples, peeled and sliced thin (use whatever you'd like-we used Granny Smith)
1 apple, peeled and chopped
1 cup dates, soaked for one hour
1 orange, peeled and seeded
1 tsp pure vanilla
1 tsp cinnamon
1/4 tsp nutmeg
For the crust, pulse almonds and coconut in a food processor until fine
Add oil, dates and liquid sweetener and continue pulsing until the mix is moist and crumbly
Push crust evenly into a 9 inch pie dish, reserving about 1/2 cup of the crust mixture for topping
For the filling, blend the chopped apple, soaked dates, orange, vanilla, cinnamon and nutmeg  in a blender until smooth and creamy (add a little water if it's too thick)
Toss blended mix with sliced apples and and layer into pie dish
Top with reserved crust mix and refrigerate before serving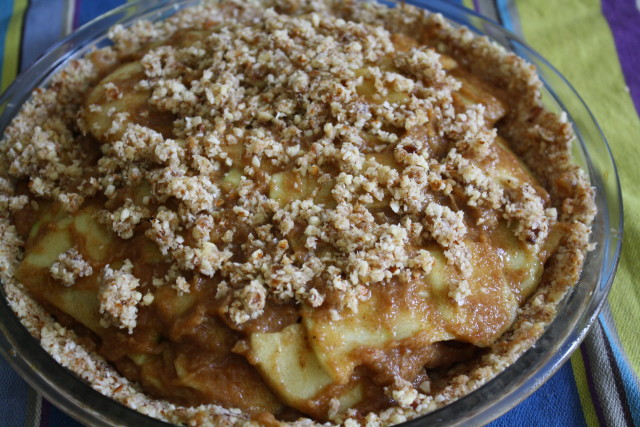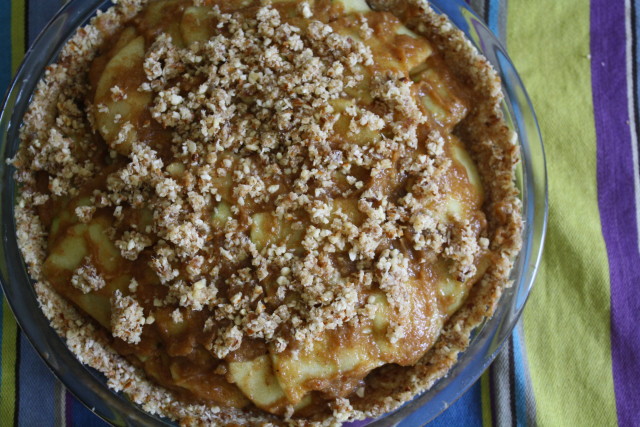 Related posts: