I've really started to buckle down and get serious about growing my personal cooking business. Providing healthy, vegan meals for customers who can really benefit from my food is my highest priority right now. OK, getting a great tan at the pool, reading some awesome books and planning a weekend getaway for mine and Jim's five year anniversary this week (cheers to us!) is also a high priority. But the majority of my time and energy this summer has been spent developing my recipes and extending my clientele.
So amongst all the blogging, recipe testing, food shopping, coordinating giveaways (enter the Beyond Meat contest!) and getting the ACTUAL cooking done, I have had my share of moments when all I want to do is get out of my kitchen and go out to dinner instead. BUT since all of the funds are going towards getting my lil' business off the ground, I try to refrain from eating out at all.
So when I haven't got a shred of desire left to get into the kitchen, I generally gravitate towards one meal…
Tacos.
I find it mildly ridiculous that anyone (myself included) posts recipes for tacos. If you've got burritos, beans, rice, lettuce, tomatoes, corn, avocados and some dressing that includes peppers or cilantro, you've got the makings for tacos. Pick whatever combos you like and you are done.
This particular batch of lazy tacos omits the beans and adds some roasted sweet potato for a welcome upgrade of my normal black bean version. There's virtually no prep for them. And that's why I love them a whole lot 🙂
6 whole wheat tortillas
3 sweet potatoes, diced
2 sliced avocados
1 1/2 cups frozen organic corn
1  cup chopped grape or cherry tomatoes
1/2 cup chopped red onion
1 tbsp cumin
2 tsp olive oil
1 tsp paprika
Sea salt and black pepper to taste
Any amount of lettuce and cilantro you want
CHIPOTLE SAUCE
1 cup raw cashews, soaked for 2 hours
3/4 cup water
Juice of 2 limes
2 tbsp olive oil
1 tbsp nutritional yeast
1 tsp chipotle powder
1 clove garlic, minced
Preheat oven to 400 degrees

Toss sweet potatoes with cumin, 2 tsp oil, paprika, cumin, sea salt and black pepper
Lay on a baking sheet with foil or parchment paper and roast for 20 minutes, turning halfway through
For the sauce, blend all ingredients together until smooth and creamy (add more water if needed)
Cook frozen corn and red onion in a frying pan over medium heat for about 10 minutes
When sweet potatoes are done, layer warm tortillas with lettuce, avocado and cilantro, and top with sweet potatoes, corn mix, tomatoes and sauce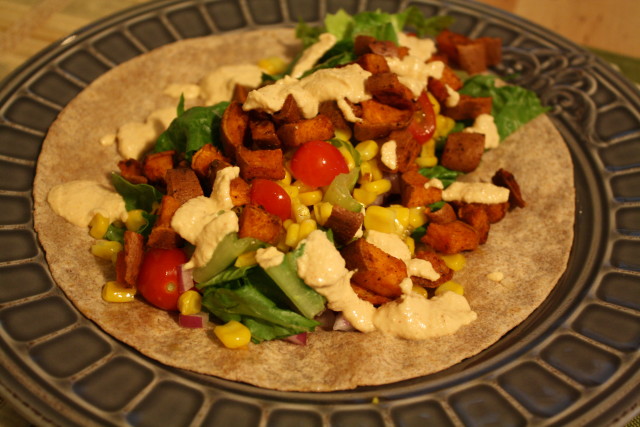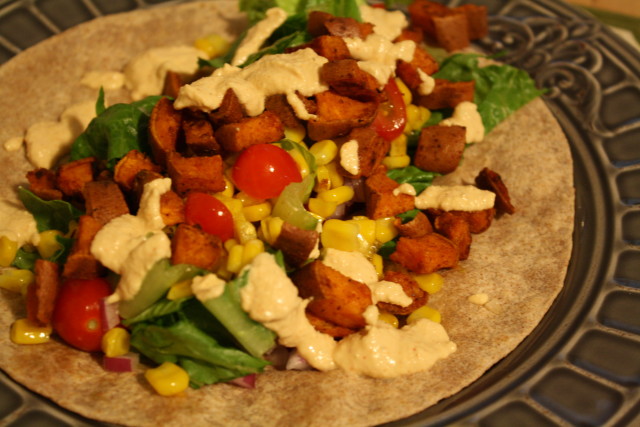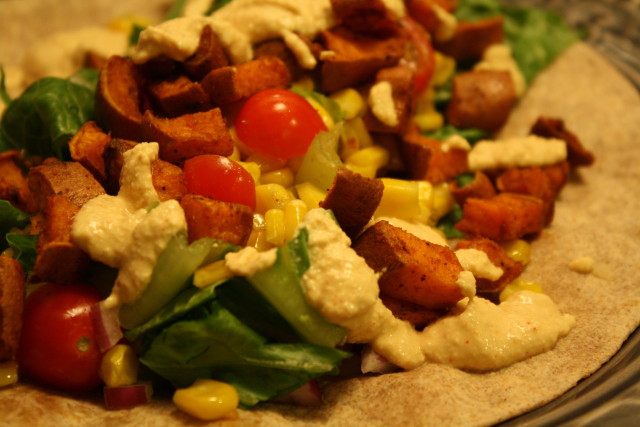 Related posts: