I recall a couple years ago, when I was new to this whole "made from scratch" cooking, that Jim and I decided it would be a splendid idea to make raviolis from scratch. On a Monday night. And it turned out being one of the longest and most excruciating nights of our relationship. I would cry and then laugh uncontrollably and Jim just completely lost his shit all together.
I had a somewhat similar experience the other night making these gnocchi.
Except this time I was alone, in the midst of a snowstorm on a Thursday night. I THOUGHT I wouldn't have to work at my old office the following day (I was temping there for the week-and still ended up going in regardless of the 14 inches of snow on the ground) and so I thought "sure, Lisa, attempt a more labor-intense recipe since you've got a long, cold night ahead of you". There weren't any tears this time, but it was a semi-painful time again. I always envision a somewhat whimsical scene in the kitchen when I embark upon a homemade Italian recipe. And three hours later I am hating myself, the kitchen is entrenched in flour and I am cursing myself for loving Italian food so much.
But enough with the complaining. Onto the good news.
This gnocchi dish is absolutely mouthwatering! Sure, it took FOREVER to make, but I did feel extremely proud afterwards and feel like I enjoyed eating them even more since I knew what had gone into making them. That's the thing about making everything from scratch-that insane sense of pride over the food you've created. To transform a sack of potatoes into delicious little pillows of yumminess is a wonderful thing.
I kind of winged this a little bit though, I must admit. Once the potatoes are mashed, I kind of just kept adding more flour until it reached the correct consistency. This made a little over 100 gnocchi-I was too busy brushing flour out of my hair to take an exact head count, but it was at least eight dozen.
The moral of the story? Maybe ask for some help if you want to attempt this recipe. Feed them some wine, hand them an apron and get a little assembly line going, so the whole process doesn't seem quite so overwhelming.
Mangia!
4 lbs potatoes (I used red)
5 cups organic all purpose flour (plus more if you need it, and extra for rolling out the dough)
1/2 cup chopped chives
1/4 cup tapioca starch
Sea salt and black pepper to taste
CREAMY ROASTED RED PEPPER & SUN DRIED TOMATO SAUCE
2 roasted red peppers, deseeded and sliced
2 cups coconut milk
1/2 cup sun-dried tomatoes, soaked for 30 minutes
2/3 cup raw cashews, soaked for 4 hours
5 cloves garlic, minced
1 tbsp paprika
1 yellow onion, sliced
1 1/2 lbs baby bella mushrooms, sliced thin
6 cups chard, chopped
2 tbsp Earth Balance butter
1 cayenne pepper, minced
Put potatoes into a large pot filled with water and bring to a boil-boil for about 30 minutes or until fork tender
Meanwhile, saute cayenne pepper in butter for one minute
Add onions and cook for 7-8 minutes or before beginning to brown
Add mushrooms and chard and continue cooking for about 5-7 minutes, until chard is wilted
Set heat to low and prepare the sauce
For the sauce, blend red peppers, sun dried tomatoes, cashews, coconut milk, garlic, paprika, sea salt and black pepper in a blender until creamy
Add sauce to the mushroom mix and stir over low heat for 5 minutes
Once potatoes are done, drain and let cool
The peels of the potatoes should then peel right off
Mash potatoes until creamy and there are no lumps
Slowly add in tapioca starch, then add in flour one cup at a time and mix together until flour is absorbed before adding more
Add more flour if needed and then add chives
Bring another pot of water to a boil
Begin rolling out the gnocchi, by taking a large handful of dough and rolling out onto a floured surface
Each roll should be about a foot long and be one inch thick
Slice off one to two inch pieces, and set aside on a tray or cutting board (a floured area or a wooden surface is best so they don't stick)
Continue this until all the dough is gone (remember is makes ALOT so this can take awhile)
Add gnocchi to the boiling water in batches and boil for 2-3 minutes gnocchi is done when they float to the top
Remove with a slotted spoon and lay on a baking sheet
Top gnocchi with sauce and more chives and serve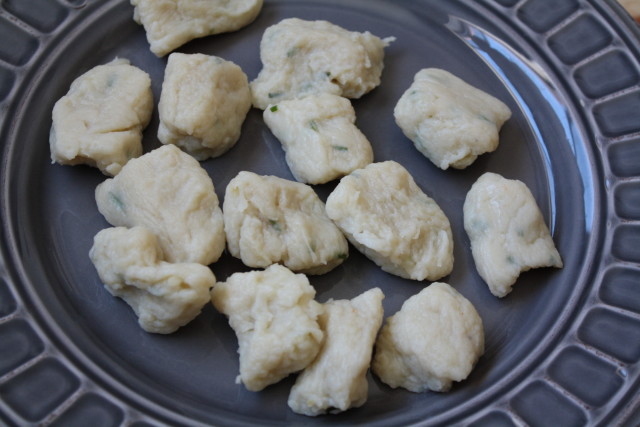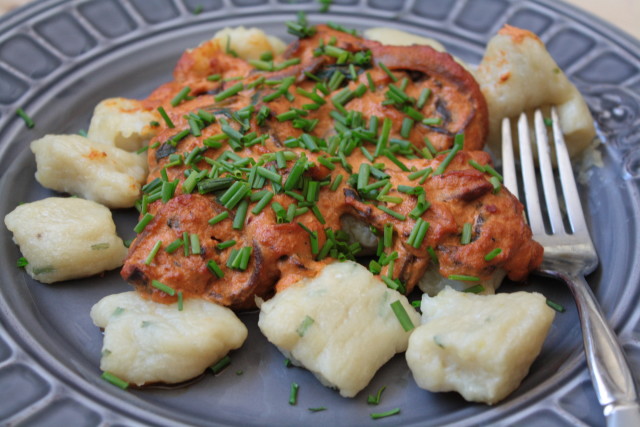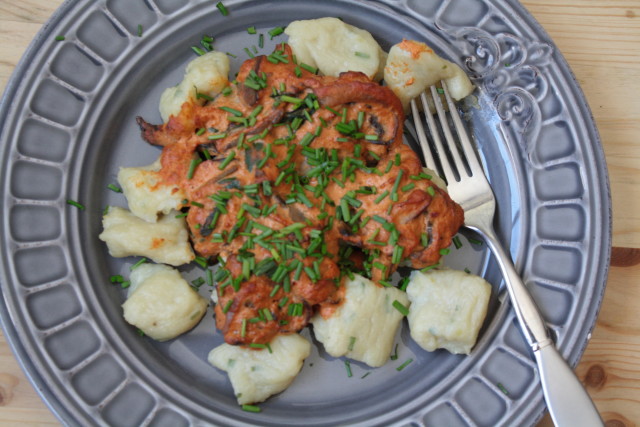 Related posts: