I think dried cranberries might be my most used ingredient. They're one of my favorite snacking options and they seem to be popping up in almost all of my recipes. I think they're pretty perfect. When you're whipping up a super savory meal or using alot of dark greens, I think cranberries always add a nice layer of sweetness to tone down possible bitterness or saltiness.
These stuffed sweet potatoes are reminiscent of my Hassleback Sweet Potatoes with Cran-Apple Walnut Topping, and just as fancy looking. I love a gourmet looking dish, especially since most of my recipes tend to be one pot meals, casseroles or some sort of one pan wonder. The less pretty looking dishes travel well for clients and are easy for on the go eating. But I won't ever complain about fancier food construction, especially when it comes to these sweet potatoes.
They're just as easy to throw together as the one pot dishes, and the most pain in the bum thing about them is baking them. I generally never bake potatoes because they just take too damn long. I will admit, they're worth the long cook time, especially when you're adding in my beloved cranberries 🙂 I also love it when I get a good dose of beans, greens and veggies all together in one serving and these definitely hit all of those marks.
6 sweet potatoes
1 bunch green kale, torn into pieces
1 1/2 cups cannellini or great northern beans
1 cup chopped walnuts
1 cup chopped dried cranberries
1 shallot, minced
2 cloves garlic, minced
1 cayenne pepper minced
2 tbsp olive oil
1 1/2 tsp dried rosemary
Sea salt and black pepper to taste
Preheat oven to 400 degrees
Pierce sweet potatoes with a fork, lay on baking sheet and bake at 400 degrees for 1 hour (maybe a little longer if your potatoes are huge like mine were)
Meanwhile, cook cayenne pepper, shallot and garlic in oil in a frying pan over medium heat for 3 minutes
Add kale and continue cooking and stirring for 5 minutes
Add remaining ingredients and cook for another 5 minutes or until kale is wilted
When potatoes are done, stuff them with kale filling and serve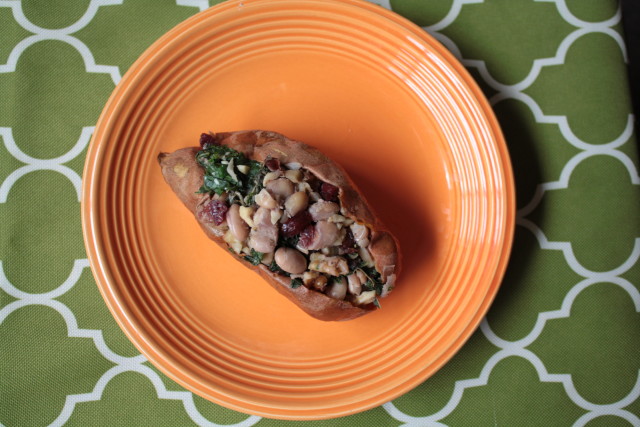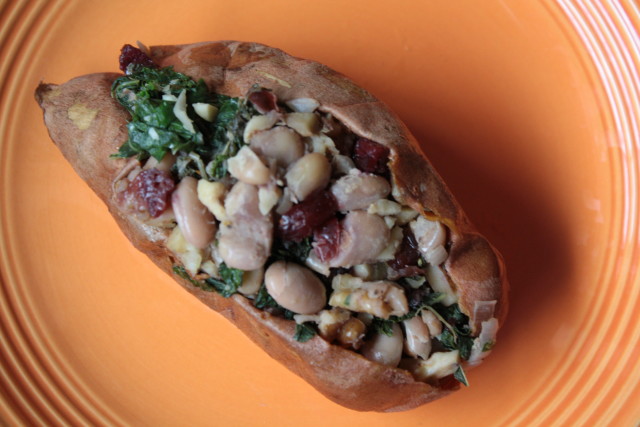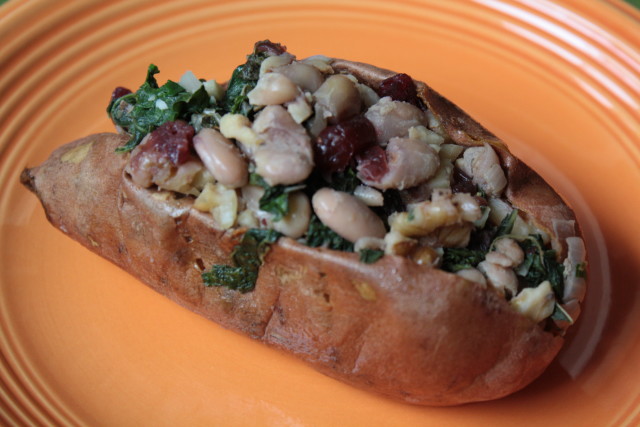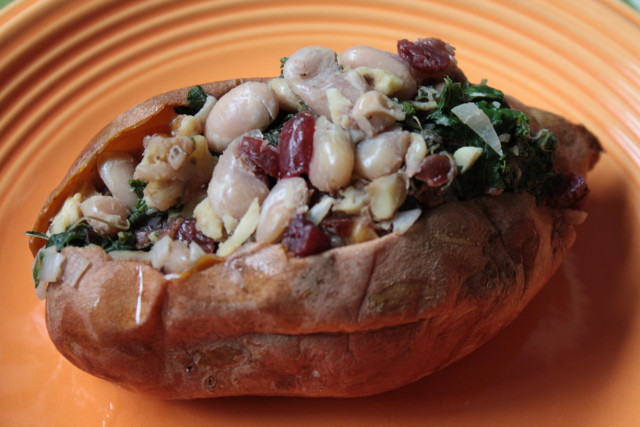 Related posts: