Is it mac n' cheese? Mac & cheese? Macaroni and cheese?
Whatever you want to call it, you have to refer to this version as insanely mouthwatering.
I couldn't get over how rich and thick this cauliflower cheese sauce came out. I'd done a similar version with my cauliflower linguine, but this one was BEYOND decadent. And the addition of turmeric gave it an authentic look. I imagine this one could be considered extremely kid-friendly. I doubt even the smartest of children could recognize that there isn't actually any cheese in this mac. And what is it about peas and carrots that make everything seem reminiscent of childhood? Maybe because they're such simple veggies and probably the only ones I didn't completely despise growing up.
I imagine my five year old self would love this dish! My 28 year old self definitely does 🙂
1 lb organic rotini, cooked
1 head cauliflower, cut into florets (if you can find the orange/yellow colored one use that-it gives it an even better color!)
1 1/2 cup peas
1 cup shredded carrot
1 cup almond milk, plus more if needed to thin out
1/3 cup nutritional yeast
1/2 cup cashews, soaked for two hours
1/2 cup cooked white beans
1/4 cup whole wheat breadcrumbs
1 large shallot, minced
4 cloves garlic, minced
1 tbsp Dijon mustard
1 tbsp olive oil
2 tsp turmeric
1 tsp smoked paprika
1 tsp sea salt
1/2 tsp black pepper
Crushed red pepper
Preheat oven to 400 degrees
Boil cauliflower until tender
Once cooked, drain and add to blender
Add almond milk, cashews, white beans, nutritional yeast, shallot, garlic, mustard, olive oil, turmeric, paprika, salt, black pepper and red pepper and blend until thick and creamy
Once blended, stir into pasta and add carrots and peas
Pour into greased casserole dish and top with breadcrumbs
Bake at 400 degrees for 20-25 minutes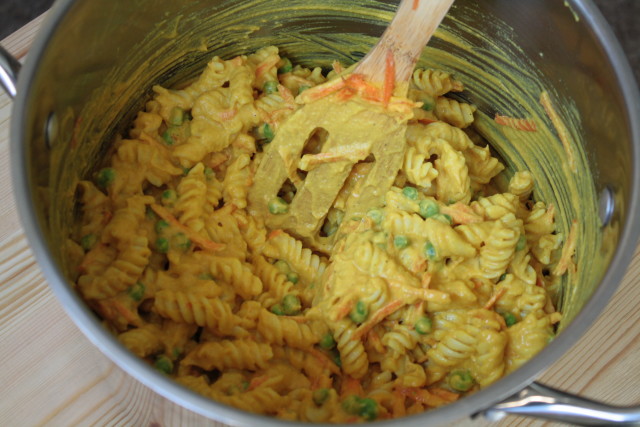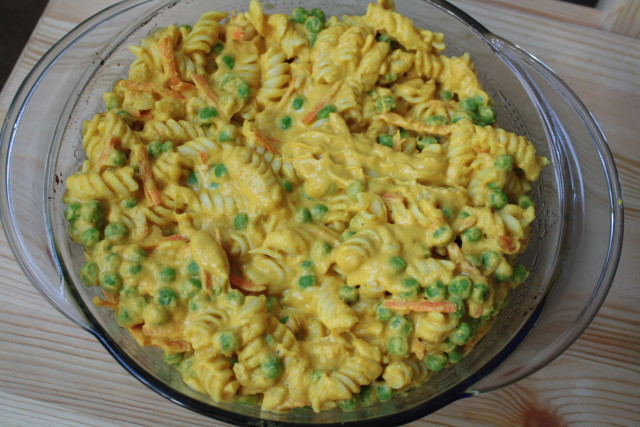 Related posts: