Almost a week with no posts. That just proves how insane my life has been as of late.
Cooking at 4:30 in the morning, revolving my life around a soaking/sprouting/dehydrating schedule and driving into Boston every other day for this actor has become the norm for me. And it's pretty exhausting. All this raw vegan prep hasn't left much time for a social life outside of my kitchen.
So I actually got giddy when I got to cook a meal that WASN'T raw this week!
It's not a far cry from my Cranberry Quinoa Walnut Salad, but it's still a revamp of some kind. I especially love the addition of pecans and kale!
3 cups cooked quinoa
2 cups chopped dried cranberries
1 1/2 cup chopped pecans
1 cup julienned kale (lacinato kale would be ideal)
Juice of 2 oranges
1 orange, chopped
2 tbsp olive oil
2 tbsp pure maple syrup
2 tbsp minced fresh parsley
Sea salt and black pepper
Toss together quinoa, cranberries, orange pieces, kale, pecans and parsley
Whisk together orange juice, olive oil, maple syrup, sea salt and black pepper
Pour over quinoa mix and serve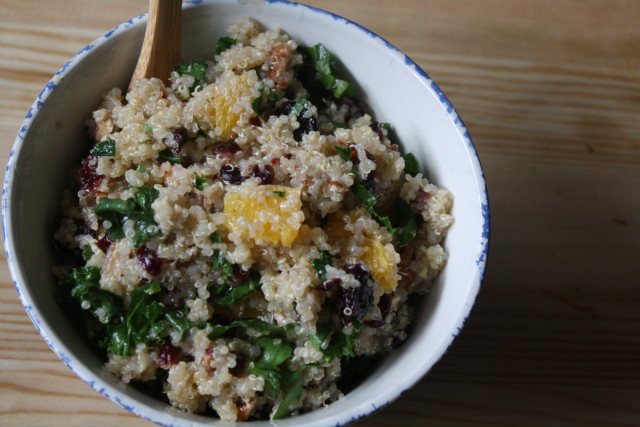 Related posts: