I transitioned right from labor intensive raw meals, to labor intensive cooked meals. Will I ever give myself a break?!
Instead of going back to simple salads and easy meals in my downtime, of course I have to make life difficult and go for longer recipes. It's a sickness, I know.
These pizzas are SO cute though and really yummy. Not to mention, aesthetically pleasing. The crispy, spiralized sweet potatoes are by far the best part. I've been eating them just as a quick snack, too.
3 1/2 cups vegetable broth or water
1 cup organic cornmeal
2 sweet potatoes, spiralized
1/2 bunch rainbow chard
1 large yellow onion, sliced
4 cloves garlic, minced
3 tbsp olive oil, divided
1 tsp dried basil
1 tsp dried oregano
1 tsp all purpose seasoning
Crushed red pepper
Sea salt and black pepper
In a large, cast iron skillet, cook vegetable broth, cornmeal, 1 tbsp oil, basil, oregano, all purpose seasoning, sea salt and black pepper on medium high heat
Continue whisking for 8-10 minutes until thick
Once cooked, pour polenta into pancake sized pizzas onto a baking sheet lined with parchment paper
Let sit in the fridge for 15 minutes
Preheat oven to 400 degrees
In another frying pan, cook onions, garlic and crushed red pepper in 1 tbsp oil over medium heat for 10 minutes
Add chard and cook for another 5 minutes or until wilted
Toss sweet potatoes with 1 tbsp oil, sea salt and black pepper
Cook at 400 degrees in a baking sheet for 25 minutes, turning halfway through
Once polenta has set, cook at 400 degrees for 30 minutes, turning halfway through
Serve pizzas topped with chard and onion mix and sweet potatoes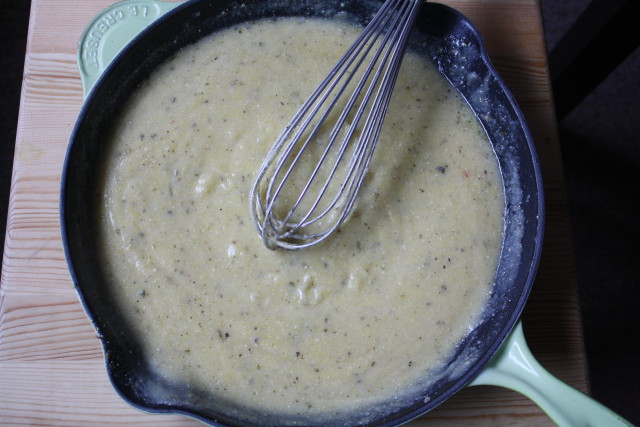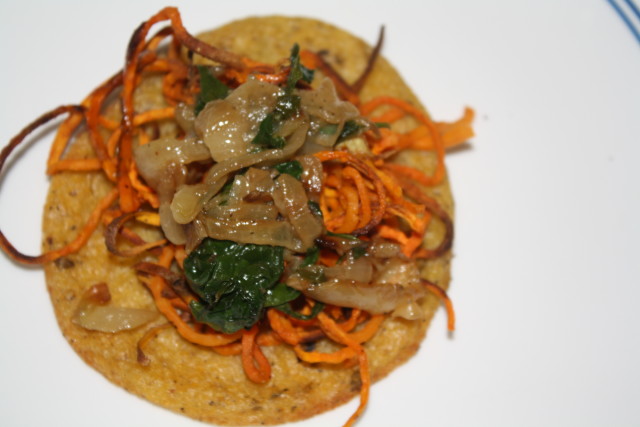 Related posts: