Look at me! More kale! Yay!
Nothing makes me prouder than a palatable kale recipe. OK, so I'm clearly striving for more than just palatable. I want kick-ass kale salads, ones that make people NOT hate kale.
I've made it known that I;m trying to cut back on fruit, but strawberry season is getting good, and how can I not indulge myself just a little?
Avocado is my go-to kale pairing. Avocados and kale are virtually my peanut and jelly. My spaghetti and tempeh/walnut meatballs. My mac and cauliflower cheese. Nothing quite breaks down kale like avocado.
I was low on kale the second night I had some and it was just as yummy with some lettuce thrown in. I also added some pistachios I had leftover from my last kale salad, and that was great, too. So clearly, the moral of the story is, add in whatever you'd like!
1 bunch lacinato kale, chopped
5 strawberries, sliced
1 cup sliced almonds or pistachios
1 large or 2 small avocados
2 tbsp hemp seeds
3 tbsp olive oil
2 tbsp lemon juice
1/2 tsp poppy seeds
Sea salt and black pepper
Scoop out the meat of one avocado (or one large avocado half) and massage it into the kale until it's tender
Toss with almonds, strawberries and hemp seeds
Cube the other avocado or avocado half and toss in as well
Whisk together lemon juice, oil, poppy seeds, sea salt and black pepper
Pour dressing over portions of salad and serve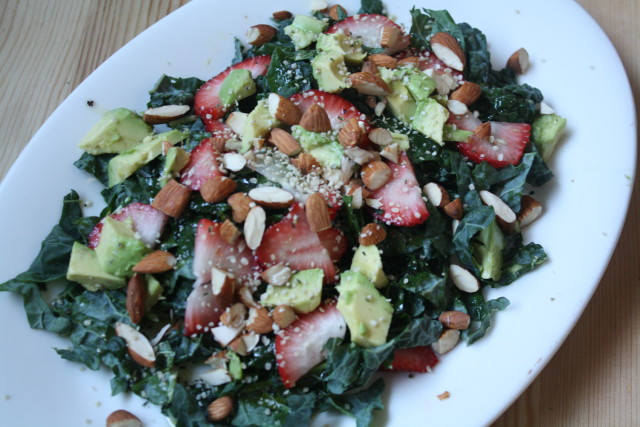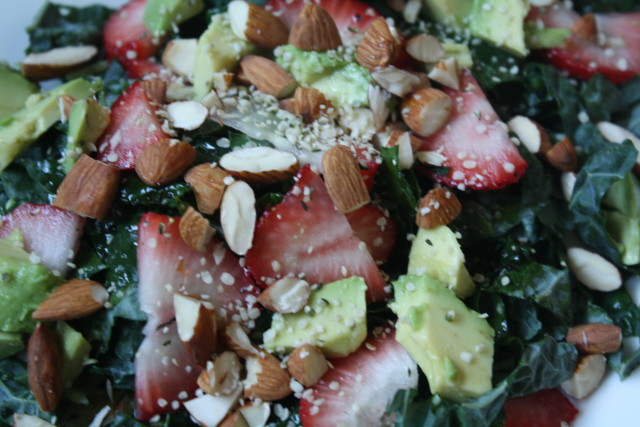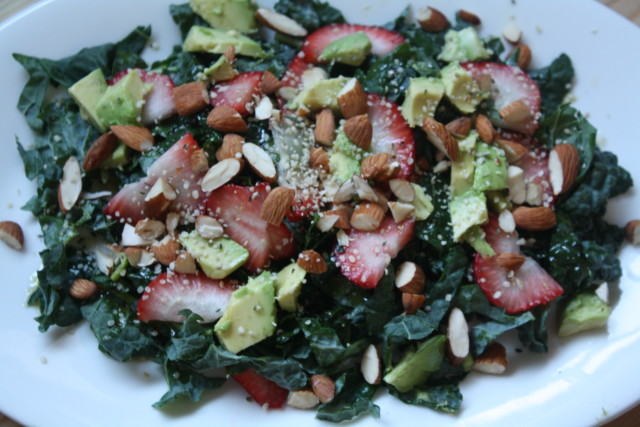 Related posts: