Every time I have a brief lapse in posting new recipes, I always seem to come back with an uber healthy kale dish don't I?
Maybe I'm trying to make up for lost time. Maybe I try to reappear with an extra nutritious dish every time I go MIA. Or maybe, just MAYBE, I am more in love with kale than ever before.
And quite possibly, it's a mix of all three.
I tend to always say my favorite ingredients to cook with are kale, quinoa and sweet potatoes (typical vegan). I should have thrown some quinoa in this for good measure, but this salad is perfect without it. It's ridiculously simple, but oh…SO delicious. When I crave a salad, you know it's gotta be good. I also think the addition of some roasted tofu would be great especially come wintertime.
Enjoy this with the potatoes fresh from the oven, or chilled to nom on the beach 🙂
1 bunch kale, chopped or julienned (whatever version is fine)
2 large sweet potatoes, cubed
2 baby cucumbers, sliced into thin rounds
1/2 bunch cilantro, minced
3/4 cup chopped green onions
1 avocado, sliced
2 tbsp olive oil
1 tsp chili powder
Sea salt and black pepper
MAPLE CASHEW DRESSING
3/4 cup raw cashews, soaked
1 cup coconut milk
1/3 cup pure maple syrup (or other liquid sweetener)
1 tbsp apple cider vinegar
1/4 tsp sea salt
Preheat oven to 400 degrees
Toss sweet potatoes with oil, chili powder and salt and pepper
Lay on parchment lined baking sheet and bake at 400 degrees for 20 minutes
Meanwhile, blend all dressing ingredients together until creamy
Toss together kale, cilantro, green onions and cooked potatoes together
Top with cucumbers and avocado and drizzle with dressing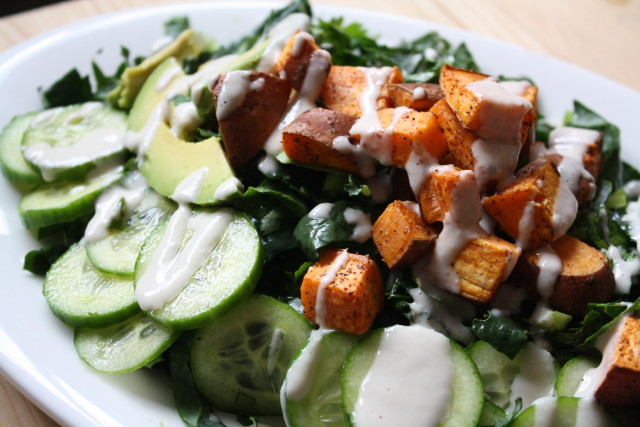 Related posts: