I can feel it already. Now is the time of year when all the I'm-gonna'need-to-start-buying-bigger-pants recipes start creeping in.
Which means, the most delicious recipes are on their way.
This dish really isn't one that will pack on the pounds, but it sure tastes like it. It's fairly smiple, based only in pasta, butternut squash, lots of spinach and a cashew based bechamel sauce. It's super rich, creamy and filling and utterly perfect. The flavors pair SO well toegther, and I was pretty unhappy about the fact that most of these delicious shells were shipped off to clients instead of settling in my belly. These my be my new favorite for the fall season. I still miss summer, but this is shaping up to be a really decadent time of the year 🙂
And side note, am I the only one who gets really irritated when you put MOUNDS of spinach into a pot and it cooks down to, like, half a cup? I felt that many a times while creating this meal-so buy spinach in bulk for sure!
18-20 cooked jumbo shells
1 large butternut squash
10 cups fresh baby spinach
1 yellow onion, chopped
2 shallots, sliced thin
4 cloves garlic, minced
1/4 cup vegetable broth
1 tbsp olive oil
Sea salt, black pepper, crushed red pepper and all purpose seasoning
CASHEW BECHAMEL
1 cup raw cashews, soaked for 2 hours
1 cup water
1 cup coconut milk
1/2 cup nutritional yeast
1 tbsp olive oil
1 tbsp lemon juice
1/2 tsp garlic powder
Sea salt
Preheat oven to 400 degrees
Slice squash in half lenghtwise, and remove seeds
Sprinkle with olive oil, salt, pepper and all purpose seasoning
Place on a baing sheet face up and cook for 45 minutes to an hour based on how big the squash is
Once squash is cooking, pulse in food processor until smooth
In a deep frying pan over medium heat, cook crushed red pepper in olive oil for 2 minutes
Add onions and cook for 10 minutes
Add shallots and garlic and cook for 3 more minutes
Add vegeatble broth and spinach, cover, and let cook for 5-7 more minutes or until spinach is wilted
Add spinach mix to sqwuash mix and stir well
Blend all bechamel sauce ingredients together until smooth and creamy
In a saucepan over medium heat, wishk sauce for 5-8 minutes or until sauce has thickened
Stuff squash mix into shells and place on a greased baking dish
Top with sauce and bake at 400 degrees for 15-20 minutes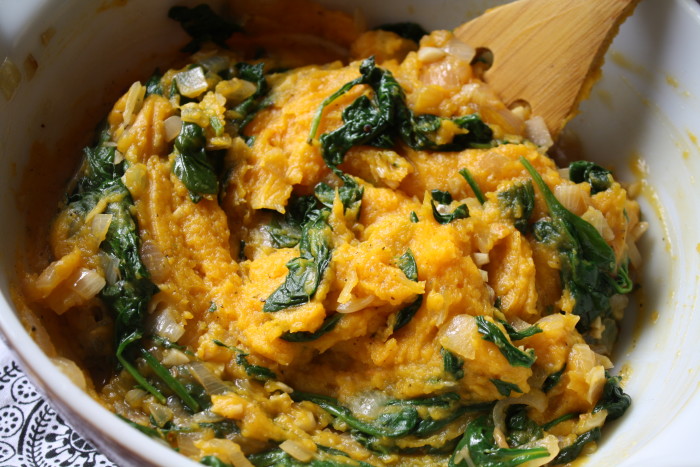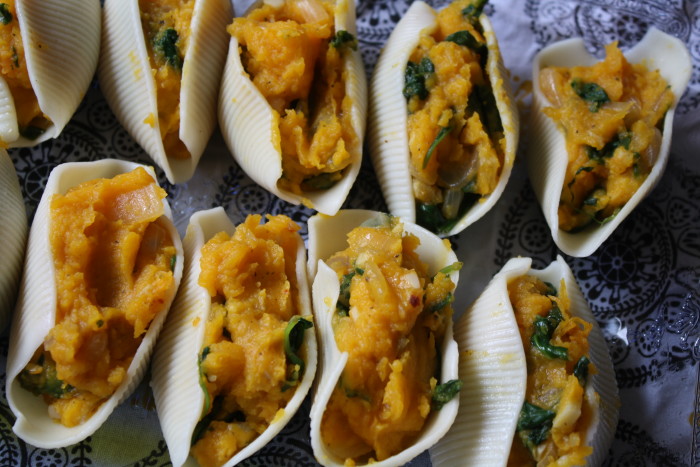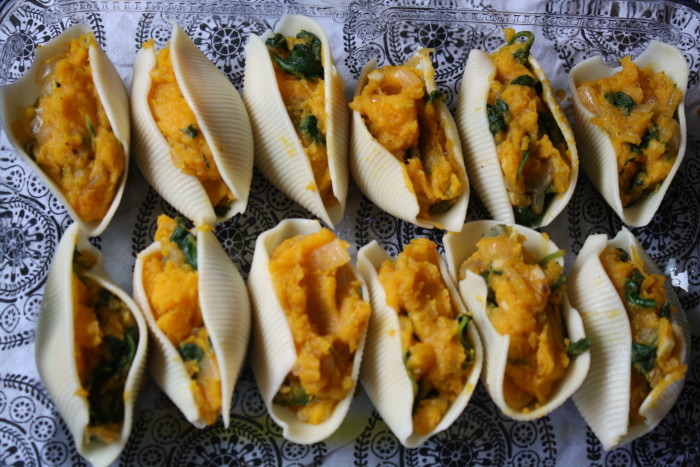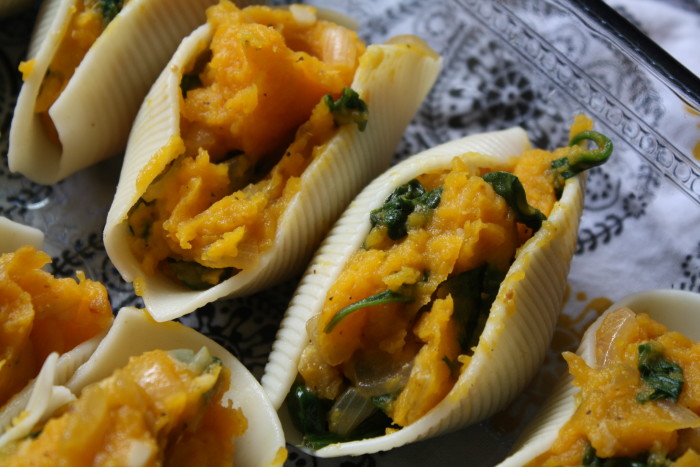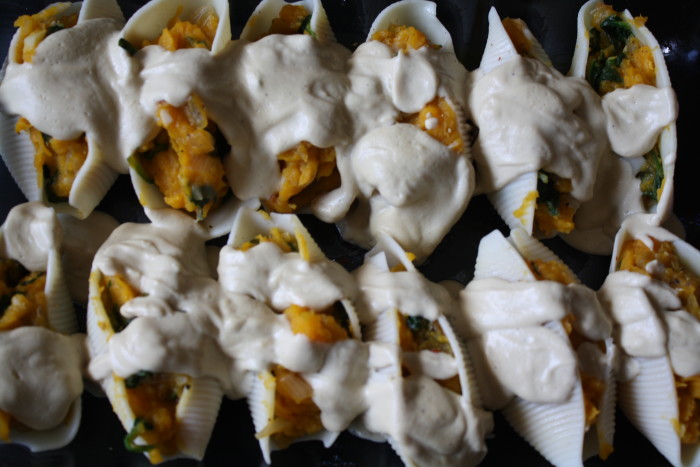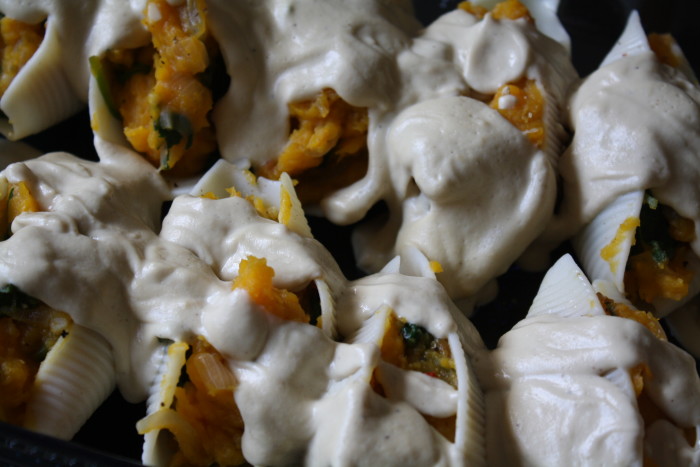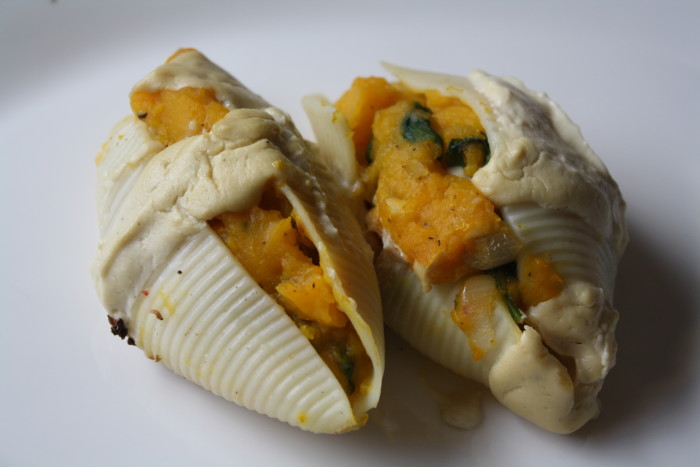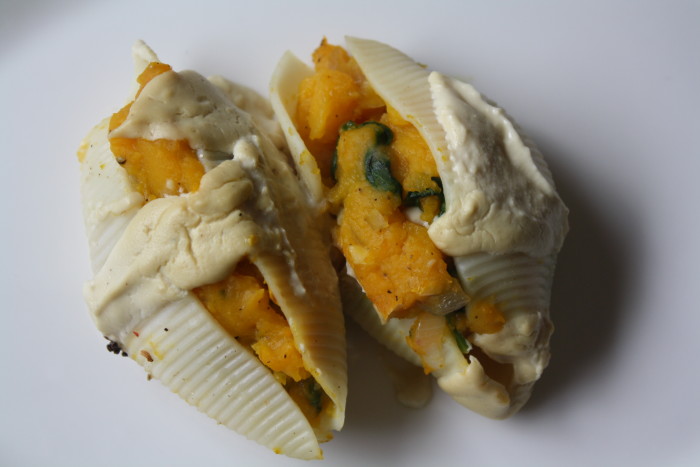 Related posts: