Oh, hey delciata squash, we hadn't seen you since….yesterday.
I wasn't kidding when I said I'm having a full blown love affair with this small squash. I think I've had some variation of delicata for lunch or dinner ever day for the past two weeks. All I need to do is figure out how to make a really great delicata smoothie or granola, and I'll be having it at every meal!
This salad is insanely addictive. The sweetness of the squash and vinaigrette pairs well with the charred sprouts and crunchy pecans. And it's filling enough to enjoy as a main meal-I just can't get enough!
1 large delicata squash, deseeded and sliced into half rings
2 cups Brussels sprout halves
2/3 cup pecan halves
Olive oil, all purpose seasoning, sea salt and black pepper to taste
MAPLE VINAIGRETTE
3 tbsp olive oil
3 tbsp pure maple syrup
2 tbsp white wine vinegar
1 tsp paprika
Preheat oven to 425 degrees
Toss delicata with oil, all purpose seasoning, salt and black pepper
Place on baking sheet and roast at 425 degrees for 15 minutes
Toss Brussels sprouts in oil, all purpose seasoning, salt and black pepper
Turn squash slices over, and add sprouts to the baking sheet
Roast for another 15 minutes at 425 degrees
Whisk together all vinaigrette ingredients
Serve with pecans and drizzle with vinaigrette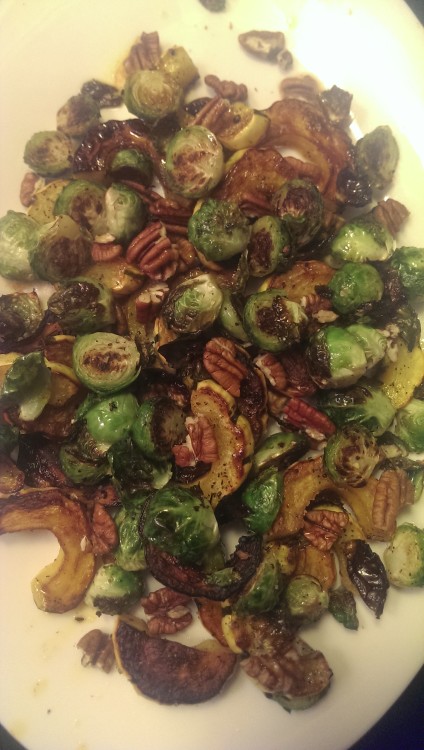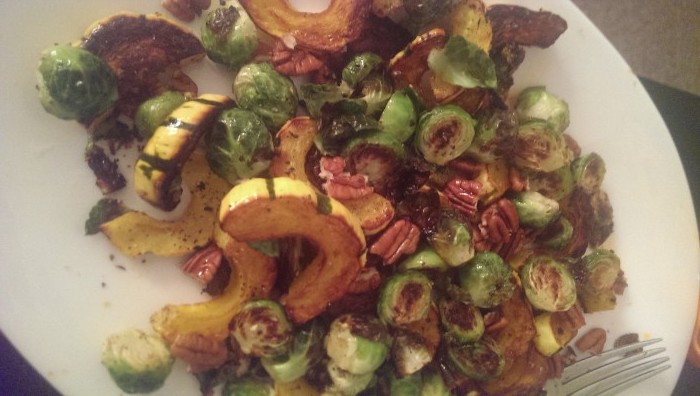 Related posts: