Delicata squashes are my jam right now.
With the fall season in full swing, some type of squash seems to find it's way into every meal of mine these days. And more often than not, it's delicata squash.
Not everyone seems to be familiar with this small, yummy gourd and i take every opportunity to share recipes that include them. One of the few squashes that actually have delicious, edible skins, they seem easier to prepare on the whole. All you gotta do is slice in half, scoop out the seeds, season with spices and olive oil and roast for about a half hour. Much easier than say, pumpkins, butternut squashes or acorn squashes.
This millet stuffed version is a simple dish that would be PERFECT for Thanksgiving!
3 delicata squashes, halved lengthwise and deseeded
2 cups cooked millet
1 cup chopped celery
1 cup chopped dried cranberries
1 cup chopped walnuts
1 small yellow onion, chopped
3 cloves garlic, minced
1/3 cup vegetable broth
1 tsp dried thyme
1 tsp all purpose seasoning
1 tsp sea salt
1/2 tsp black pepper
Preheat oven to 425 degrees
Brush insides of delicatas with some olive oil, salt and pepper
Place face down on a baking sheet and bake at 425 degrees for 30 minutes
Meanwhile, cook onions in a frying pan over medium heat in olive oil for 7-10 minutes
Add garlic and celery and cook for 3-5 more minutes
Add cranberries, walnuts, thyme, all purpose seasoning, sea salt and black pepper and continue stirring for a few more minutes
Add millet and broth and cook for 5 more minutes, or until liquid is absorbed
Once squashes are cooked, flip over and stuff with millet mix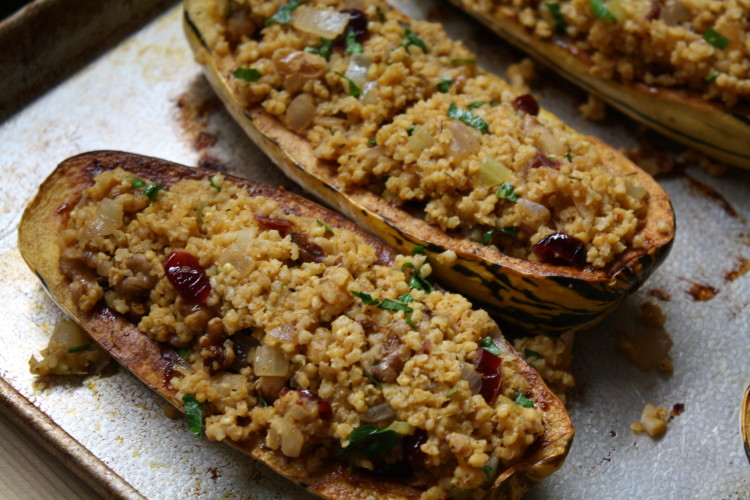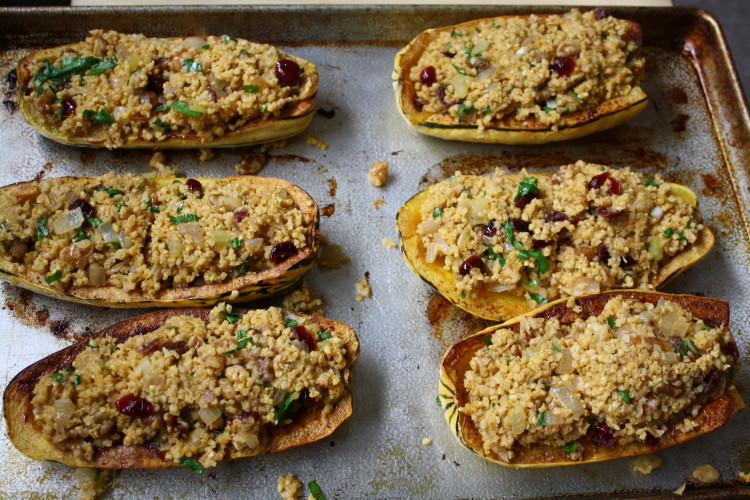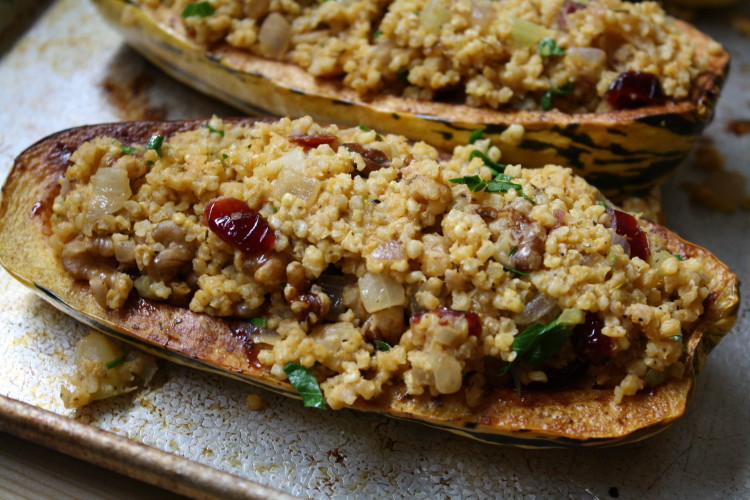 Related posts: