This recipe post would have been alot more fitting had I posted it a week ago.
Then you could have enjoyed these amazing tater nachos during your Superbowl festivities. In which you were rooting for the Pats, right?
RIGHT?!
In what might have been one of the most emotional nights of my entire life, I originally planned on eating solely just to absorb all the beer and celebratory shots I knew I'd be consuming throughout the game. My excitement about dreamily staring at Julian Edelman all night combined with my nerves about the game overall, was enough to kill my appetite. But one bite of these nachos and I scarfed down the whole plate. Julian, Angry Orchard and potato puff nachos….ummmmm #bestnightever. Oh wait, and we won? Yep, greatest Superbowl of all time. Minus the commercials. And Katy Perry. But crying, cheering and singing "We Are The Champions" with my best friends and a crowd of drunk fans at a local bar was a moment I will never forget. 
And I won't forget these nachos either, because I'll be eating them ALL. THE. TIME.
1 bag organic tator tots, baked according to instructions
2 Roma tomatoes, chopped
1 cup chopped cilantro
1 cup chopped green onions
1 avocado, diced
Sriracha and cashew queso for topping
CASHEW QUESO
1 1/2 cups soaked raw cashews
1 cup coconut milk
1 tbsp olive oil
Juice of 1 lemon
3 tbsp nutritional yeast
1 chipitle pepper in adobo sauce
Dash of paprika, sea salt and black pepper
While tots are baking, blend the queso ingredients together until smooth
When tots are finished, topped with all other ingredients, queso and sriracha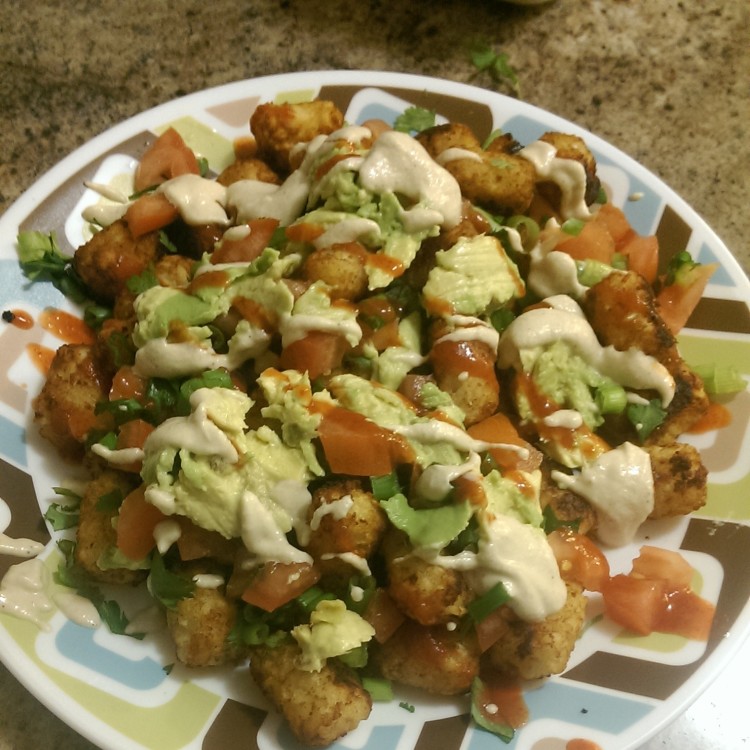 Related posts: