You know the kale obsession is real when I start working it into breakfast foods.
With my busy, chaotic life, I have been know to forget to feed myself. Which is really sad, considering I feed everyone else in my life! I can always throw together a pasta dish or roast some veggies for a quick meal, but days go by when I feel like I'm not getting enough greens. I always feel like I'm getting enough protein, I supplement with B12 every day, but greens? As much as I love them, sometimes I only sneak them in for the occasional smoothie and that's about it.
So today-today I FINALLY had a day off! And it happened to be a Tuesday so there were no social opportunities or friend distractions to take me away from focusing solely on myself. And ALL I wanted to do was make kale dishes. I made three kale salads, worked on some desserts, and then decided I hadn't had enough kale.
And thus, this granola was born.
I was massaging kale for another salad and was thinking about how massaging it with coconut oil would work out. I also found a great recipe here, that had a lot of similar aspects of other dessert recipes I already make, like a date coconut toppings and the nuts I usually use in regular granola. And I have to say, I was extremely pleased with the results! The dates and coconut have a big factor is flavor, so much so, that you barley notice the kale.
So now, I can have a proper dose of greens not only for a snack but for breakfast, too!
2 cups chopped lacinato kale
3 tbsp melted coconut oil
10 Medjool dates, pitted
1/2 cup shredded coconut
1/2 cup water
2 tbsp raw cacao powder
1/4 cup chopped raw almonds
1/4 cup chopped raw walnuts
1/4 cup sunflower seeds
1/4 cup raw cashews
2 tbsp hemp seeds
3 tbsp vegan chocolate chips
Preheat oven to 325 degrees
Massage coconut oil into kale until tender
In a food processor, blend together dates, water, cacao powder and shredded coconut until well pulsed
Add almonds, cashews, sunflower seeds, walnuts and hemp seeds to massaged kale
Then, work in date coconut mixture until well combined
Spread on a parchment-paper lined baking sheet and top with vegan chocolate chips
Bake at 325 degrees for 30 minutes, turning halfway through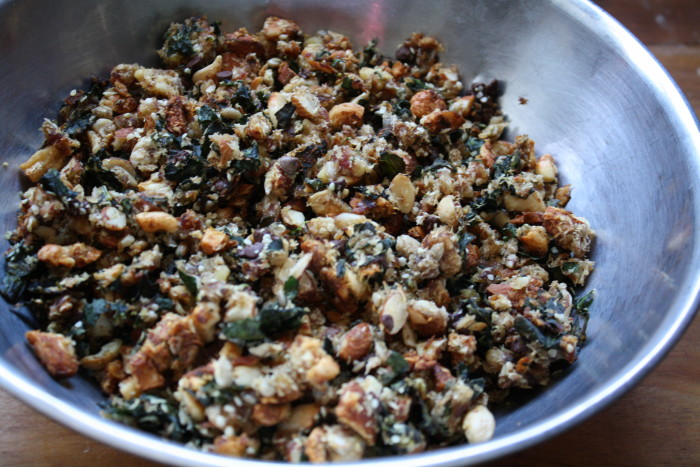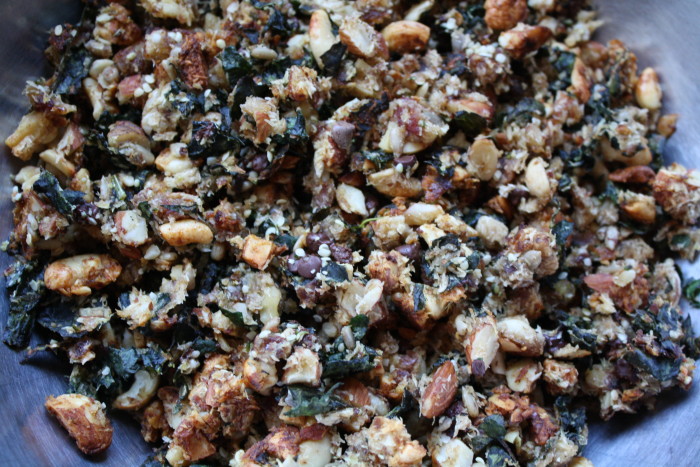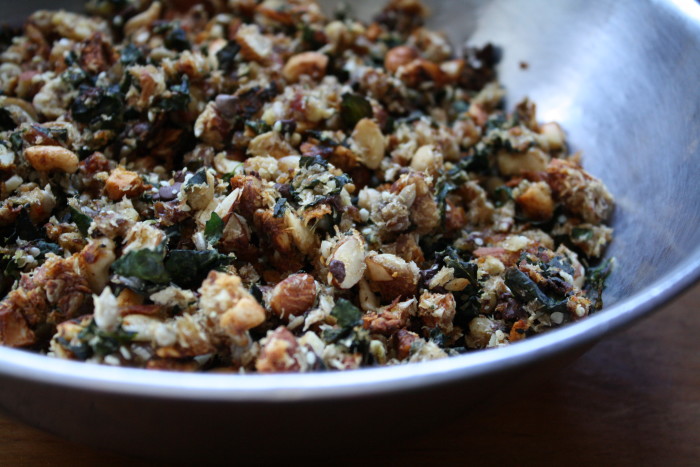 Related posts: