1 week in Colorado…and I can honestly say that, outside of Italy, it is the most amazing place I've ever been (sorry San Diego)..
The vibe here is just so absolutely opposite of the East coast. People are outgoing, friendly, talkative, generous and really great about just chatting it up with random strangers. The food-incredible. The beer-even more incredible. The mountains-the MOST incredible. The GUYS-well, you can see where I'm going with this.
I have never felt so alive. The air alone SMELLS and feels amazing. Since when does air have a smell that wasn't rotten city pollution? The views are spectacular, the hiking is insane and everywhere you turn there are stunning views of majestic mountains and beautiful people. It's such a vibrant, happy, free-spirited, open community and I have never felt more at home than I do here.
The reason I came to Colorado for basically for a mini "Eat, Pray, Love" kinda trip. Somewhere where I didn't know anyone, don't have a history or a social circle and somewhere I could just get away. No cooking, no taking care of other people, no constantly adhering to my friends and family in Boston. I just need to reset, recharge and totally look after myself for once.
With that being said-the more I try to be introverted here, the more I recognize just how addicted I am to being social and forming relationships. I've already made dozens of friends from around the country-strangers who I've randomly hiked with, met at a yoga class, talked to at a bar during a Pats game OR the most random of all-finding an incredible group of chicks that I hung out with all day just via an Instagram group centered around a dinner with the incredible Mary Mattern of NomYourself. Yes, you heard right people-I HAD DINNER WITH NOMYOURSELF-with a special guest appearance from Travis Barker of Blink 182 (my high school fave).
Seriously-this is all just the first week. It feels like a lifetime already…a really, really, great, DELICIOUS lifetime. Because that's why you're here right? The food porn. Not to hear about my dating/social life.
But hey-if you've got some friends in the Boulder area-send them my way! For now, enjoy all the insanely delicious eats I enjoyed during my time in Denver.
I solely decided to stay in Denver a couple days before heading to Boulder, just because I had to, had to, HAD TO hit up Watercourse Foods. I stopped by for brunch (my first trip-oh yes, there was more than one!) and was totally overwhelmed by all the incredible options, and their on-tap kombucha. I had to go all out though and pick the craziest, unhealthiest options they had which was their Big Rig plate. Filled with an insane amount of sweet potato hash, the best tofu scramble ever, mouthwatering biscuits and a chicken fried steak with gravy, that would honestly put the real deal to shame. It was the most intimdating meal I'd ever had as a vegan, but it was honestly far too incredible to not shove the enire thing into my face in one sitting. The texture and flavor of the seitan steak was unilke anything I'd ever had before. When people ask me what my favorite vegan meal ever is, I've said the mac and cheese chipotle chicken burrito from Homegrown Smoker in Portland OR the mac and cheese bacon burger from Arlo's in Austin. Clearly mac and cheese is a top contender, but this Big Rig….it might make the top spot now!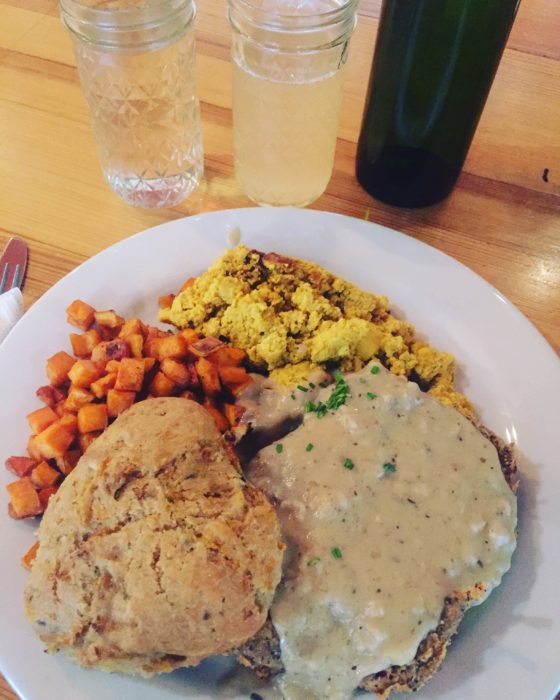 BUT.
If anyone ever asks me what the most memorable dinner I ever had was, it would definitely be the time I went back to Watercourse for late night food. Because that dinner involved a dozen of the most amazing strangers I've ever met-including NomYourself! If you don't know who she is, you clearly are probably not vegan. And if you ARE vegan and haven't hear of her, than I'd be in utter shock. She has a HUGE social media prescnce and has been a personal chef for Ellie Goulding, Jeremy Piven, and now, touring with Blink 182 (hello, dream job). She arranged a meet up while Blink was in town last night and I happened to be a part of it. The food was unreal, the conversation and connections between strangers, unparalleled and I was fangirling HARD the entire night. I'm honestly still in shock that it happened. And for dinner, I had the tofu Baja Tacos which were almost as good as the Big Rig. We also shared nachos, buffalo cauliflower, chicken wraps, the Atlas burger and mac and cheese and the most decadent carrot cake I've ever had. As much as I'm in love with Boulder, it's going to be hard to top that day in Denver.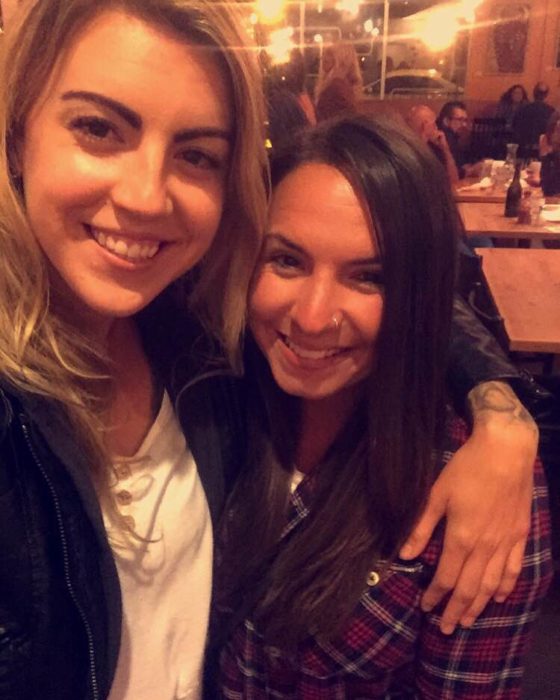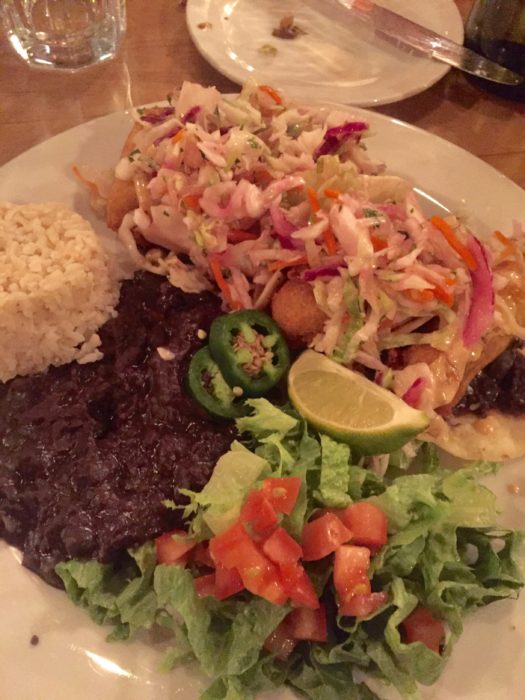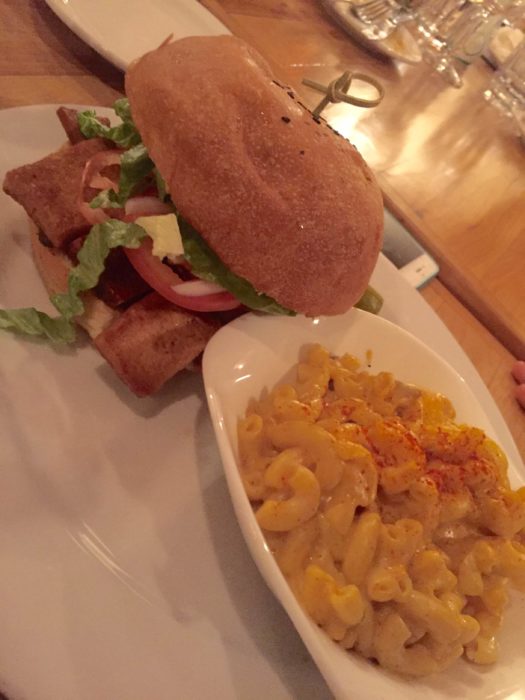 The sister spot to Watercourse, City O' City has an equally impressive menu with a really awesome bar and a cool atmosphere. Choosing from their menu proved to be even more difficult because everything was so unique. I eventually decided on a BBQ tofu mac and cheese wrap with pickled veggies-because the onlything I love more than pickles is mac and cheese and BBQ tofu. I also had kale mustard greens, which were a little TOO vinegary for me, but delicious none the less. I also scarfed down an entire appetizer of toasted raviolis with cashew ricotta and basil pesto BEFORE my meal and the were absolute heaven. Though the food left me a bit gassier than I'd like to admit (!), they were both incredible entrees and I would absolutely go back again if I got the chance!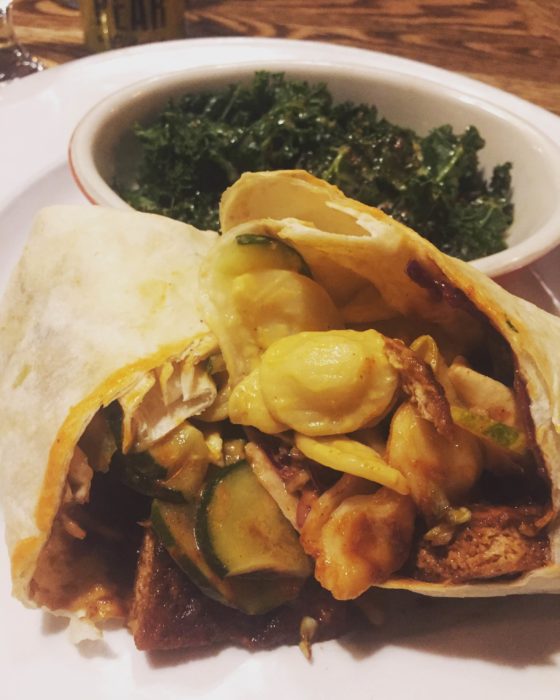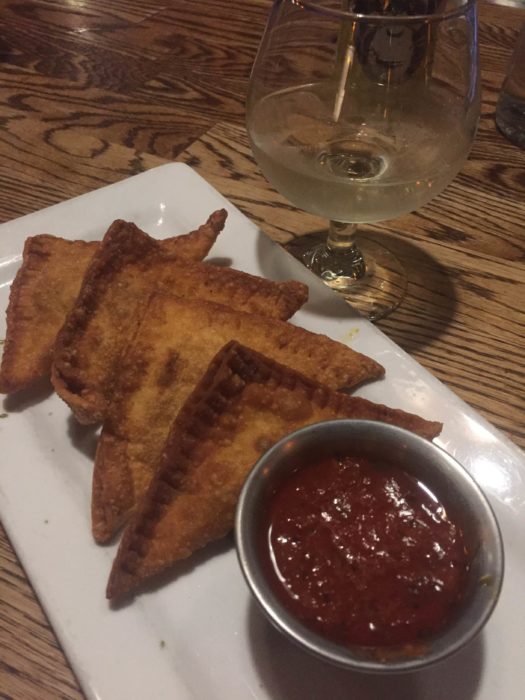 You have never seen toast quite like the toast at The Corner Beet. While not all the options are vegan, most of them are, and are based on two GINOURMOUS pieces of  housemade sourdough, that basically melts in your mouth. They have your classic hummus variation, along with a beet butter and an egg option. I opted for the peanut butter with homemade mixed berry jam and it was to die for. It also lasted me three meals because it was so huge! They also do flights of cold-pressed organic juices, so I had one of each-their green juie and their pineapple turmeric ginger one. Both were SO extremely refreshing and light!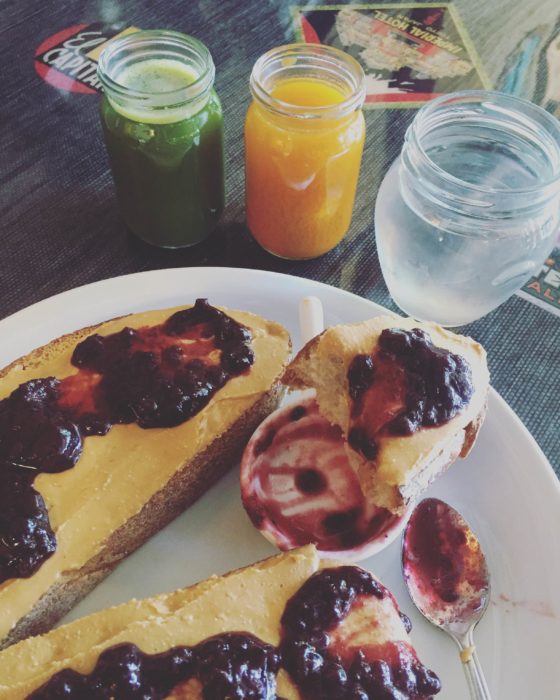 And I just kept riding that juice train in Denver. Pressed Juice Daily has a few Denver locales, and the one I went to was a tiny, no-frills, in-and-out store front with not more than a fridge and a cashier. I was hoping for a cute spot, but the juice speaks for itself really! And besides-morning juice is always best enjoyed outdoors, with some beautiful flowers or a body of water.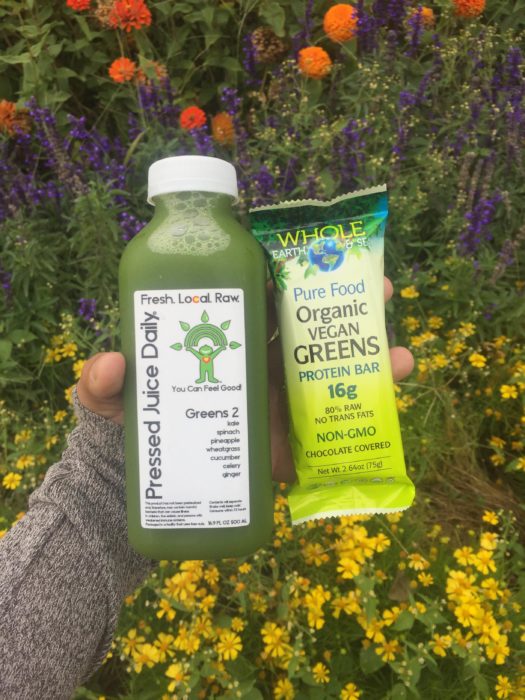 STAY TUNED FOR ALL MY BOULDER EATS! COMING SOON 🙂
Related posts: