Oh, Vegas, You never cease to amaze me.
I ALWAYS look forward to this yearly trip. Thought I don't LOVE Vegas itself, I am always eager to reunite with the company I used to work for and spend five days, getting paid to hang out with my best friend and spend time with my favorite affiliates from around the country. Working so much leaves little time for me to explore new places to eat, but the old favorites here are always worth blogging about on repeat. In past years, I've had the terrible habit of barely eating at all since it's not uncommon for me to work 18 hours days, which landed me in the hospital last trip. I obviously was trying SUPER hard to avoid that this time around and made getting proper vegan food a priority.
Also, can we also just talk about how much hotel food SUCKS? I swear, the nicer the hotel, the more clueless they are about what to feed people on a plant-based diet. I won't name names, but the hotel I stayed at, which was where we held breakfast and lunch a few days, had ZERO clue as to what to serve me. I had horribly bland, steamed vegetables and soup served to me, ontop of some awful mystery faux meat. I also got an absurdly gross green slime, posing as a "dessert" one day. For some reason, the higher end hotels seem to think of being vegan as being gluten-free and oil-free. What the hell?! Why is it so hard to whip up a really great pasta and veggie dish? Tofu? Roasted and seasoned veggies with grains? I don't get why this is so hard, people! My next endeavor might be cracking into the hotel business so that other people don't have to suffer through this.
Anyways…onto the good stuff!
It's now become tradition for the staff to kick off our trip with a visit to Hussong's. They've got a HUGE, amazing vegan menu, but equally impressive options for omnivores. In year's past, people have tried my vegan meals and ended up getting those, because they were so impressed by them. Plus, they have the most amazing margaritas and the most ideal spot for people watching if you get a table near the entrance. I made two different trips this time, and got my usual meals-the BBQ chick'n quesadilla and my FAVORITE Baja "fish" tacos. Though the portions are enormous, I inhaled most meals in their entirety, no problem.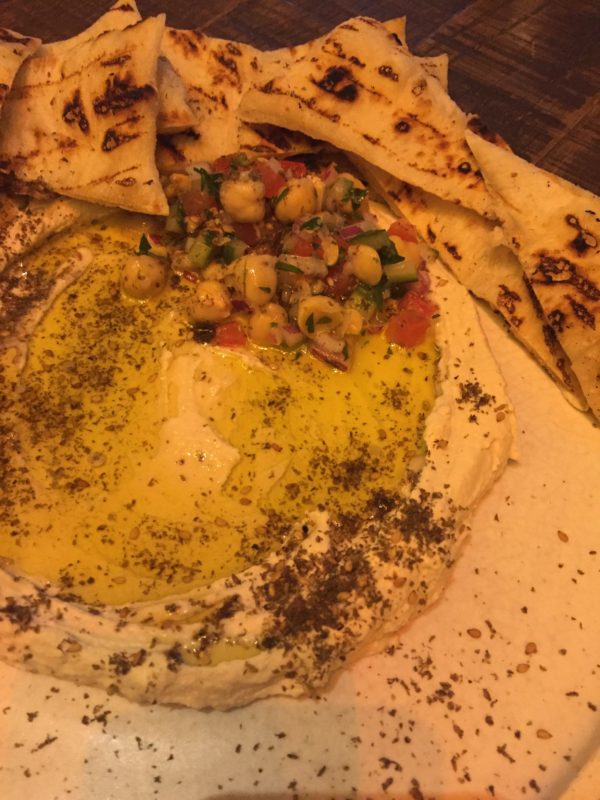 A brand spot, Libertine Social, was conveniently located right near our hotel and meeting rooms in Mandalay Bay, and we initially just stopped here for drinks in between events, because it looked super chill. The decor is amazing, their drink menu is insane and their food options are really eclectic and modern. They do have a few flat breads and side dishes that can be made vegan, as well. We opted for the za'atar hummus, just to get something, and I was completely blown away by how good it was. I'm gonna go out on a limb and say this was the BEST hummus I have ever encountered. The pita was exceptionally good, the hummus, decadently creamy and they just paired it perfectly with extra veggies, herbs and chickpeas. AND THEY HAVE SOUR BEER! I'll definitely be hitting this spot up again next trip…which might be sooner rather than later!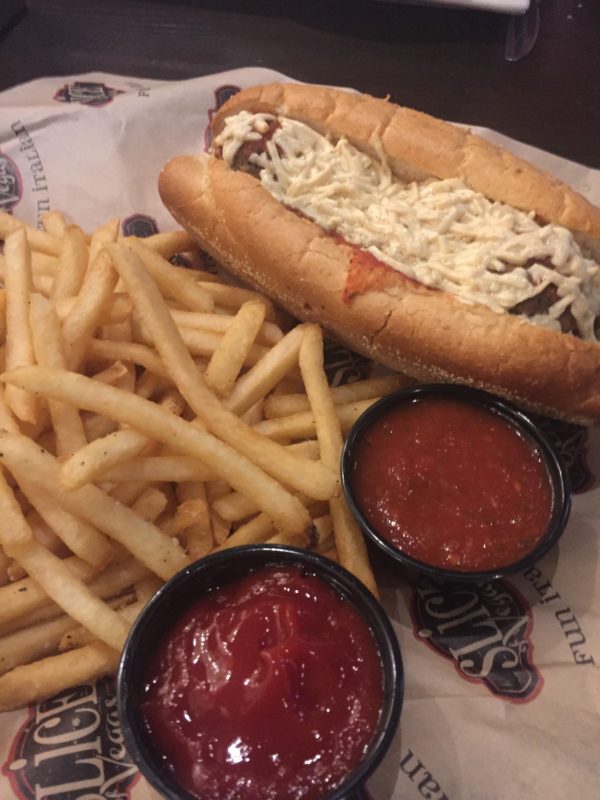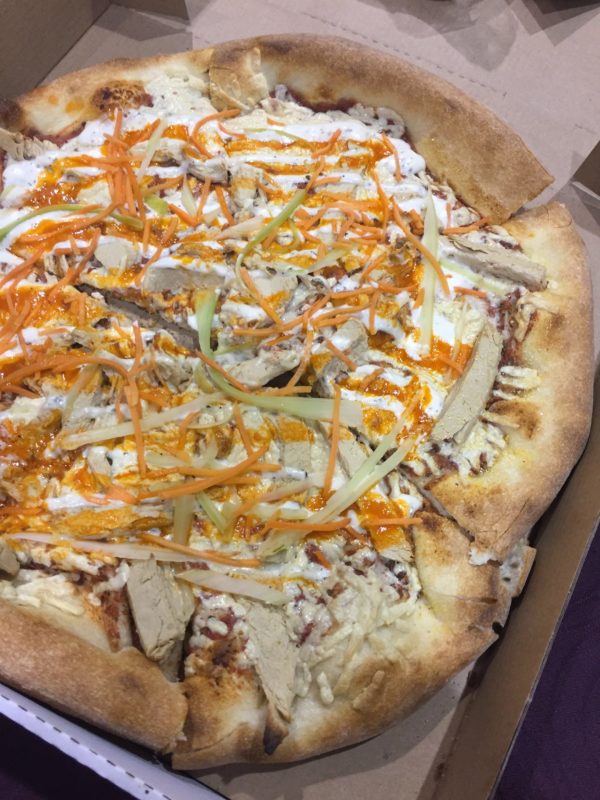 Slice of Vegas. Hands down, my favorite spot in Vegas. Though it seems like a chain food spot, with basically Italian meals, Slice of Vegas is anything but ordinary. Their vegan menu is one of the biggest I've ever seen, with an equally extensive menu for meat-eaters. Almost everyone I brought here this year ended up making multiple trips back. I went three times and opted for the buffalo chick'n pizza, not once, but twice-it's THAT amazing. Since I didn't have many opportunities to go and order more food or even really sit down and eat, I got this pizza two days and rationed it out for lunch, dinner and a drunk snack. Which was really difficult because I wanted to inhale the thing in one sitting both times. Everyone who saw me eating it couldn't believe it was vegan and wanted to try some. NO WAY was I sharing though! I always get their meatball sub too, which is a consistent winner in my book and was perfect for a late, pre-drinking meal on one of my first nights there. THANK YOU SLICE OF VEGAS! You rule!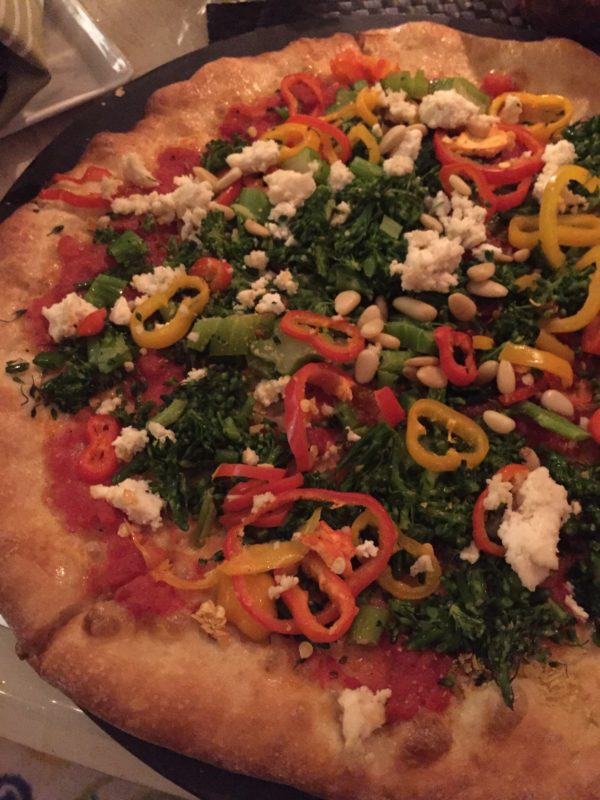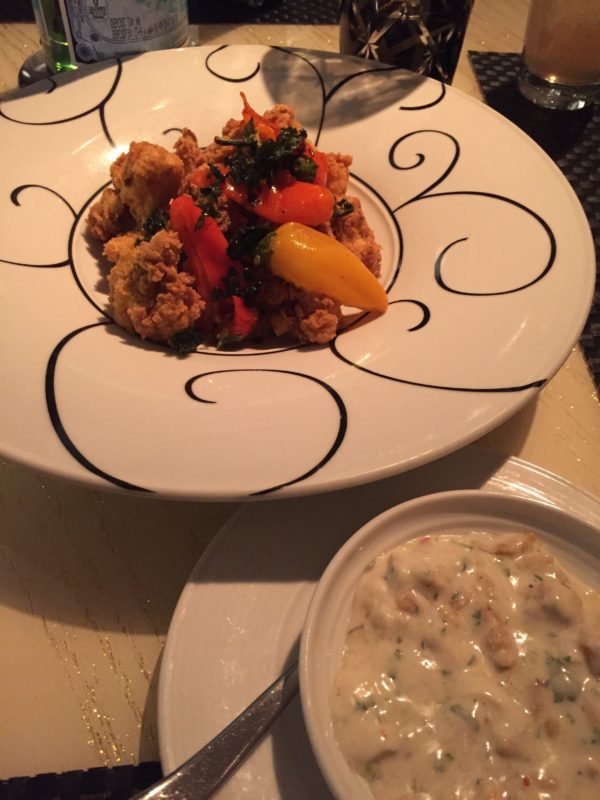 It can be fairly tough trying to dine with my co-workers and find a place to eat that we can all agree on. We have two evenings where we get to go to a fancy dinner, and one of those nights, we always settle on a spot at The Wynn hotel. Every restaurant at The Wynn has a vegan menu, so it's an obvious choice for group meals since we can all eat something at this hotel. We chose Jardin this year, which was a beautiful space, although a little TOO fancy for my liking. Its somewhat better for an older crowd or a romantic dinner, instead of a group of young professionals heavily drinking before going out on the strip. But I have to admit…they had a very upscale version of buffalo cauliflower with housemade vegan bleu cheese and it was some of the best cauliflower I've ever had and 100% the best vegan bleu cheese I ever had. I also ordered their vegan pizza with tofu ricotta, which sounded promising. The dough was phenomenal and with all it's toppings, LOOKED really impressive, but was just overall, lacking in flavor. The tofu ricotta was great, the vegetables could have just been seasoned a lot better. In my opinion, at least!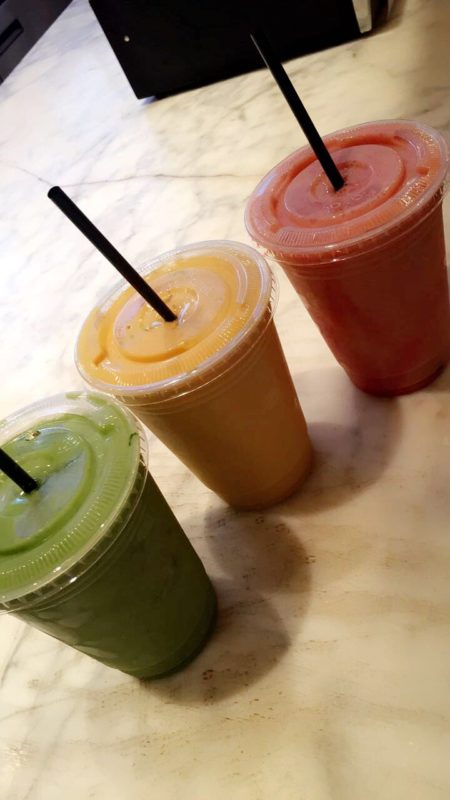 And if you're looking for smoothies or healthy breakfast options, the only place I've REALLY ever been able to find among the hotels is Citizens Kitchen and Bar. Which again, is conventionally located right in the center of Mandalay Bay, which is where my room and work are. I picked up a batch for my friends and I almost every morning. They aren't the greatest quality ingredients and they are FOREVER out of the wheatgrass powder they always say they can add to smoothies, but you can still get a shot of B12 or protein powder in them. Most of the combos are pretty basic, but they do taste ridiculously delicious and are extremely hydrating and refreshing. Especially after a long night of drinking, when you have to wake up and get to work by 7 every morning!
Related posts: