If you know one fact about my recent life, it's that I've fallen completely in love with Colorado. The hiking, the scenery, the culture, the breweries and the food. Oh, and the dispensaries. OH, and the boys 😉
I spent a month in Boulder back in September and couldn't wait to get back again. It seemed like an obvious choice to head back there for a week after all the work I'd done in Laguna Beach and Vegas, and it was only an hour flight from Sin City. This time around, I spent a little more time in Denver, and think I may even prefer it over Boulder. The scene is a little younger and modern and the vegan food is absolutely UNREAL. It's now home to some of the top five plant-based meals I've ever had. Boulder was a little tougher to find really great vegan food, and I basically lived off of meals from Whole Foods or random, mediocre veggie burgers the entire time. Don't get me wrong, I did find some exceptionally great food, it just took a little more work.
Who knows where I'll end up in Colorado next, but you can rest assured, I WILL be back in Denver to further explore the vegan food scene!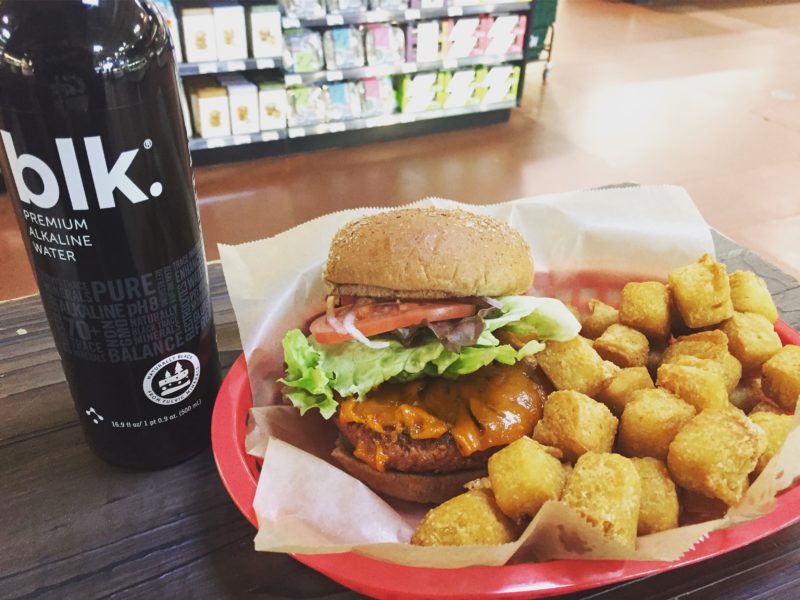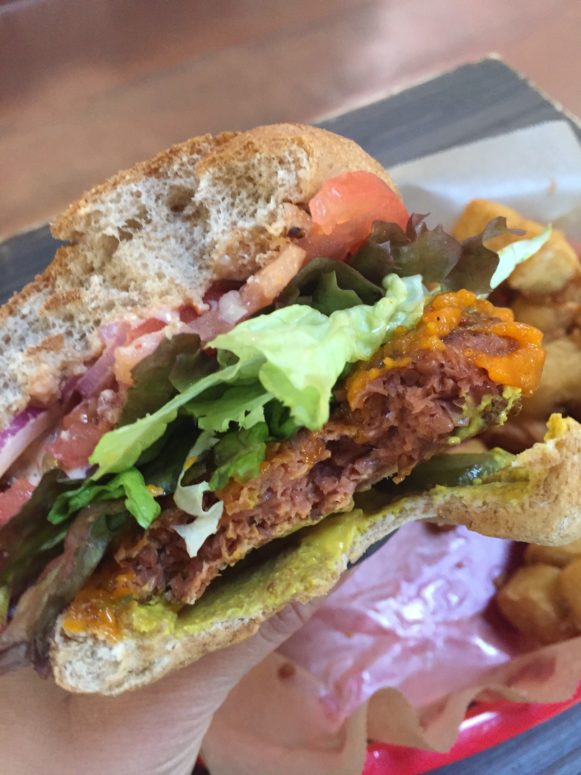 If someone let me, I would honestly live in the Boulder Whole Foods. No matter where I travel, I always hit up a city's WF and this one might be the best I've ever been to. Their vegan breakfast bar and vegan burger bar is so amazing and makes it hard to want to even eat anywhere else in Colorado. I've had most of their options at this point, but none is quite as impressive as their Beyond Meat burger with all the fixins'. I also had a side of Rolling Greens millet tots and blk. water which were equally as amazing as the burger.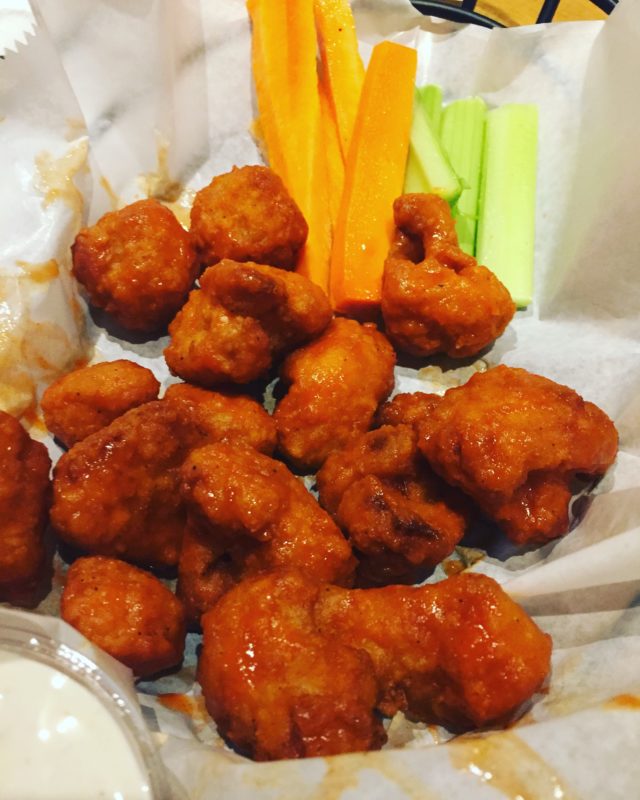 Buffalo cauliflower is my life. If I only ate one thing for the rest of my life, it would be buff cauliflower. And these ones from Boulder Beer Co. were shockingly some of the best I have ever had! They were super fried and possibly also the most unhealthy ones I've ever had, but the flavor was incredible. They also had a tempeh sandwich, which was one of the worst I've ever had, so these wings MORE than made up for it.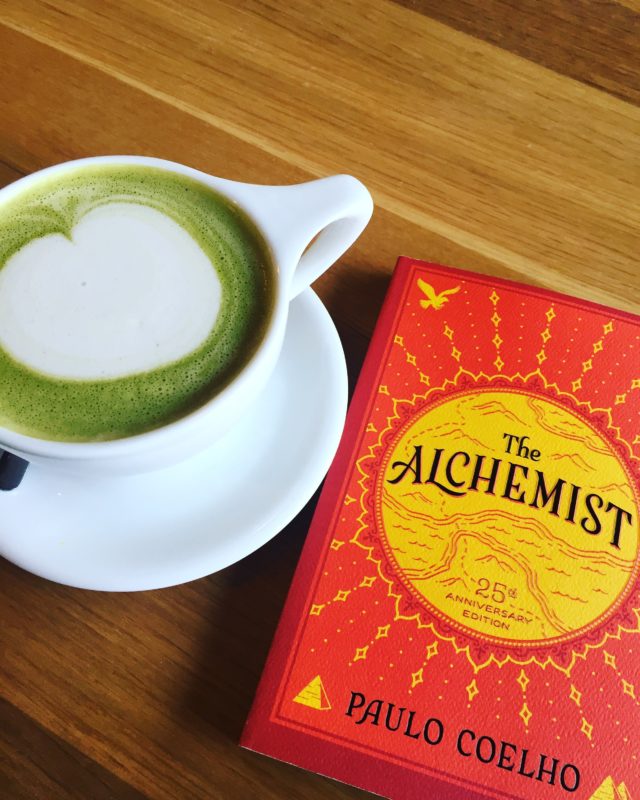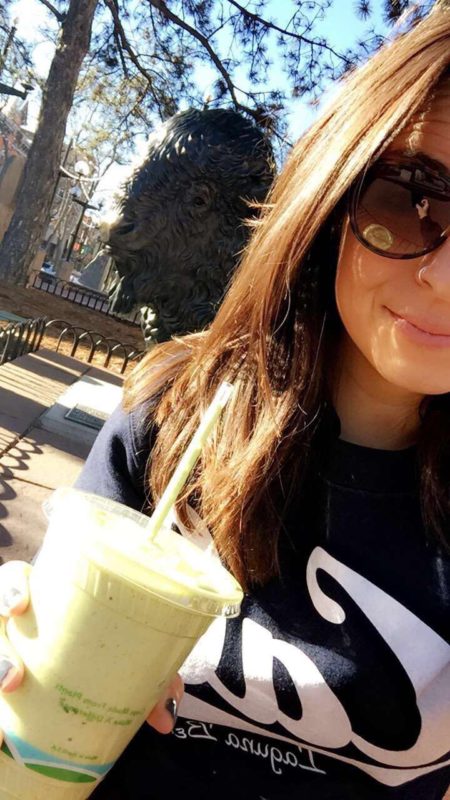 I stopped at Wonder at least four times during this trip. I spent a few mornings just sipping their amazing drinks and reading. Their space is gorgeous and tranquil, so if it's not super busy here, it's wonderful to camp out in their cozy seats all day and just relax. I opted for a matcha latte, charcoal juices and green smoothies this time. Extra, EXTRA points for them, because I swear, there is ALWAYS a plethora of gorgeous men in their storefront every time I'm there. Beautiful scenery, indeed 😉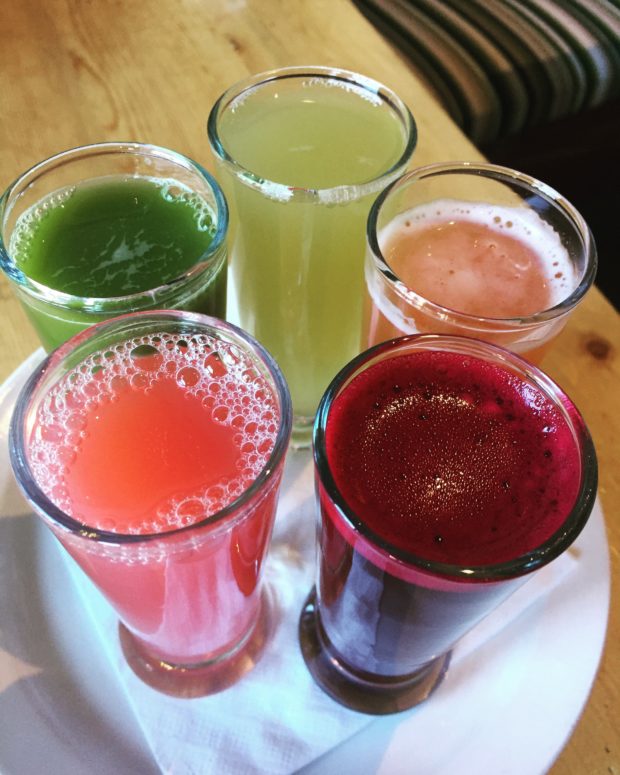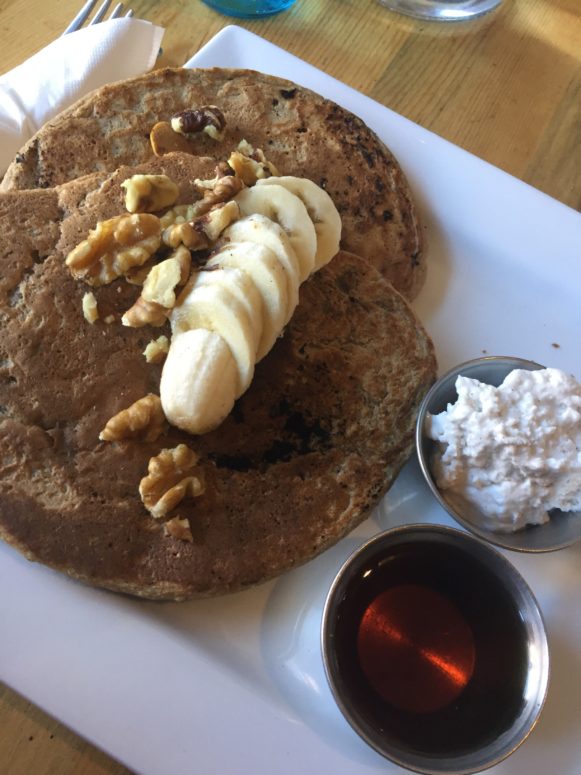 I was underwhelmed by my trip to Zeal last time, so I was happy to go back this time and have such a better experience! My friend and I went for breakfast and we shared pumpkin and banana walnut gluten-free pancakes, which were awesome. But I REALLLLYYYY loved their drink selection. I had to get their juice flight, and every single one of them was a creative blend and super delicious.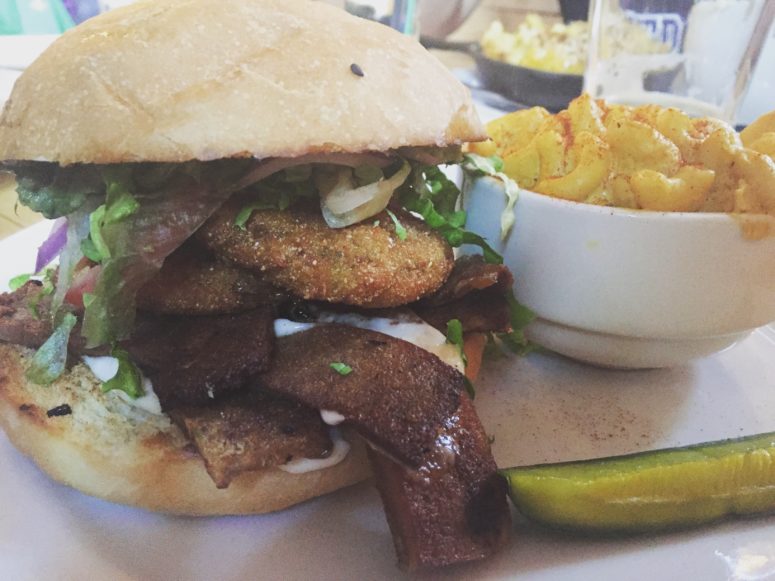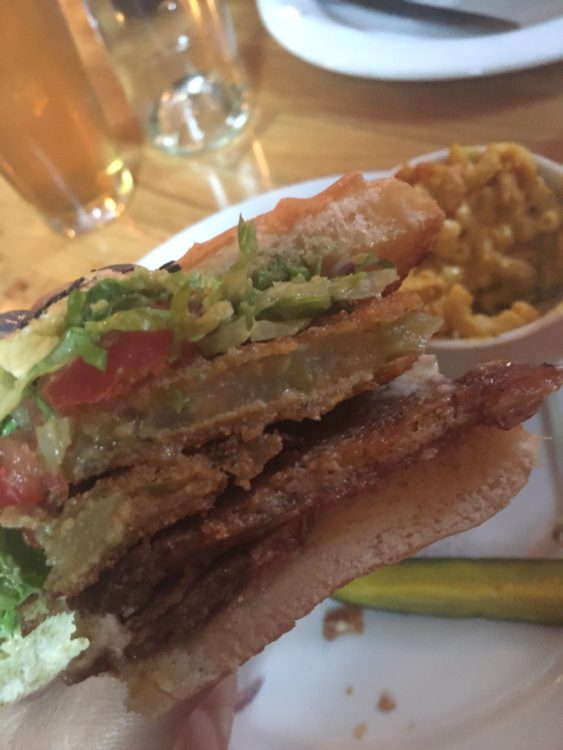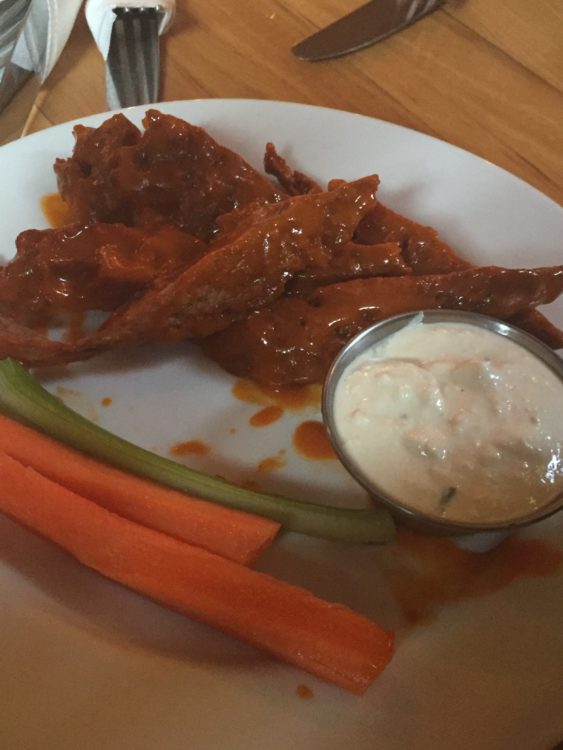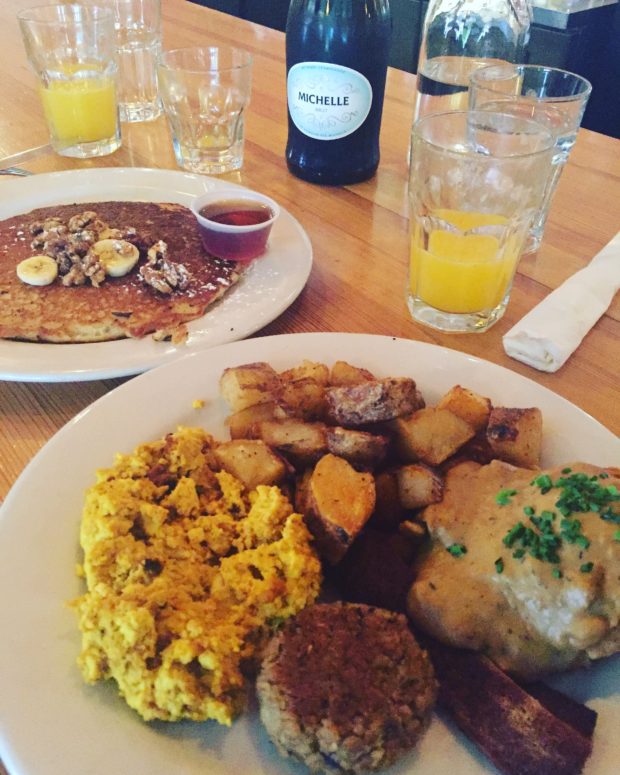 I could talk about the amazingness that is Watercourse Foods forever. It has easily become one of my top three favorite vegan restaurants I've ever been to and if I ate nothing but their food for the rest of my life, I would be totally satisfied. One of the highlights of this trip was bringing a few guys here who admitted that they wouldn't even realize the food was vegan if they were drunk. I mean, is there really any higher compliment you could get from meat eaters?! This time around I went for the Atlas burger and Mac and cheese and it was beyond delicious. I also had my typical slam breakfast which is a beautiful mountain of food like biscuits and gravy, tofu scramble, veggie sausage, tofu bacon and crispy potatoes. Added to that, they gave us a full bottle of champagne. Literally, DOES NOT get any better!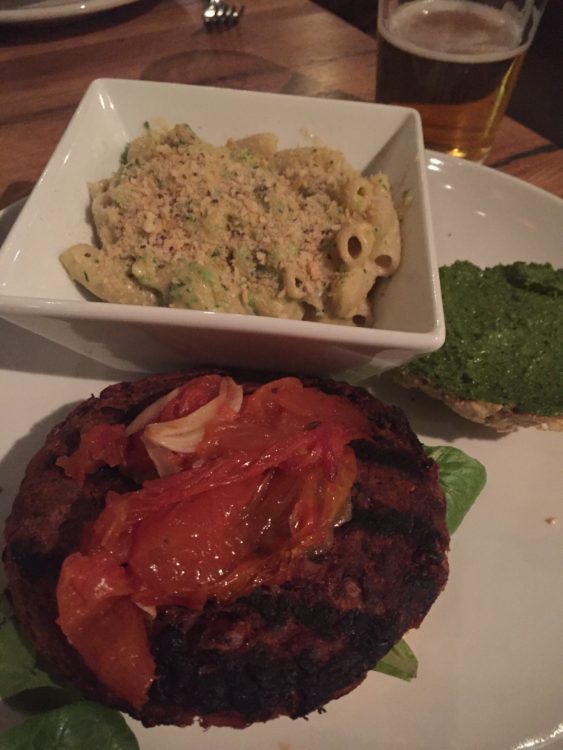 Shine doesn't have many of vegan options, but what they do have are REALLY good. I had no clue their whole restaurant is gluten-free, but was pleasantly surprised by how legit everything tasted. I had a veggie burger with a REALLY great, house made bun and mac and cheese with broccoli. The mac and cheese was especially great, and my friend was super satisfied with her cauliflower soup and biscuits with sweet potato butter 🙂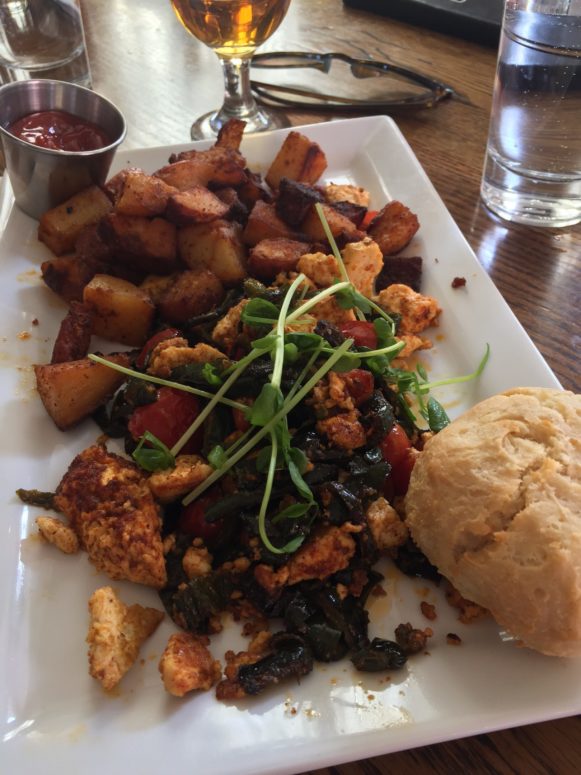 One of the most surprisingly delicious meals I had this time, was at Chautauqua Dining Hall. It was an obvious post-Flatirons hike destination and I dined with a group of fabulous Boulder hiker chicks. They actually have quite a few veggie sandwich options, but I went for their tofu scramble. I was really impressed! Their biscuit was heavenly, the potatoes perfectly crunchy and their tofu scramble was both flavorful and had amazing texture. Extra points for their yummy $6 mimosas!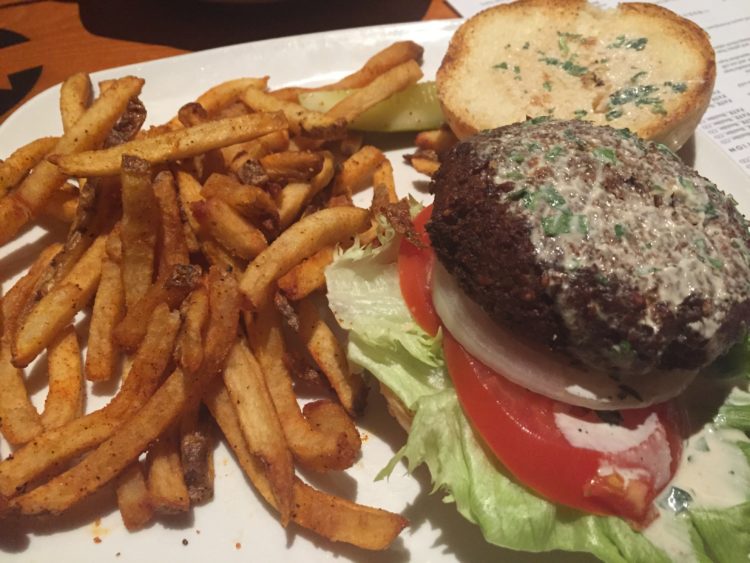 Fate Brewing is home to my FAVORITE Colorado beer. It was actually the place I had my first date in Boulder during my September trip, so I found it fitting, that I ended this trip with another date here. I hadn't ate my first time around because I was so caught up in their incredible beer, but I was thrilled to get this awesome falafel burger, which was one hands down, the best veggie burger I had on this trip. And that's saying a lot because I had at LEAST seven veggie burgers this time around!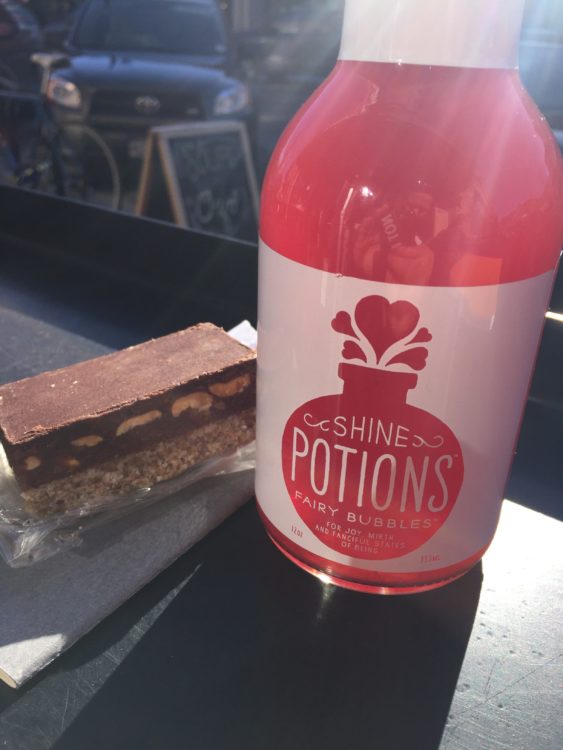 More points for Shine! I found their juice potions at a lot of spots in Boulder and I paired this particular one with one of my favorites in Boulder-the raw vegan Snickers bar from Daydream Desserts! Seriously, if you find yourself in Boulder, you NEED to get your hands on some of these treats! You can also order them online, which I'm totally going to have to in the near future.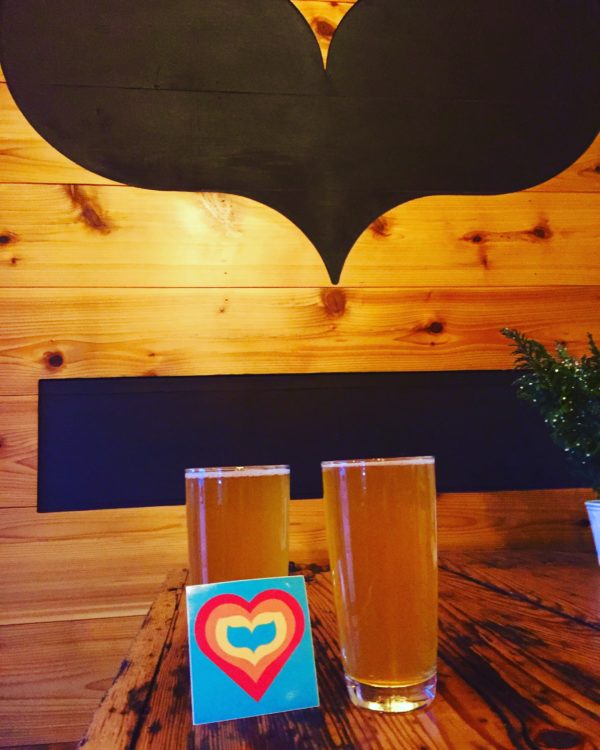 And last but certainly not least, is one of my top Boulder spots, Rowdy Mermaid Kombucha. Their tap room is super cute and I always make multiple stops here for their kombucha flights. I went later at night this time, and was totally freaking out over the fact that they had sour kombucha beer. SOUR. KOMBUCHA. BEER. Literally, all my favorite things rolled into one. It was unbelievably tasty and I would have spent my entire last night enjoying these beers if they didn't close at 7 pm. This place is a must stop for any kombucha lover!
Related posts: