My one recent regret in life is that I didn't know about Pure Cold Press opening almost two years ago. 
Where have I been?!
I am always up to speed on the latest and greatest vegan-friendly and/or juice bars opening about Boston, and somehow, one of the best ones slipped under my radar.
I stopped by the other night and was almost overwhelmed by how amazing it was. TONS of delicious juices and smoothies, more salad options than I could even count, a few stellar sandwich options and FOMU ice cream. Yes, FOMU! While not completely plant-based, the menu is so large it still feels like there's more than enough vegan options to choose from on any given day, whether it be their assortment of soups, their tofu sandwiches or their gorgeous acai bowls. It's places like these that make it SO hard for me to just choose one thing to eat on any given visit! #firstworldproblems
And can we just talk about how incredible owner Haim Cohen is? For a bustling Monday night, he was practiclly manning the entire operation himself, going from cashier, to sandwich creator to server, effortlessly. He literally knew almost every customer who came in and greeted them with a warm welcome, chatted about their lives and even gave the occasional bear hug. He knew almost every patrons order without even asking, and his boisterous, friendly personality made all the delicious food even more comforting and inviting.
He started me off with a fairly basic, but outstandingly amazing cauliflower lentil soup, which he says stems from one of his mom's creations. It definitely taste like a big bowl of comfort and was perfect for yet (another) freezing cold Boston night. I could eat this every day and not be mad about it! Other soup options include zucchini, minestrone and sweet potato.
I was also treated to a Green Monster smoothie, which consisted of kale, spinach, mango, pineapple and banana, which is similar to the smoothie I drink everyday. Nonetheless, it had amazing texture and consistency, and although it was super green, it didn't have a butter taste like a lot of other smoothie bars have. I didn't get around to trying any of their cold pressed juices, but they have REALLY unique options and I'm looking forward to trying ones like the Namaste (pineapple, mint, pear, lime and chamomile) and the Blue Dream (E3 live, apple, cucumber, lemon and ginger).
And the TLT. If you know me, you know I'm something of a tempeh lettuce and tomato connoisseur, and this one really hit the spot. I'm used to making it at home or getting the fake bacon kind most restaurants and have it come in thinly sliced form. This particular panini pressed sandwich-and let's face it, panini presses make everything taste better-had lettuce, tomato, garlic aioli, a pesto and a crumbled BBQ tempeh alongside an arugula salad. It was absolute HEAVEN and I devoured the whole thing ever after I'd already had the smoothie and soup. I'm dying to try their black bean wrap, avocado smash wrap and their Tofu Fo U sandwich. How good do those sound?!
Their Coolidge Corner location is surprisingly large and can accommodate a lot of foodies at once, with tons of tables, lots of plants adoring the place and really chill lighting. I'm also a sucker for light fixtures, in addition to TLTs apparently. 
Check them out as soon as you can, and tell them I sent you 🙂
Pure Cold Press on Instagram: @purecoldpress
Pure Cold Press on Twitter: @purecoldpress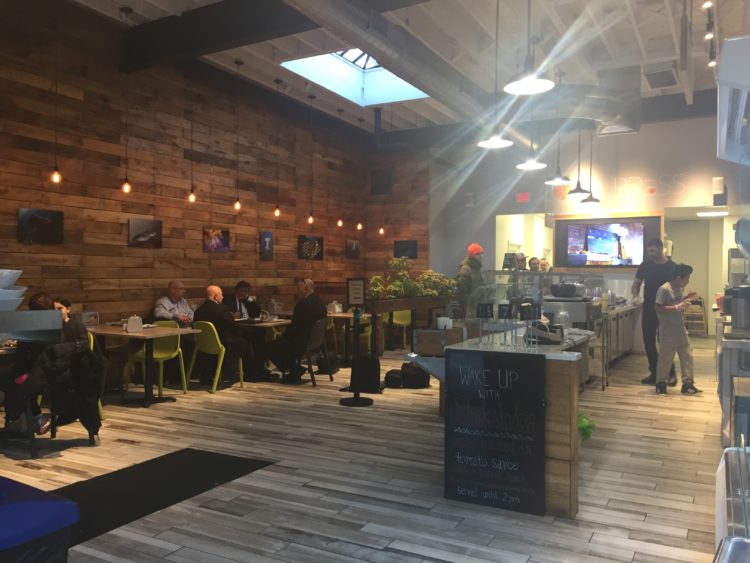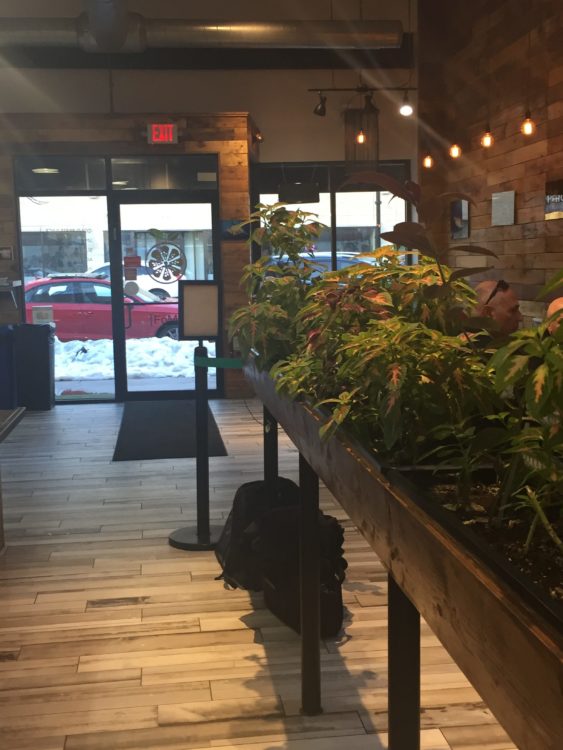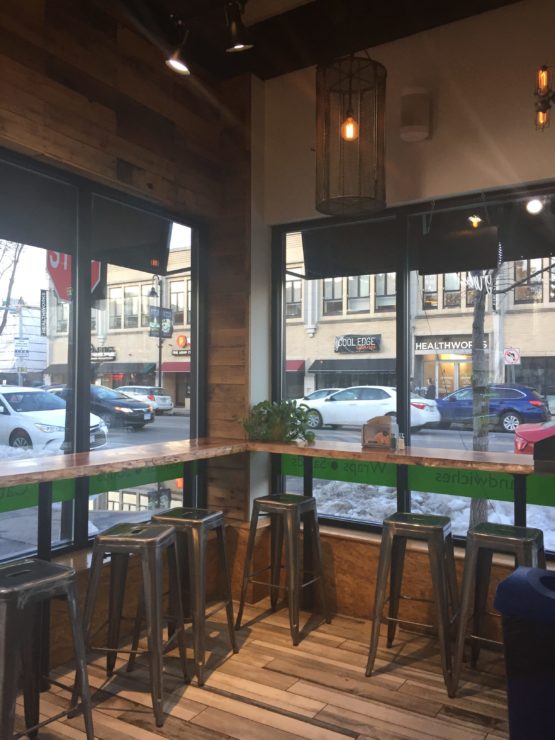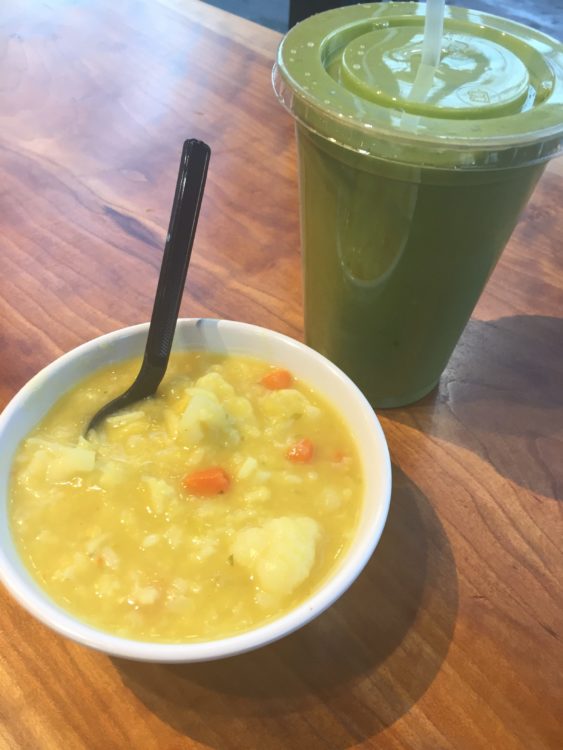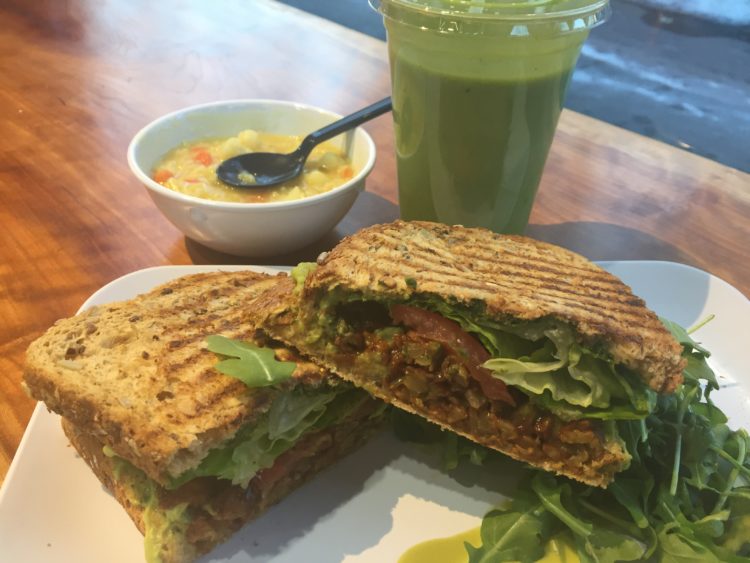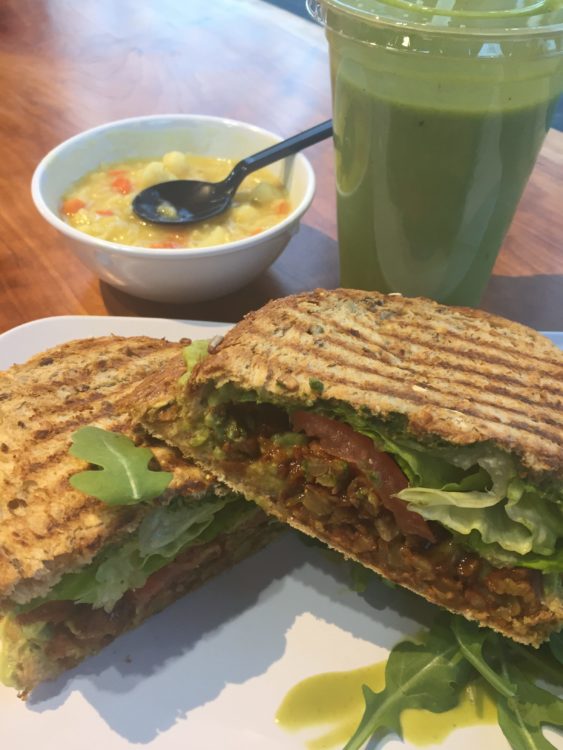 Related posts: