Though I'm not big on using processed, store bought, fake meats and cheeses on a day-to-day basis, I am allllll about using them for quick meals to make on vacation. 
And legit. This buffalo chicken stuffed crust pizza is likely the BEST vegan pizza I've ever had.
Steve was here last week for vacation, and we spent the majority of our time closer to the Cape with his parents. I knew from previous trips that Cape Cod is most definitely NOT vegan-friendly and relied heavily on avocado toast for breakfast and Beyond Meat burgers for lunch/dinner. But I LOVE being able to cook with Steve, and really wanted to make something quick and easy together. Pizza seemed like a natural option, because, DUH, who doesn't like pizza? We somehow got on the subject of stuffed crust earlier in the week and I drooled over the thought of it for the first half of the trip. We both love anything smothered in buffalo sauce, and thus, this incredible buffalo chicken stuffed crust pizza was born. 
And I say semi stuffed only because the crust unrolled itself in the cooking process. Which clearly didn't provide that stuffed crust satisfaction, but it did make a melty cheese well on the edge of the pizza that was almost better than what I'd imagined.
I have to admit-I hate on most store bought vegan cheeses, but the Go Veggie Sticks worked really well, and shredded perfectly. Totally not opposed to using it more in the near future!
Thanks, boyfriend, for your help on this perfect pizza 🙂
1 organic pizza dough
1/2 red onion, thinly sliced
1 package, slow roasted Tofurkey chicken
1 cup Wing Time buffalo sauce (make sure to get the medium heat, since the mild version is not vegan)
Preheat oven to 450 degrees
Roll out pizza dough onto a floured, nonstick baking sheet
Saute red onion in a frying pan over medium heat for 8-10 minutes
Add chicken and cook for 5 more minutes
Add buffalo sauce and cook until sauce is well absorbed into onion and chicken
Cut three of the cheese bars, lengthwise, into 4 long strips
Using the 12 cheese strips, place each piece around the crust and fold over-brush over with olive oil
Pour buffalo chicken mixture into pizza dough and distribute evenly
Grate remaining cheese sticks and then sprinkle over pizza
Bake at 450 degrees for 20-22 minutes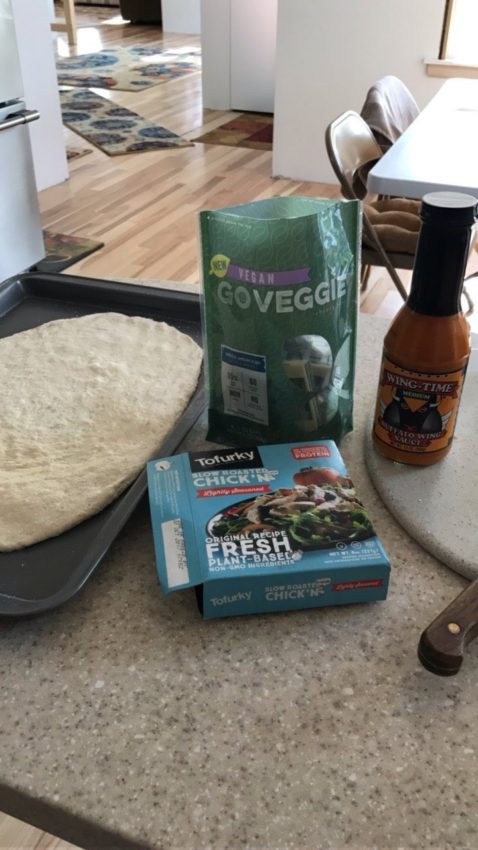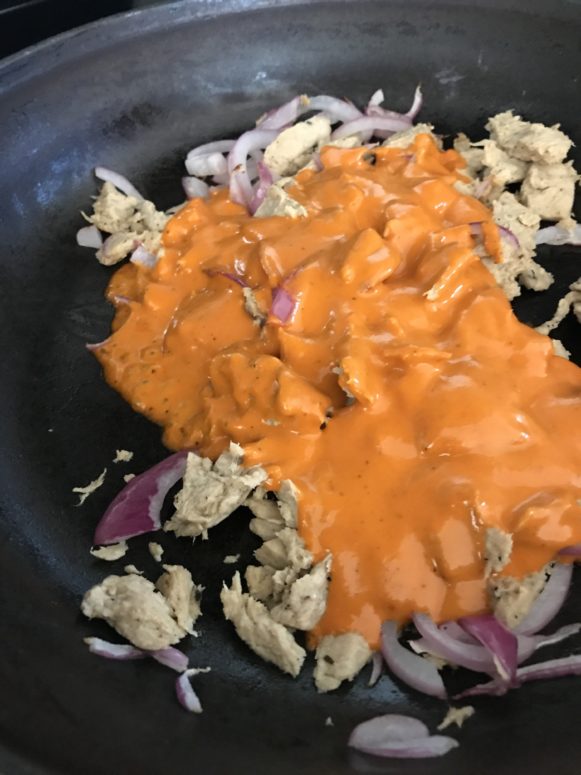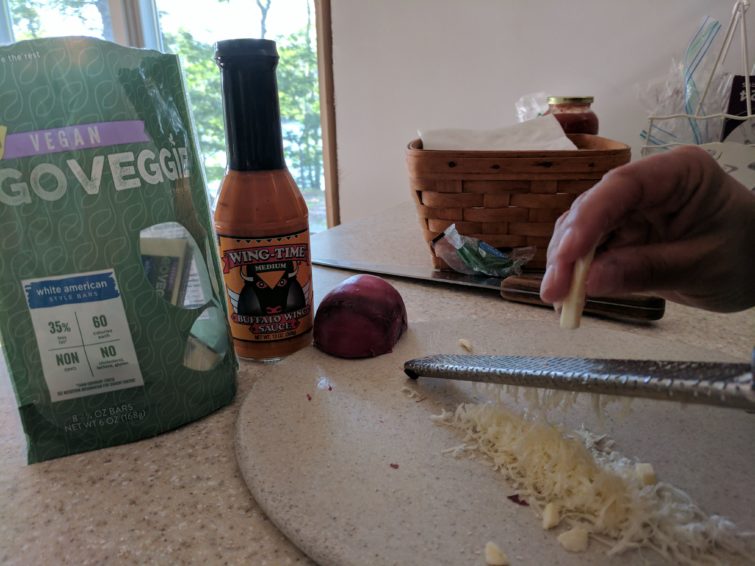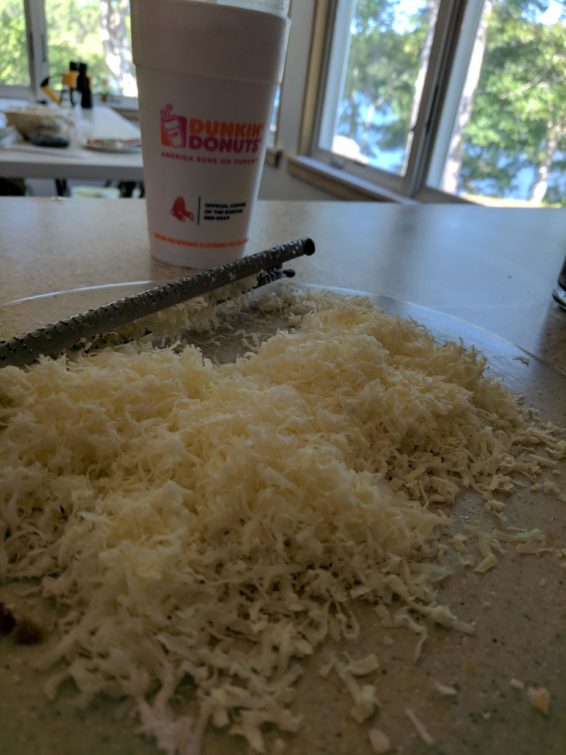 (Ignore the Dunkins cup, Steve loves it…I DO NOT)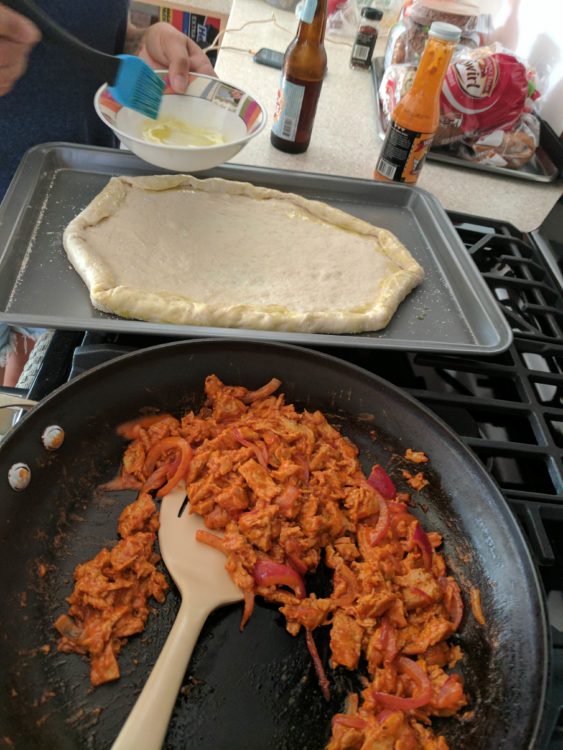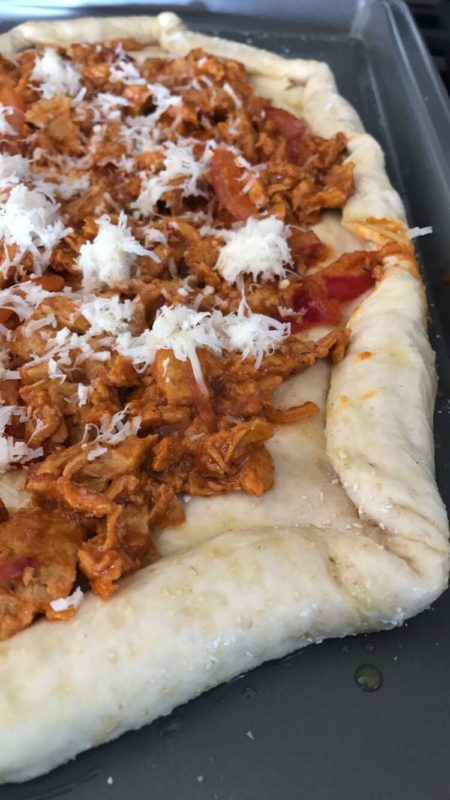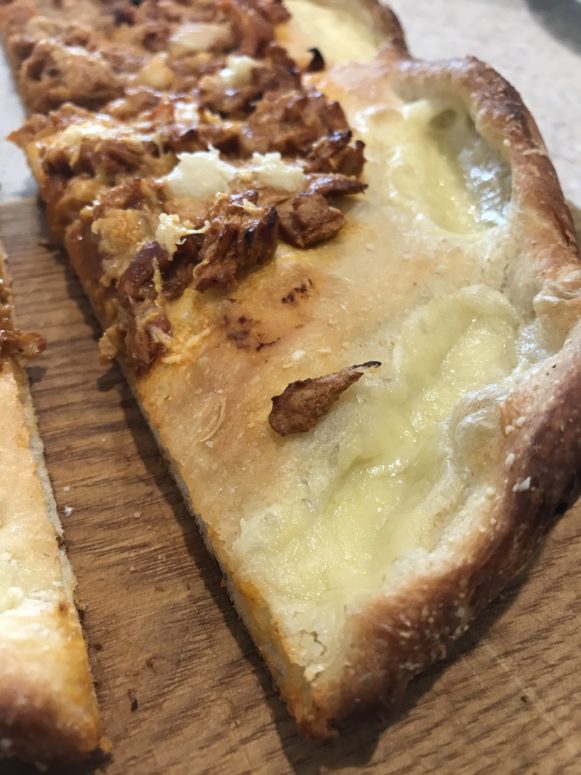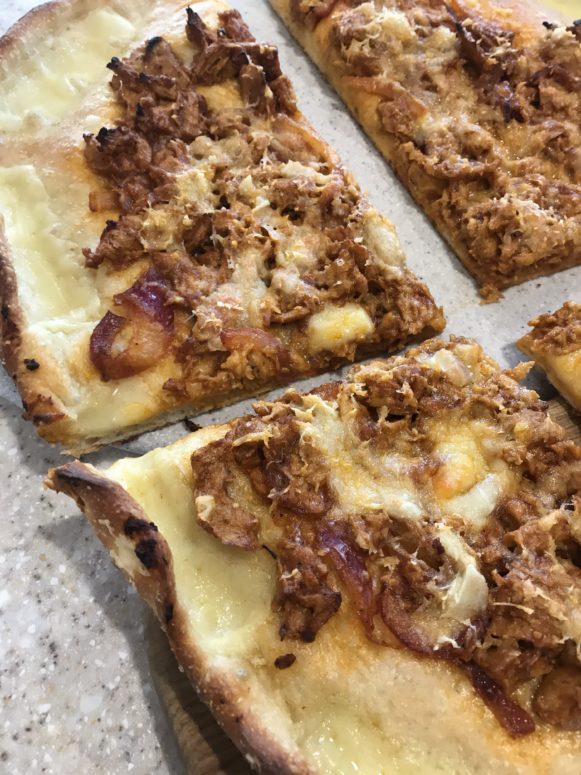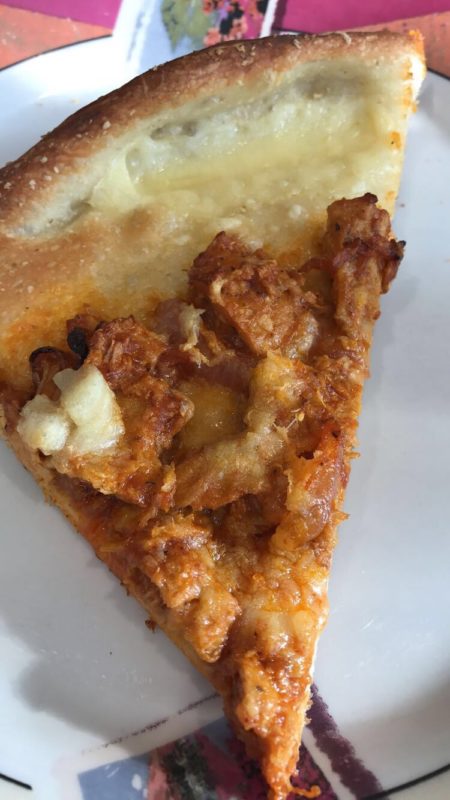 Related posts: