San Francisco has been on my list of places to visit for a LONG time. I'm so in love with SoCal, I figured NorCal would be equally as amazing. The verdict though? Here's some things I learned while traveling to the bay area:
San Fran is home to some of the MOST incredible vegan food I have ever had. Seriously. I say that a lot, but…the proof will present itself in the rest of this post.
Literally, some of the WORST traffic I have ever seen. EVER. #stressatanalltimehigh
I could never, ever live in such a congested, big, overpopulated city.
Public transportation is not my friend.
Everything, I mean, EVERYTHING is WAY overpriced in SF.
I know, I know. I sound like such a hater. I did some beautiful hiking here though (Muir Woods-you must go!) and enjoyed eating myself into a coma every day with my friend I went to visit. And though it was super cool to see the Golden Gate Bridge, The Painted Ladies, the ferry building and of COURSE, the Full House house, the vegan fare was by far the highlight of my entire trip. 
So SF, even though you were insanely, incredibly delicious….you've got nothing on southern California. 
Usually, I save the best for last. But The Butcher's Son was our first stop and there was no way anything was ever going to top it. HOW ARE YOU VEGAN, BUCTHER'S SON?! HOW?! Their menu is loaded with comfort foods, sandwiches and subs you never thought could be plant-based, like meatball subs, chicken bacon ranch sandwiches, steak and cheese, turkey grinders, tuna melts and roast beef sandwiches. Their portions are massive and one sandwich could last you probably two or three meals….unless you're Pao and I. Then you eat until you're overly full and have no choice but to roll yourself home and take a nap.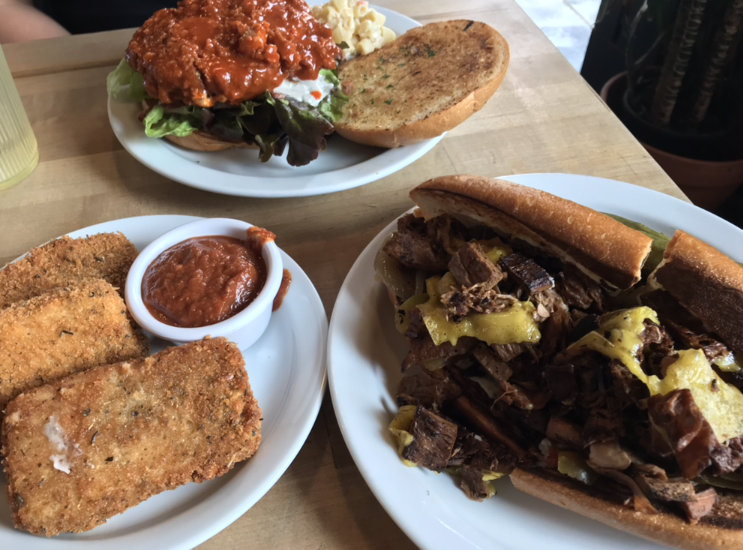 So what did we stuff ourselves with? The buffalo chicken bacon ranch sandwich with bacon pasta salad was first. Super fried and crunchy, smothered with not TOO hot buffalo sauce, crispy bacon and decadent ranch dressing. Honestly, so unbelievable. And their pasta salad with bacon bits was just as convincing. And if you want to talk about convincing, let's discuss their mozzarella sticks. I've had some bad vegan ones in my life, and these are probably the most legit ones I've sampled. They oozed and were awesomely stringy in the way that real cheese is.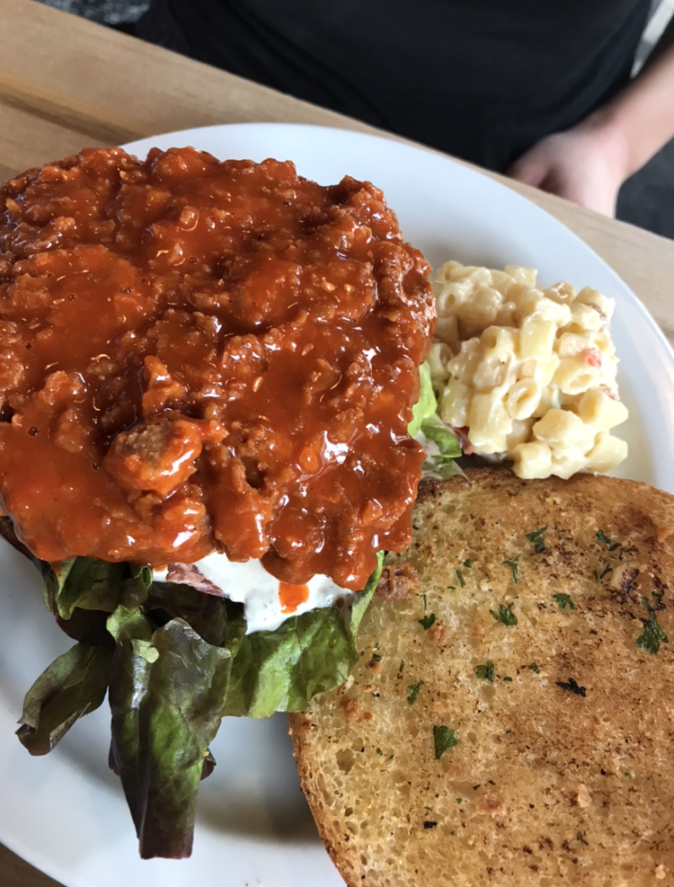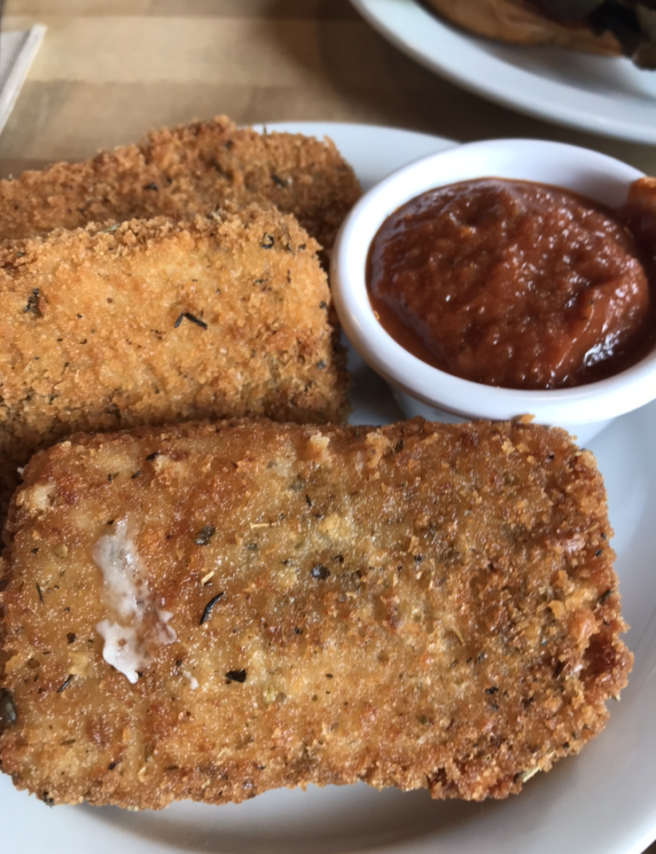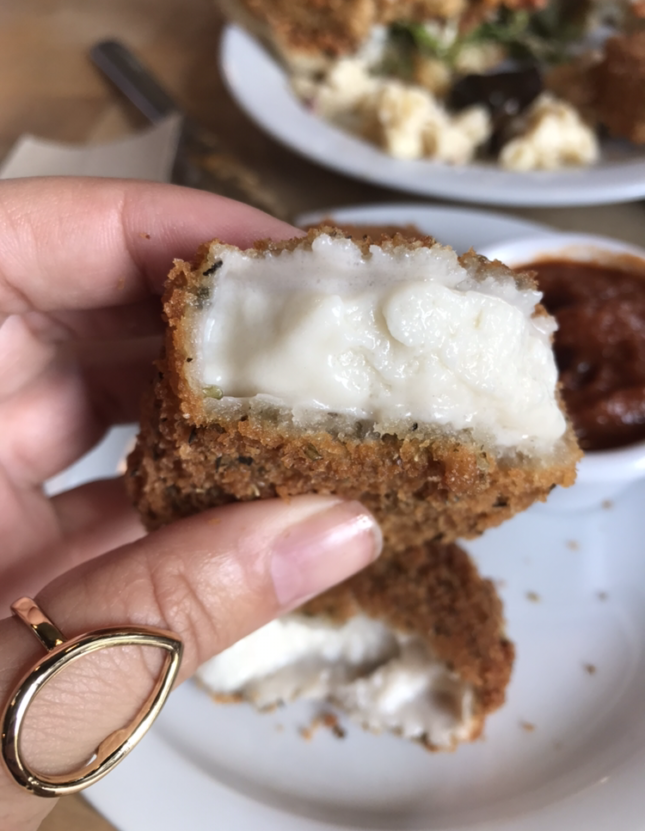 And the steak and cheese. I've also had some not-so-great knock-off steak and cheeses, too. This seitan version with Violife cheese left me speechless and I almost ate the whole thing, even though I was supposed to share it with Pao. The texture was so authentic and the flavors were downright breathtaking. When I'm on my deathbed, someone please make sure this sandwich is nearby so I can relish it in my final moment.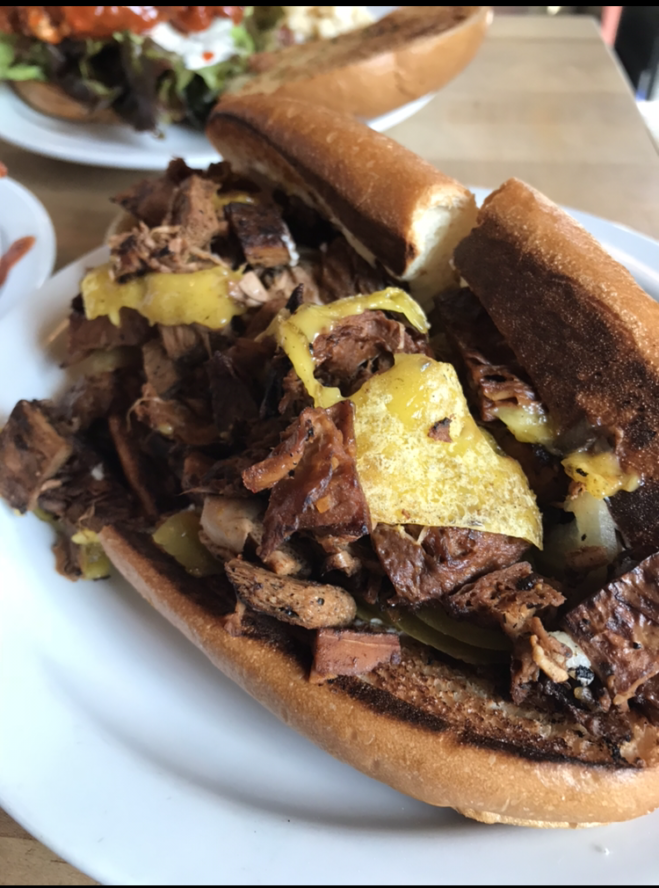 The Butcher's Son, you are truly legendary.
How had I never heard of VeganBurg? I'm not really sure, but I'm glad I stumbled upon it. I was walking down Haight-Ashbury in search of vegan food, and the place I was planning on going was cash only. And if you know me, you know I never carry cash. So I was kinda bummed because Love N Haight looked bomb and they had super cheap eats-I suggest you check them out if you're in the area and tell me how it was! 
Anyways, I ended up at VeganBurg instead, where although you'll pay $10 for a fairly small, solo burger, you'll be elated when you taste them. I was wary of these mushroom-based burgers because, well, I hate shrooms. But they were super crispy and flavorful and didn't have any traces of the usual things I don't love about mushrooms. I got the tartar burger which came with a tangy sauce, pickles, onions and lettuce and made for a quick, super satisfying lunch. I also adored the decor here, which included a vegan tree (photos of veg celebrities hanging from an indoor tree) and lots of grass adorned furniture.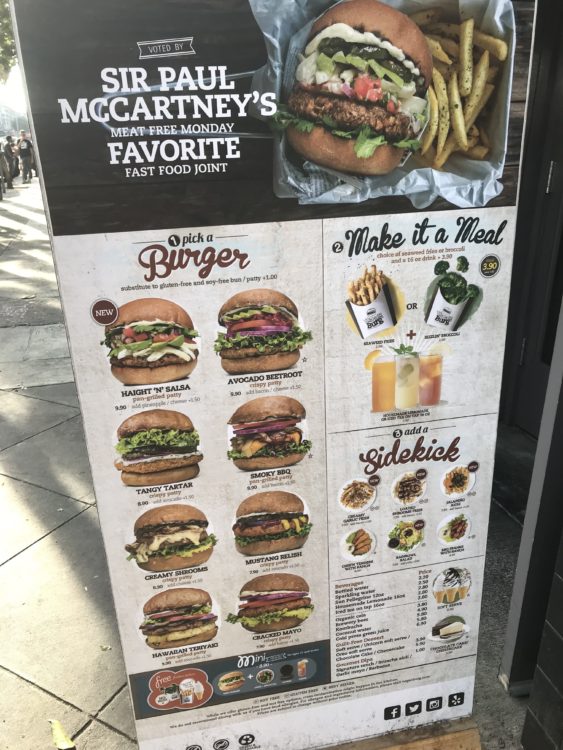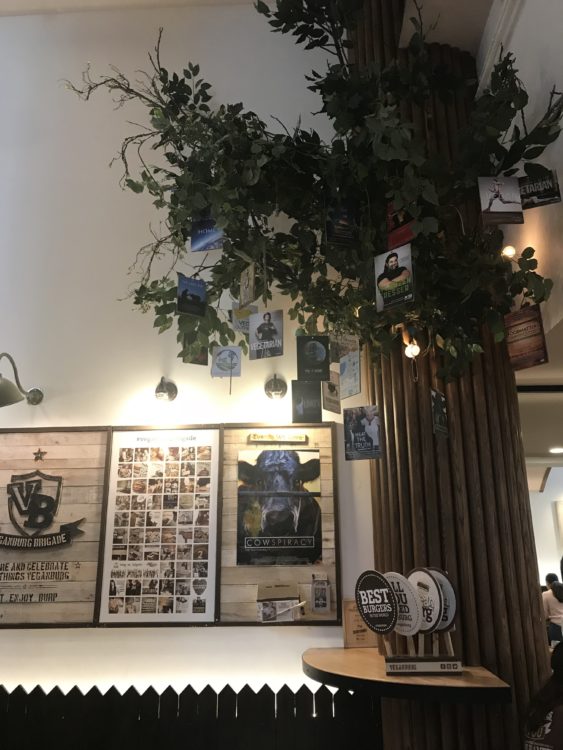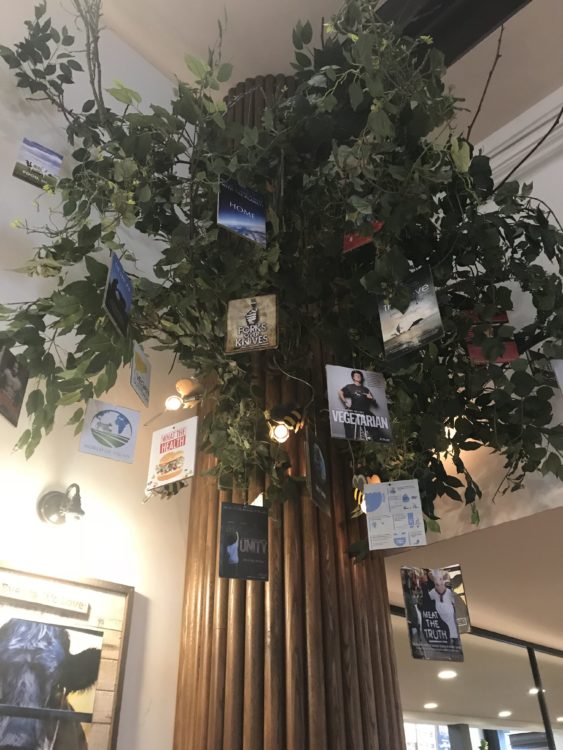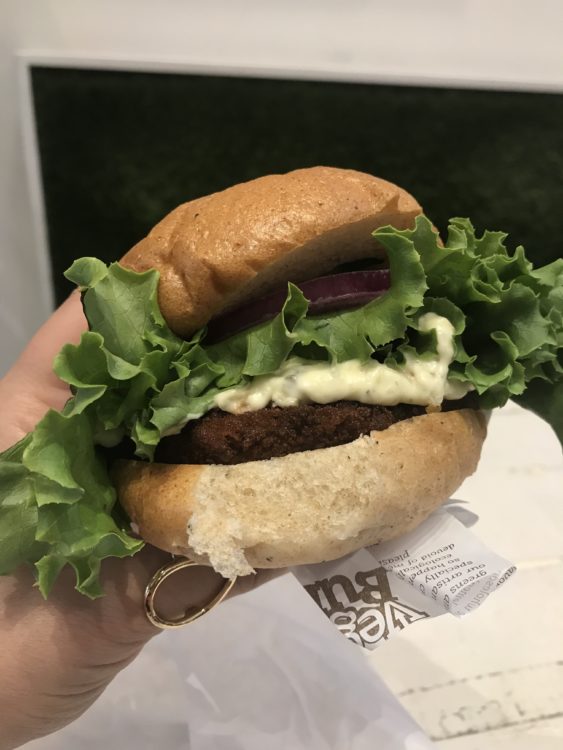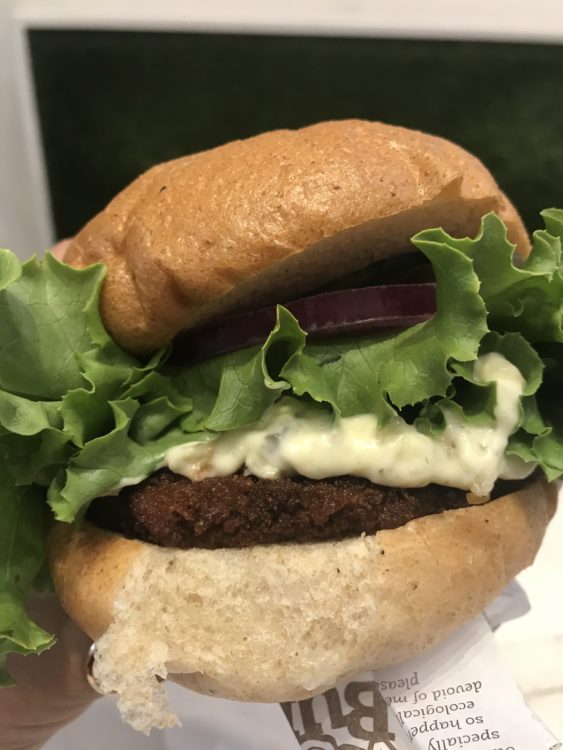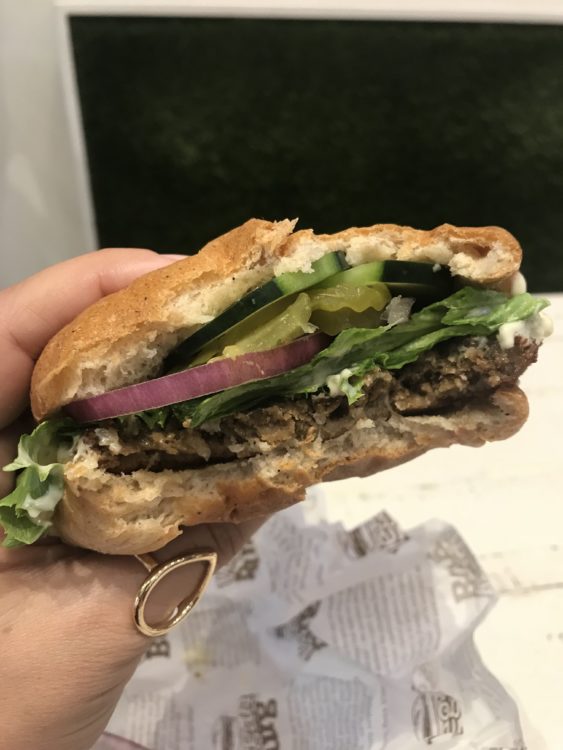 This place is downright amazing. Though I am obviously a huge fan of all the fake meats and delicious vegan cheeses, I have to applaud places like Seed + Salt, where EVERYTHING is composed of just plants, nuts and seeds. It's organic and mostly locally sourced, gluten-free and totally refined sugar-free. And the whole place is friggin mouth-watering. Though I was super tempted by their amazing raw desserts, muffins, juices, smoothies and salads, we opted for more filling meals. We got the green curry sweet potato rice bowl with a chickpea frittata, which was packed with so many depths of flavor it was almost overwhelming. We also split their breakfast sandwich which is composed of walnut chorizo (SO good), cashew cheddar, chickpea frittata, onions and pimento mayo on the best tasting GF bun I've ever had. It was so yummy, so filling and made my stomach really happy. The flavors molded together perfectly and it was the ideal sandwich to fuel our adventures for the day!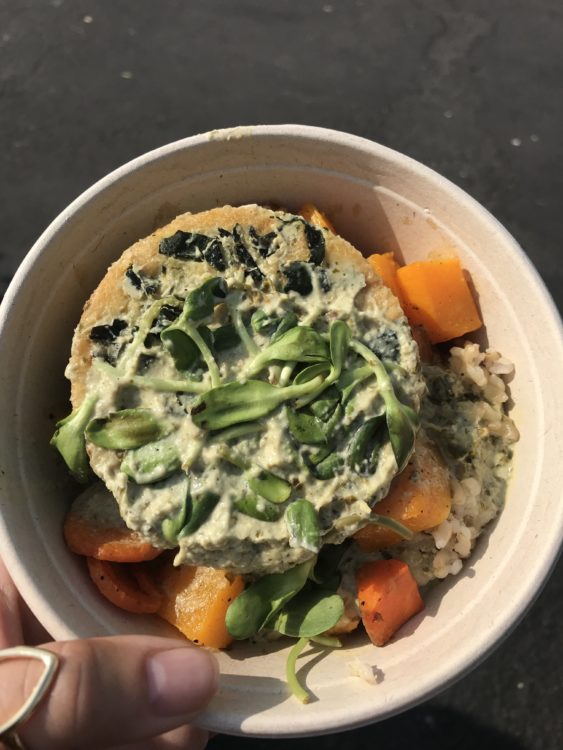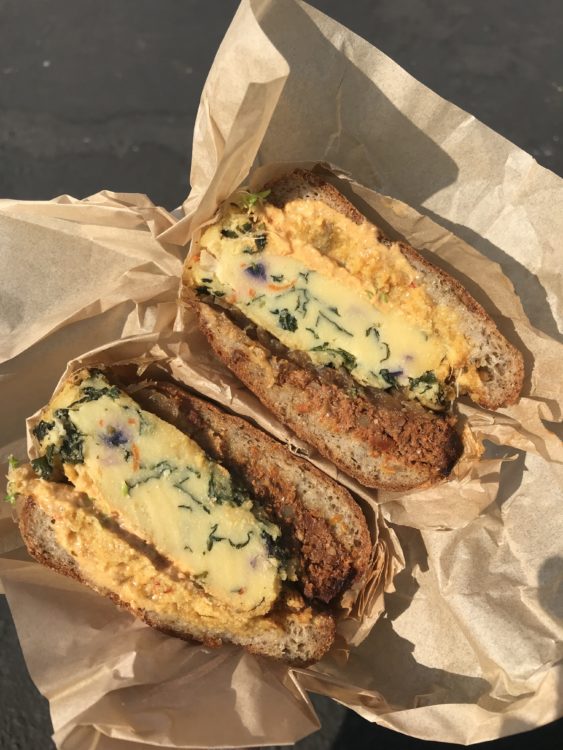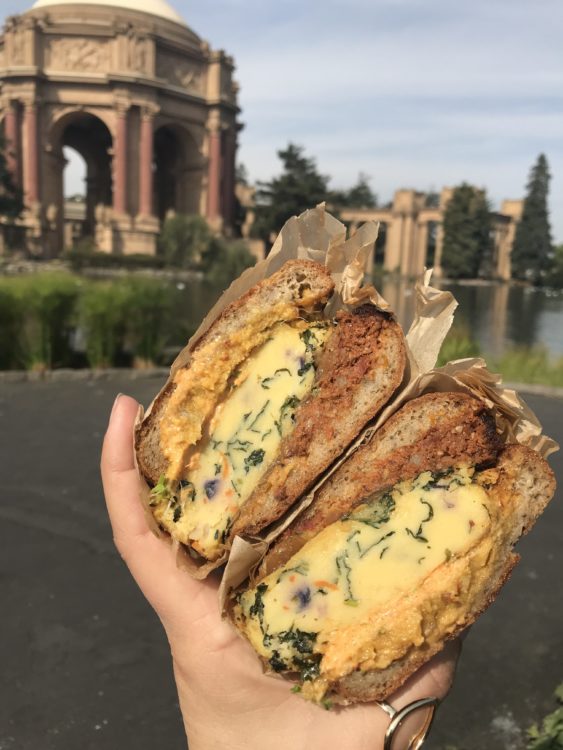 This one is totally random, but so worthy of making this list. We went to the ferry building downtown, to browse the stores, but MOSTLY because I really wanted donuts from Pebbles Donut Farm, which usually had a spot in the building. Lo and behold, it's under construction and my heart was broken. Luckily, there was one in Oakland, that we got to visit the next day (more of that food porn in the next San Fran eats post). At that point though, I was starving, and even thought there's lot of great juices spots and other food vendors there, there was virtually nothing for vegan food. EXCEPT…
Imperial Tea Court! Outside this traditional tea house, a woman was serving steamed buns for $3 for two-and they had two veggie options! I recently discovered the magic that is sweet red bean paste, and was stoked that one variation here, was just that. Soft, fluffy, chewy steamed buns with a decadent sweet center that just melted in my mouth. Expect to see some recipes featuring red bean paste in the near future 🙂
Ah, Millenium. I'm willing to bet a lot of people love it here. It's kinda fancy, kinda pricey and although most of their dishes are composed of elaborate veggie creations that are beautiful and artfully crafted, I guess I'm just not that sophisticated? The food was good, and I really enjoyed their coriander crusted King Trumpet mushrooms, which had superb flavor and texture. We also got their tempeh entree, which wasn't much more than sauteed tempeh with pickled cabbage, braised vegetables and what I remember to be a hominy side. It was fairly bitter and underwhelming and I wasn't really impressed with it, especially with it's $24 price tag. I had high hopes for dessert, which was essentially cubed ice cream with biscotti and some berry compotes. Overall, it was also lacking in flavor, even though it was gorgeous. It's one of the most renowned and most popular vegan spots in SF, but I honestly felt like it was lower on the totem pole then most of the other spots we dined on this trip.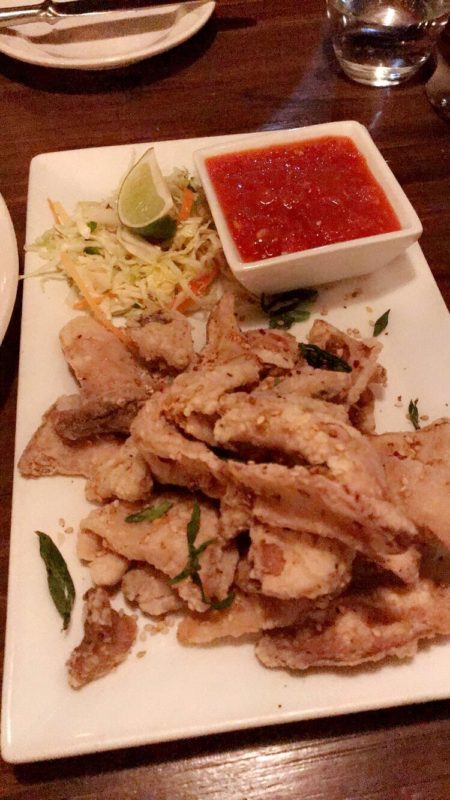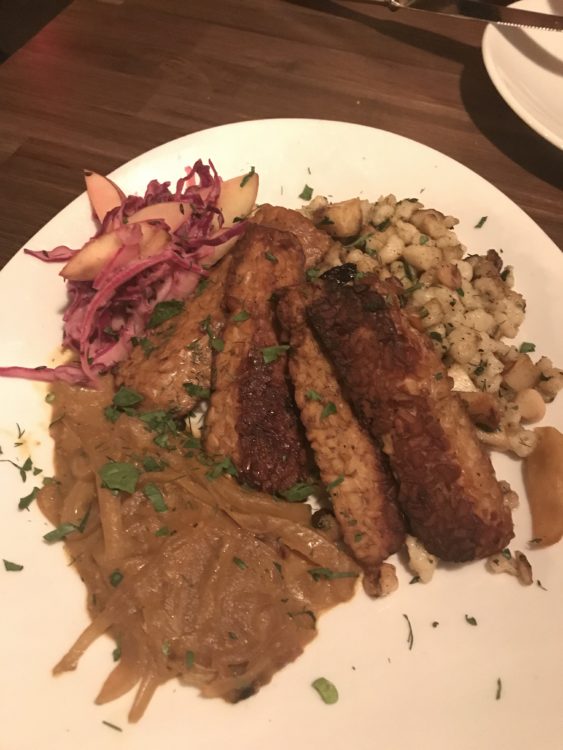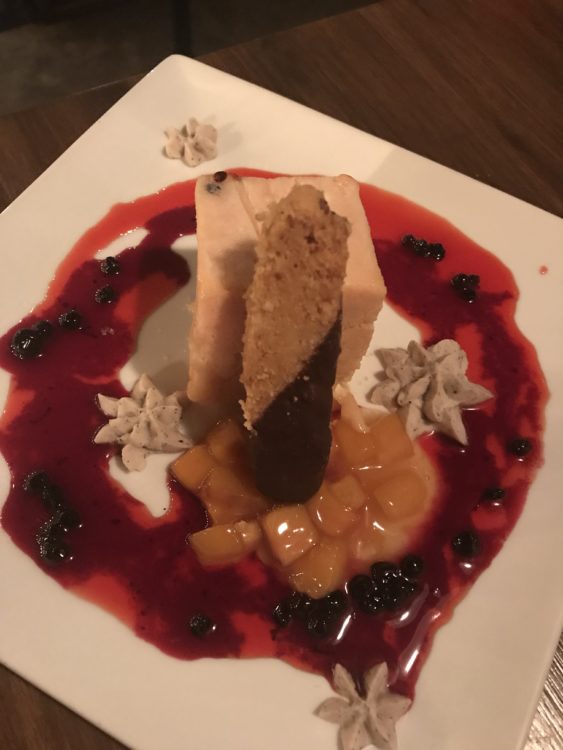 Related posts: