OK-now onto part two! Equally as mouthwatering as part one, I promise…
I was in search of getting my hands on an Impossible Burger, because I've been dying to try it and there are ample places to get it in SF. Things that are not so ample in SF? Parking. So even though I found a spot to get my elusive burger, I had to park extremely far away. And accidentally stumbled upon Vegan Picnic in front of where I parked. Blessing in disguise? YUP.
It's a cute little cafe/shop with lots of unique vegan drinks, snacks and foods to go. Their menu isn't super expansive, but it has a very home-y vibe to it, with lots of items that, DUH, you would likely take to a picnic. The MOST delicious plant-based picnic with items like steak tip, meatball or caprese subs, grilled cheese and egg salad.
I, true to form, went for their crispy chickn sandwich with sriracha mayo, because I can't resist mock chickn sandwiches or anything with sriracha mayo. Their pasta salad was also so good, and I wish I'd purchased a pound of it to take home. It's a really inviting and yummy spot, and I have zero regrets about not getting that Impossible Burger.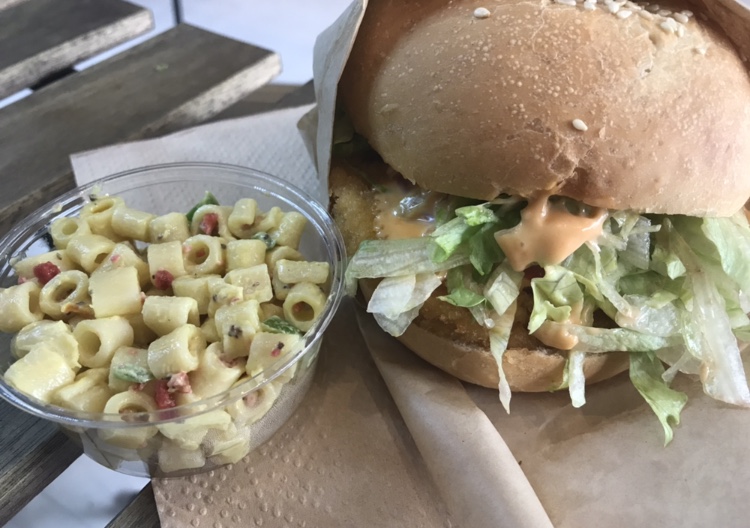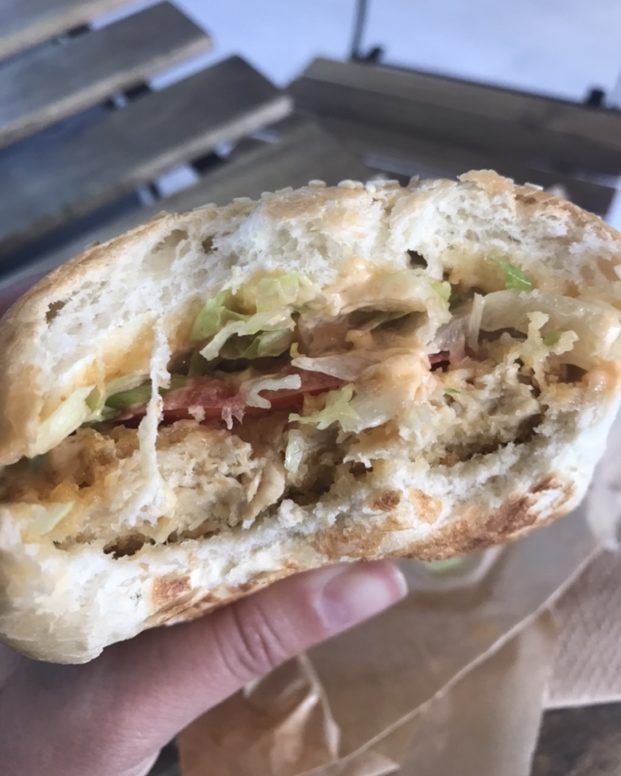 This place is incredible, especially if you're looking for some southern soul food. Or tons and tons of carbs, if you're anything like me. Their menu is loaded with old school, down-south dishes like fried okra, gumbo and grits, baked tofu, mac and cheese and lots of other creole inspired fare. The prices are super reasonable especially for the massive servings they dish up. We went for the seitan "shrimp" po boy sandwich which was extra fried and crispy and loaded with flavor and delicious fries. They also offer a combo plate where you can choose at least three large sides for $13. I got the BBQ tofu, mashed potatoes and gravy and mac and cheese, which also came with a side of cornbread. Everything was SO tasty and all those carbs kind of made it feel like Thanksgiving dinner. I was especially into their mac and cheese which was insanely rich and had a little kick to it. Well done, Souley Vegan, well done.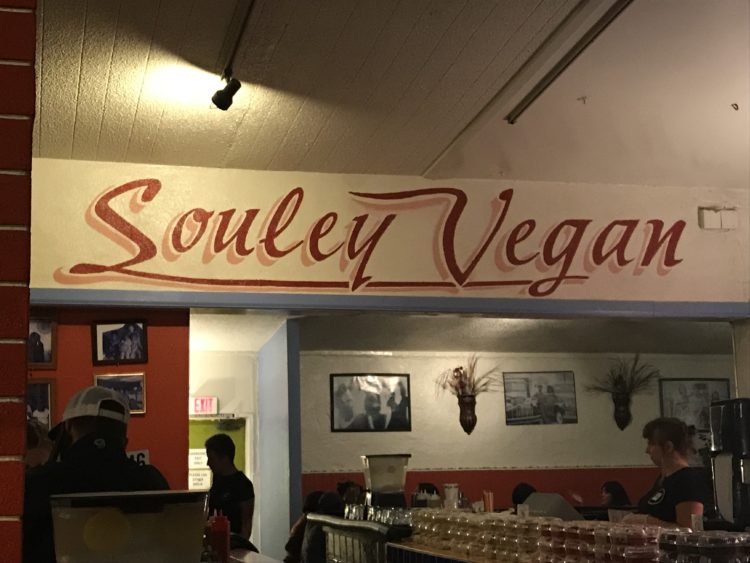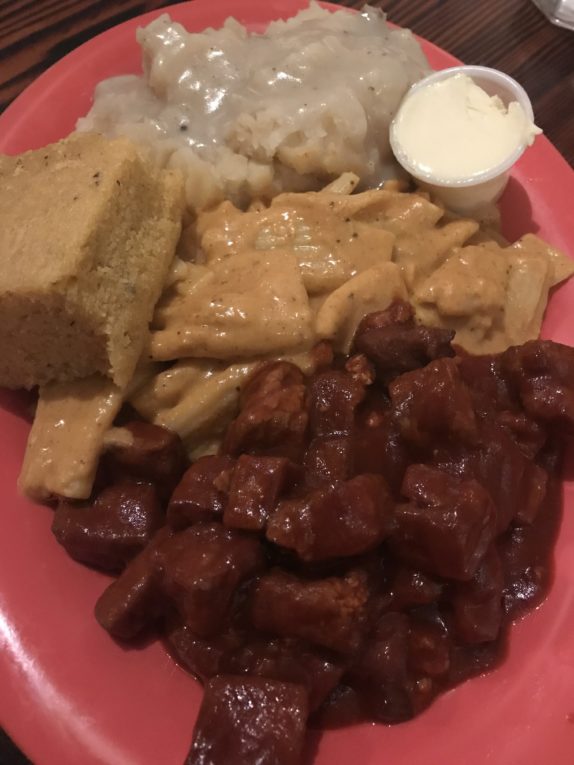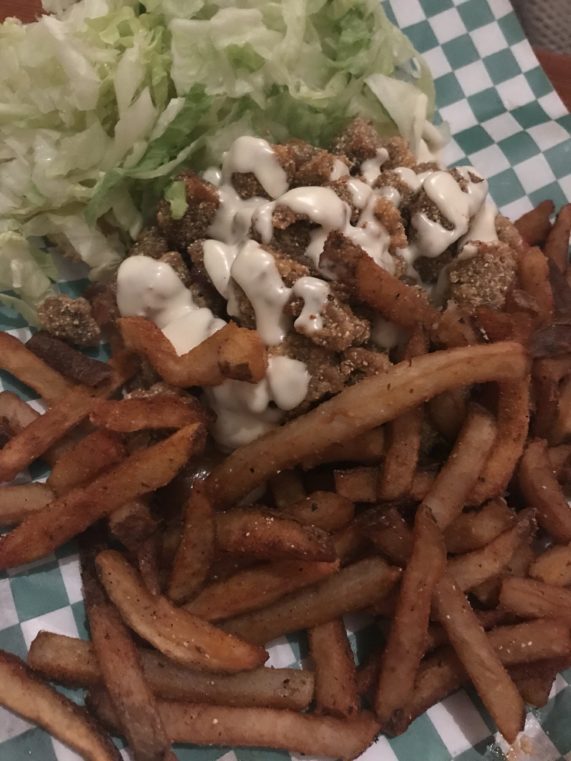 So, yeah, obviously this one isn't really a place to eat. 
BUT. I'd never had boba before and apparently the original Boba Guys in SF is the greatest place to get it. So I had to have it, even though, initially, the idea of jelly balls in tea kinda, sorta freaked me out. I really had no idea how to order, but they happened to have a strawberry matcha version on special that day, and you could add Oatly oat milk or Califia Farms almond milk to it. I went with Oatly since I'd never had it before, and oh my lord, was it surprisingly delicious. It had amazing, fruity flavor and the tapioca balls were tasty and kind of fun to drink. If you haven't had boba before I highly, highly recommend it, especially if you find yourself near a Boba Guys.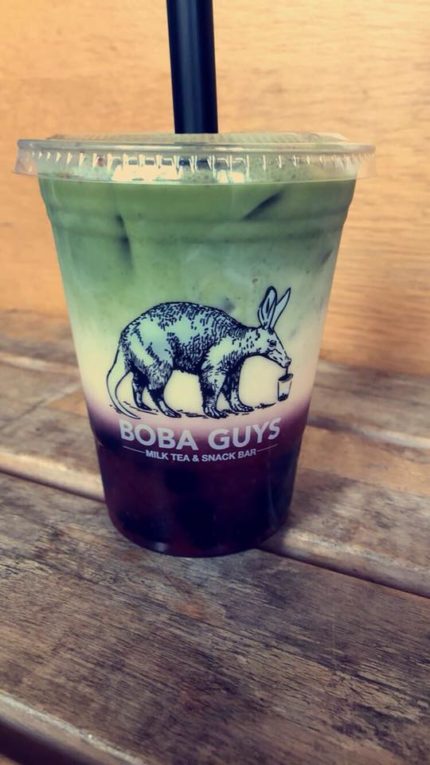 In addition to having incredible food, Hella Vegan Eats was absolutely one of the most interesting places I've ever ate. Their inside restaurant feels like am upscale garage (yes, I realize that doesn't make sense) with eclectic decor and artwork that give it a really funky vibe. Follow the inside ordering area to their outdoor beer garden, and you'll pass an antique car museum and another art exhibit. For real.
The outdoor space is massive with even more oddball artwork, wood patio furniture and tons and tons of plants and flowers, in addition to a tiki bar. Random, right? But really fun and the perfect spot, especially if you're dining with a large crowd. 
And the food will certainly not leave you disappointed either. Their menu is full of fun, nostalgic eats like fried chicken bahn mi, bacon Brussels Sprouts, grilled cheese and soup in addition to a mix of rotating salads, rice bowls and other sandwiches. I opted for their spicy chicken quesadilla which was fried chicken, watermelon habanero sauce, pickled onions and cashew crema. It was a really interesting mix, and though it was almost TOO hot for me, the flavors were really powerful and super tasty. An overall amazing and unique experience!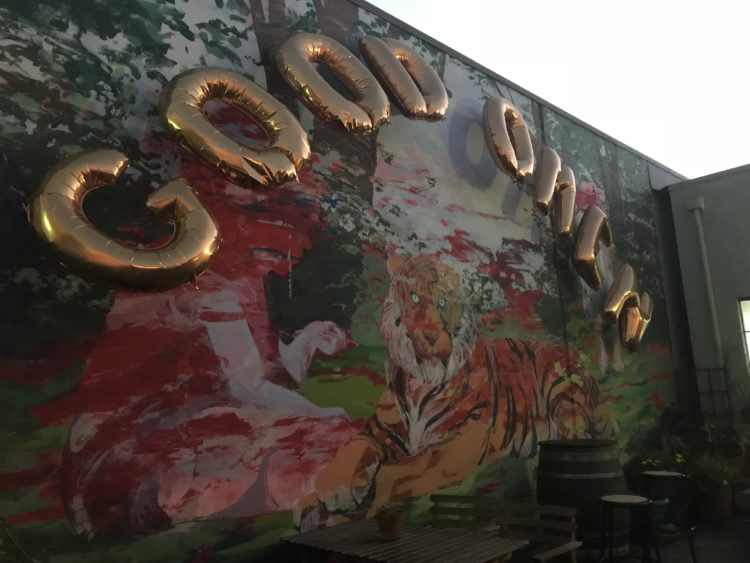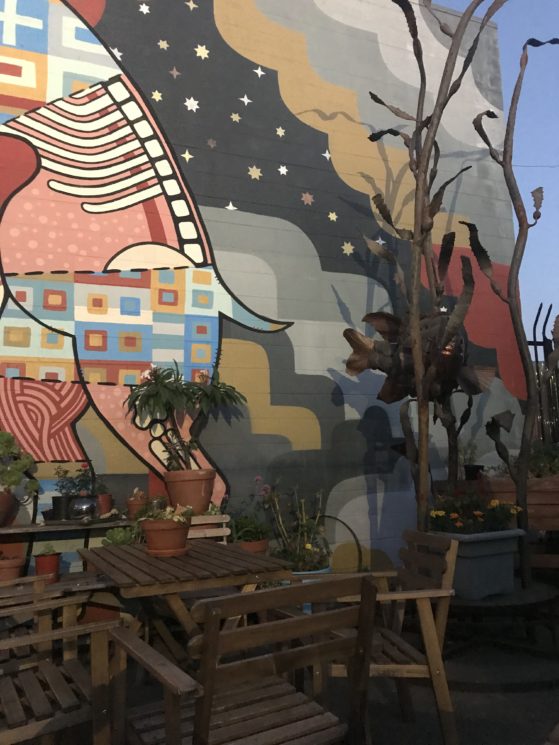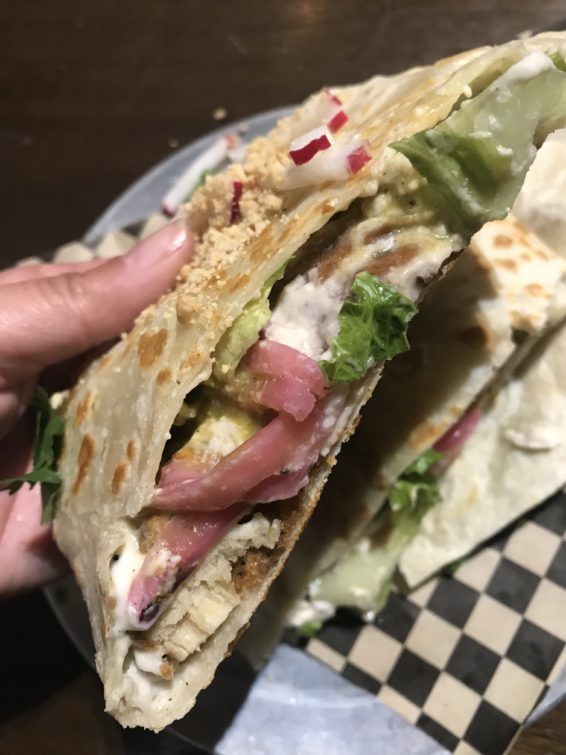 OK, so I did leave the best for last on this post. I had long been awaiting our trip to the Donut Farm, and initially thought we'd just be getting some breakfast pastries. But once we arrived and took a look at their broader menu, we couldn't resist getting more. My friend Pao is OBSESSED with poutine and so we also got an order, which was smothered in a savory shiitake gravy and vegan cheese. But nothing could compare to their Nashville hot chickn, hash browns and collard greens. The chickn was insane. Insane, insane, insane. So much beautiful spicy flavor, a crispy outer layer and a juicy chickn center that was almost too realistic to eat. The hash browns were equally as delicious and so were the collards, and I usually HATE collards. Oh, and the donuts! We followed up this top-notch dish with almost every flavor of donut they had, which included orange creamsicle, blueberry, vanilla sprinkle, chocolate sprinkle and a banana fritter. Donut heaven.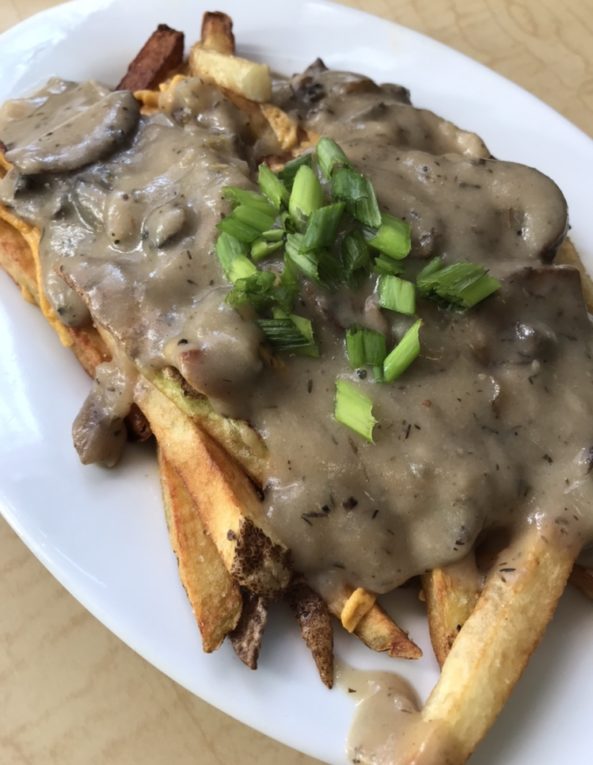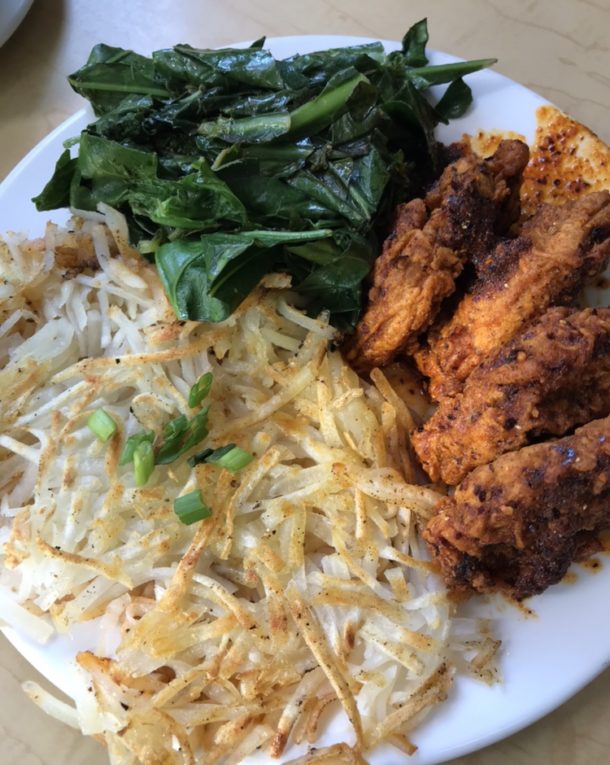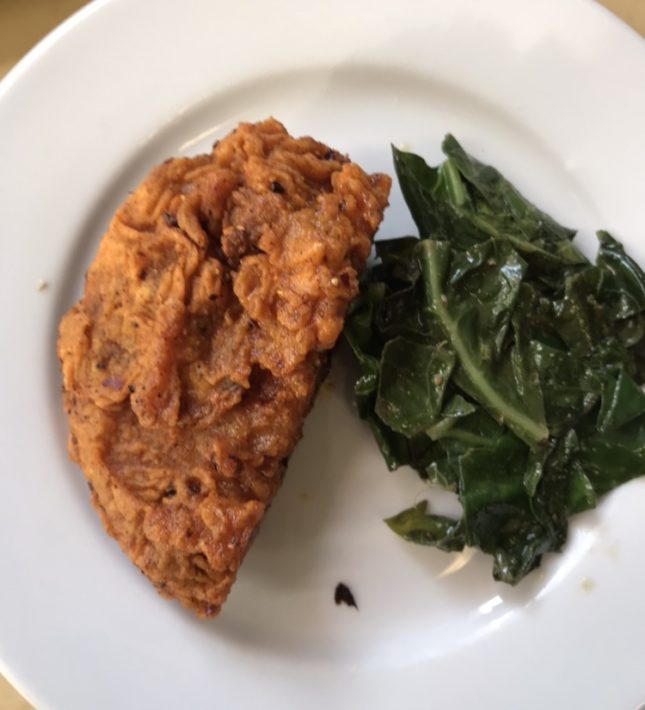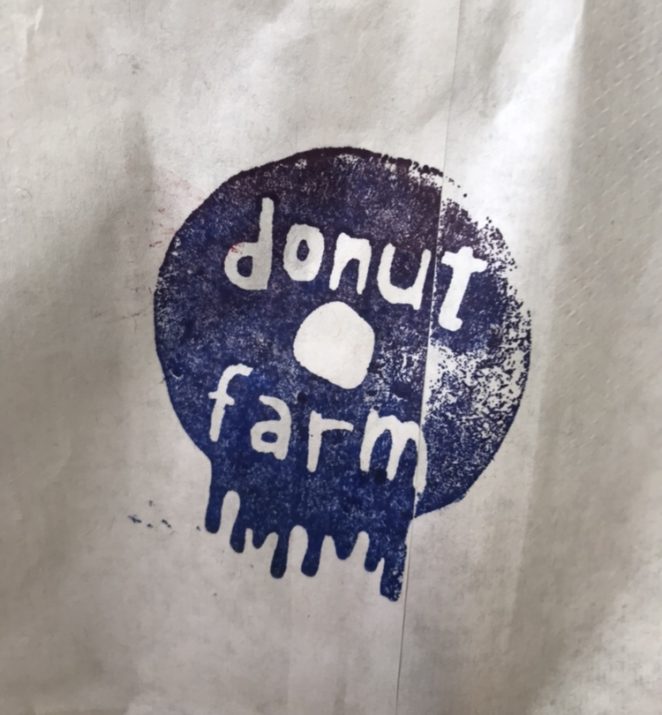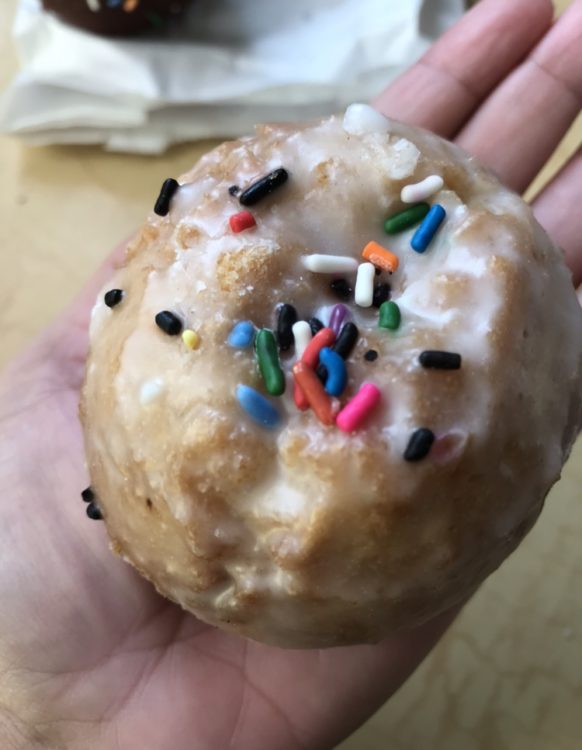 Related posts: