OK, so these are completely unoriginal. Pretty sure if you Google "vegan breakfast", some type of overnight oats are gonna be at the top of the search list.
I, until recently, had not had the distinct pleasure of enjoying overnight oats. I admired Arikka's morning oats from afar, but for some reason, did not want to stray from my streak of nothing but smoothies every day for breakfast. Eventually, I felt like the fruit smoothies were too much sugar to have all the time and they left me hungry before I could even get through my morning emails.
And so, I made the delicious decision to whip together these unreal oats.
They take about 5 minutes to prep and then you just let them sit in the fridge overnight. And voila! You've got an amazing breakfast meal to enjoy at home or on the go. And trust me when I tell you a scoop of peanut butter and banana with each serving amplify their yumminess even more.
I'm pretty sure Oh She Glows is the mastermind behind these things-and since I trust her culinary skills, I didn't change her recipe much. But I figured since it took me awhile to come around to this oatmeal, I better share it with my readers in case they'd be living under a rock and hadn't tried them yet either!
Oh, and please forgive the crappy photo of the finished product. I was so excited to share my new obsession with my friends on Instagram, that I didn't remember to snag a pic with my DSLR until the next night. Which, at that point, all the oats were in my belly 🙂
2/3 cup organic rolled oats
2 cups almond milk (add a 1tsp of pure vanilla if you want or use vanilla flavored milk)
1/4 cup cocoa powder
2 tbsp chia seeds
2 tbsp cocoa nibs (optional)
1 tbsp raw organic sugar
Dash of sea salt
Tbsp of peanut butter and half a banana per serving (recipe makes 3-4 servings)
Mix oats, chia seeds, cocoa powder, sugar, nibs and salt together

Pour in almond milk (and vanilla if using) and whisk together until well incorporated
Let sit, uncovered, in the fridge overnight
Stir in the morning and then serve with peanut butter and banana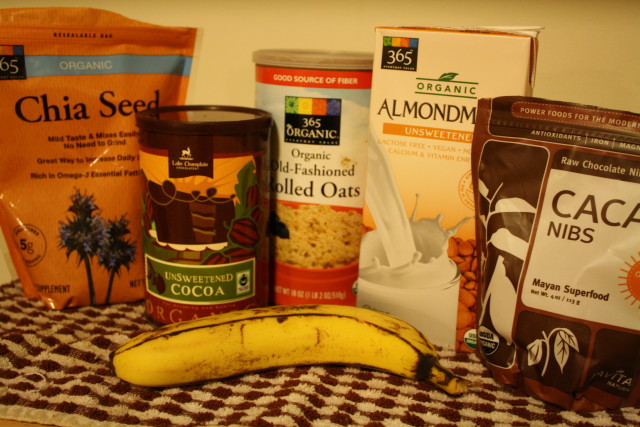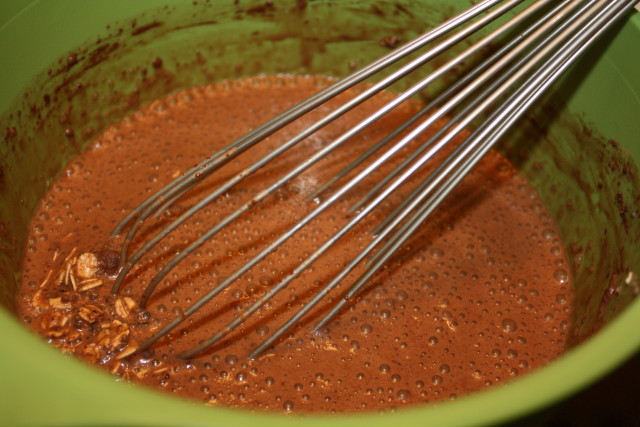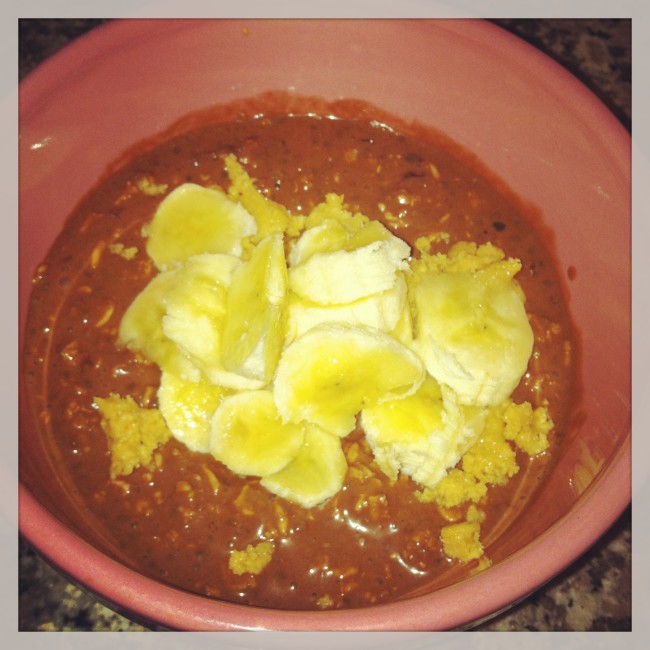 Related posts: