A soup recipe in June, Lisa? REALLY?!
In what is probably the most unseasonable dish for these warm Boston temps, I present to you, this delicious kale and potato chowder.
But with the lack of posts in recent weeks, let's all just be thankful for what I can muster together when I get a minute. I taught a kale-only class the other night and LOVED it! I included a bunch of other kale favorites, but this was a newbie and might have been the biggest hit. Which is saying a lot, since the kitchen we were working in was steaming hot to begin with. And I honestly like cold soup, so it's not like you HAVE to be eating a sweltering batch of chowder out in the sun or anything.
The creamy consistent of the blended potatoes and all the added herbs make this SUCH a great meal. And insanely easy!
1 yellow onion, chopped
4 ribs celery, diced
2 carrots, diced
5 cloves garlic, minced
7 cups diced potatoes
6 cups vegetable broth
1 bay leaf
2 tsp dried dill
2 tsp thyme
1 tsp all-purpose seasoning
Sea salt and black pepper
3 cups chopped kale
1 1/2 cups frozen corn
1 can cannellini beans
1/2 cup coconut milk
1/2 cup chopped parsley
Saute onion on olive oil over medium heat in a saucepan for 10 minutes, or until translucent
Add celery and carrots and continue stirring for 5 more minutes
Add potatoes, vegetable broth, bay leaf, dill, thyme, all-purpose seasoning, sea salt and black pepper and bring to a boil
Reduce to a simmer and let cook for 20 minutes or until potatoes are tender
Once cooked, transfer half the soup to a blender and puree until smooth
Return back to pot, add kale, corn, beans and coconut milk and let cook over medium heat for 10 more minutes or until kale is tender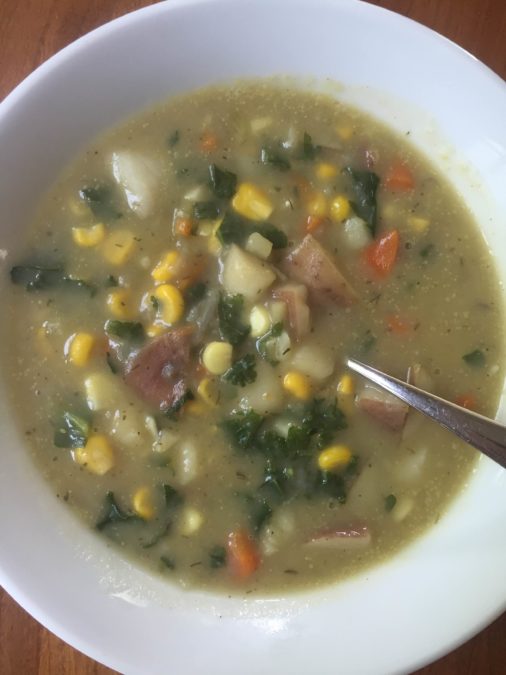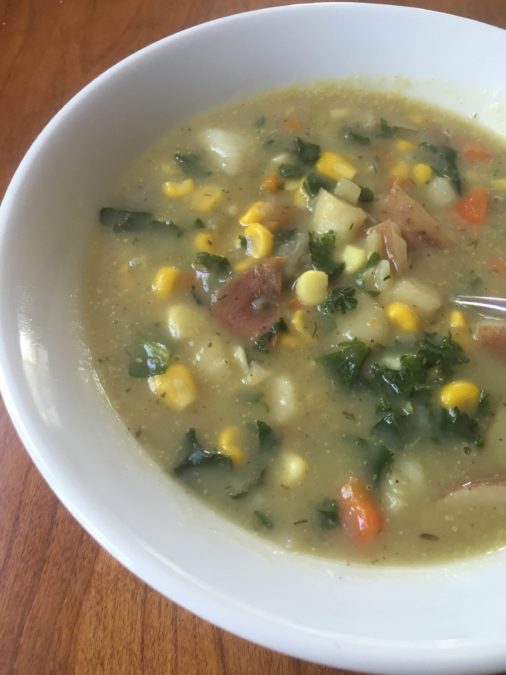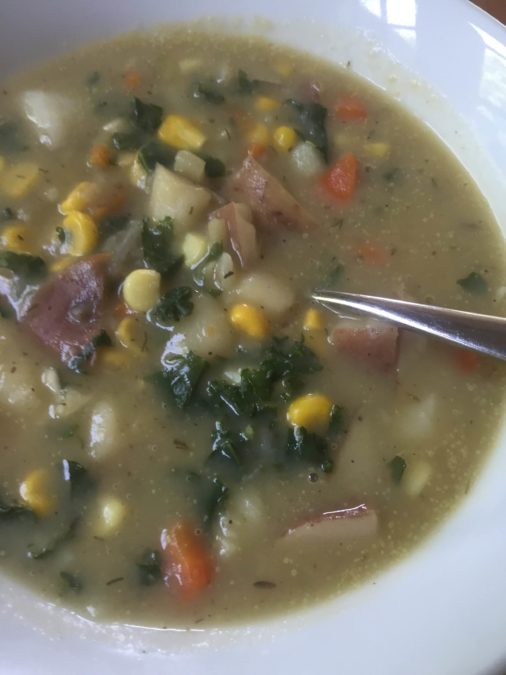 Related posts: