Confession: I don't really know what compote is, but I had already used the "sauce" term in the recipe so I needed a different phrase.
However you spell it…this dish is AWESOME.
It's kinda time consuming to make, but pretty simple and made with minimal ingredients when you really think about it. I would add some kale or spinach into the mix too, if you wanted! The black bean and sweet potato combo is always a favorite of mine, and these enchiladas turned out super yummy and very pretty, if I do say so myself.
8 tortillas
5 cups chopped peeled sweet potatoes (about 3 sweet potatoes)
3 cups chopped red onion (about 2 large onions)
4 cups cooked black beans
1 cup fresh chopped cilantro
Juice of two limes
4 tsp cumin
2 tsp ground coriander
1 tsp dried marjoram
1 tsp sea salt
1/4 tsp black pepper
4 cloves garlic, minced
1 cayenne pepper, minced
2 tbsp olive oil
ENCHILADA SAUCE
1 28 oz can organic fire roasted tomatoes
2 cups vegetable broth
1/3 cup sriracha
2 tbsp olive oil
2 tbsp organic flour
2 dried chipotle chilies, soaked overnight and chopped
4 cloves garlic, minced
2 tsp marjoram
1 tsp cumin
Sea salt and black pepper to taste
CREAMED CORN COMPOTE
2 cups frozen organic corn
2 cups coconut milk
1/2 cup soaked cashews
1/4 cup water
1/2 cup chopped green onions
1/2 cup chopped fresh parsley
Sea salt and black pepper to taste
Preheat oven to 350 degrees
For the enchiladas, boil sweet potatoes for about 10 minutes or until fork tender
Meanwhile, in the food processor, pulse black beans, cilantro and lime juice until mushy
When potatoes are done, mash together with black bean mix
In a large skillet, cook onions, garlic and cayenne pepper in olive oil over medium heat for about 7 minutes
Add cumin, coriander, marjoram, salt and black pepper and cook for 3-5 more minutes
Mix onions into black bean/sweet potato mix
For the sauce, cook chiles and garlic in olive oil over medium heat fro 2 minutes
Add flour and stir everything for about 1 minute
Add all remaining ingredients and bring to a boil
Cover, and let simmer for 15-20 minutes
After cooked, add sriracha and then pour until a blender and blend until smooth
In a greased 13 X 9 baking pan, scoop portions of bean mixture into each tortilla, roll up and place in pan, side by side, until they are all rolled
Pour about a cup, or as much sauce as you'd like over the enchiladas
Cover and bake at 350 degrees for 35-40 minutes
Meanwhile, prepare the compote by bringing corn and coconut milk to a boil in a saucepan
Add salt and pepper, reduce to a simmer, and let sauce thicken for about 10-12 minutes
Pour half of mixture into blender with cashews and water and blend until smooth
Stir back in with the other half of the mixture and add parsley and scallions
Once enchiladas are cooked, serve with corn ontop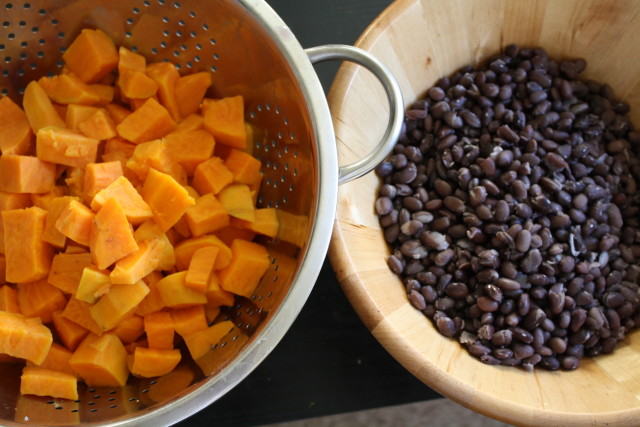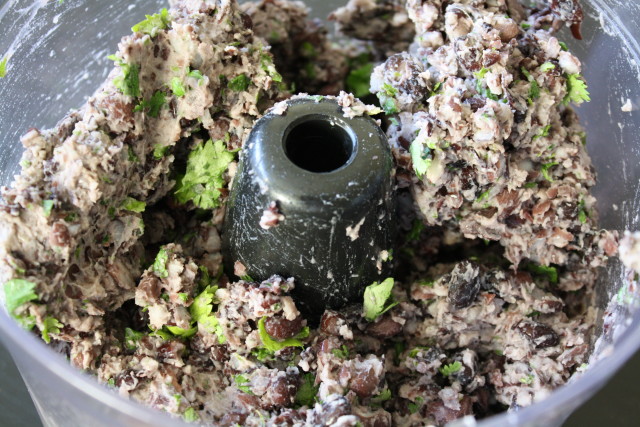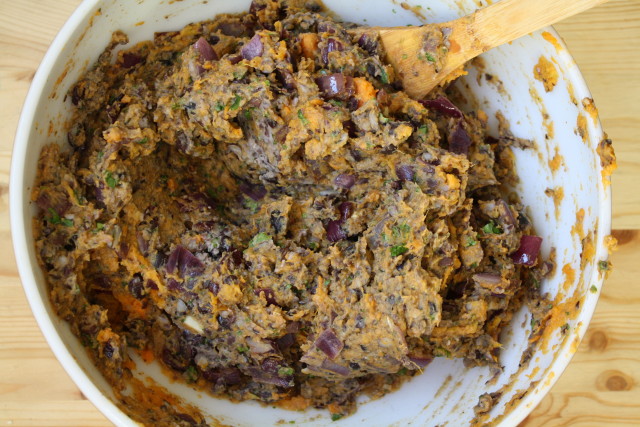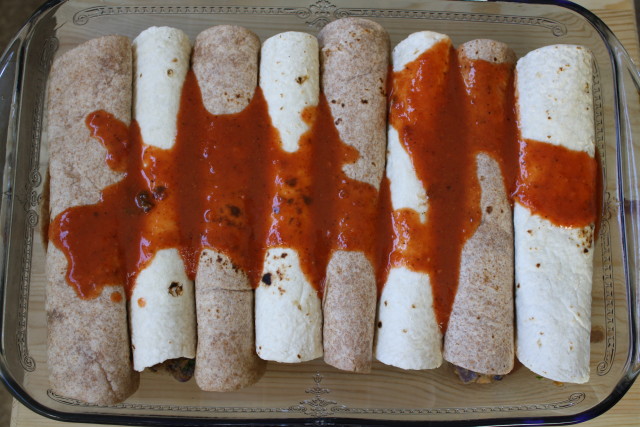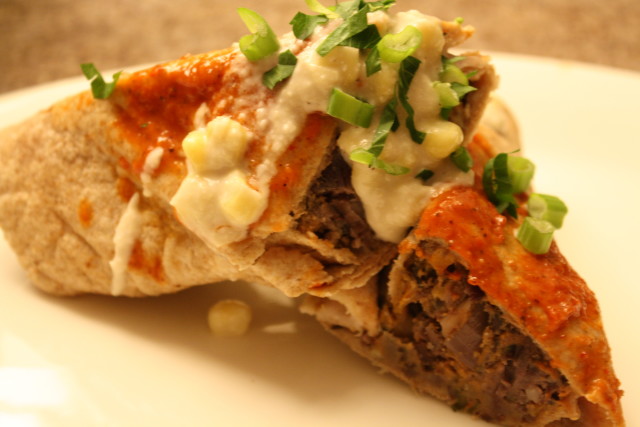 Related posts: