Although there was no inspiration, no story and no thought process behind this salad, it turned out to be an incredibly popular dish.
Among the comments I got about this salad:
"It was so good, I questioned whether or not it was actually healthy for me" (from a steak-loving dentist)
"That salad…I could eat that every day for the rest of my life and be happy!" (from a 300 lb. meat-eating man's man)
Proof that even the healthiest of vegan salads can make a veggie-lover out of a carnivore!
I was actually shocked that such a simple meal warranted such accolades. I now expect a round of applause every time I pull the arugula out of the fridge.
This whole personal chef thing is starting to go to my head…
3 cups baby arugula
3 cup baby lettuce
2 cups cooked millet (quinoa is good too)
1 1/2 cups chopped raw walnuts
1 1/4 cup chopped dried cranberries
1 sliced apple
MAPLE ORANGE VINAIGRETTE
Juice of 4 or 5 oranges
1/4 cup balsamic vinegar
1/4 cup pure maple syrup
1/4 cup olive oil
Zest of 1 orange
Sea salt and black pepper to taste
Toss together all salad ingredients

Whisk together all dressing ingredients
Drizzle vinaigrette over salad as needed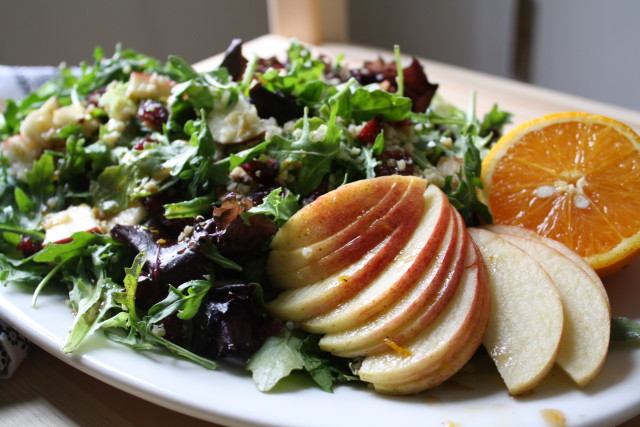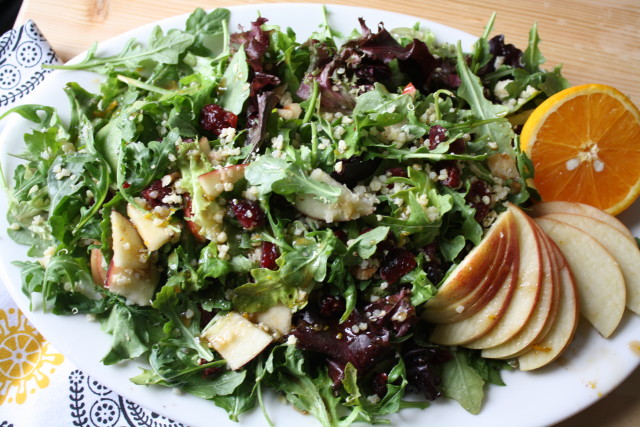 Related posts: