Let us go back about three years. To when I first went vegetarian. When I wasn't eating super healthy, and didn't have a plethora of recipes under my belt. To a time when there were hardly ANY vegetarian/vegan only restaurants in the Boston area (maybe in the country for that matter!). The old vegetarian version of myself would binge on pizza and pastas when I went out to eat, because those were probably the only options I had available at most places.
Today, though? Today, the ever evolving vegan community in Massachusetts is thriving. The options still pale in comparison to it's carnivorous counterparts, but it seems like every month I hear mumblings of new plant-based eateries opening.
And the newest kid on the block is….Green Leaf in Framingham!
So lucky me, whenever I do some retail therapy at the Natick mall or visit my friends at my old corporate office now, I can hit up this fabulous new vegan spot and treat myself to a great meal.
The brightly painted pale green and orange space is a little quirky, bright and spacious and extremely inviting. It's a vibrant atmosphere, with gorgeous foodie photographs adorning the walls and lots of excited chatter emanating from both the staff and patrons. I instantly felt right at home and quickly made friends with the table next to me. Who proceeded to chat with me about what they loved about Green Leaf, as they'd already been there numerous times since their opening just eight weeks ago. They were thrilled to have a vegan place  so conveniently located to their home and say they visit often for their favorites-the Gobi Manchurian, the BBQ Tempeh Sandwich, the Flax Encrusted Seitan Strips and their stellar green juices. What they really love though, is Green Leaf's emphasis on organic ingredients and a diverse menu that you don't see many places. And I completely agree.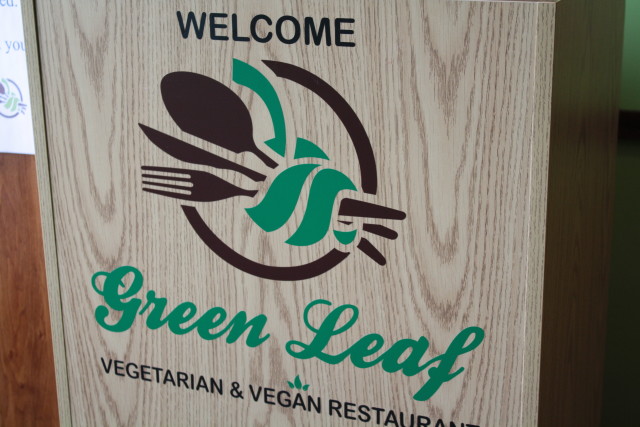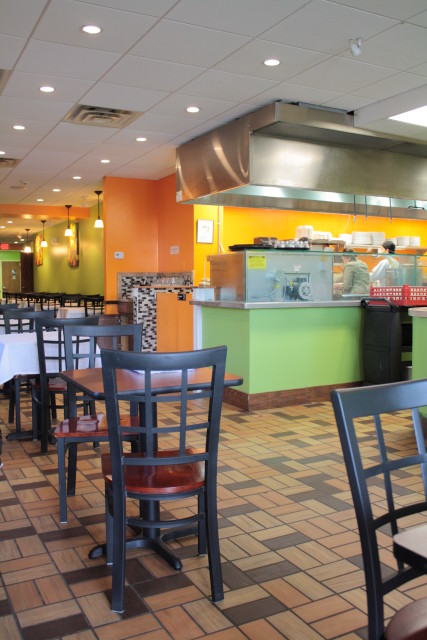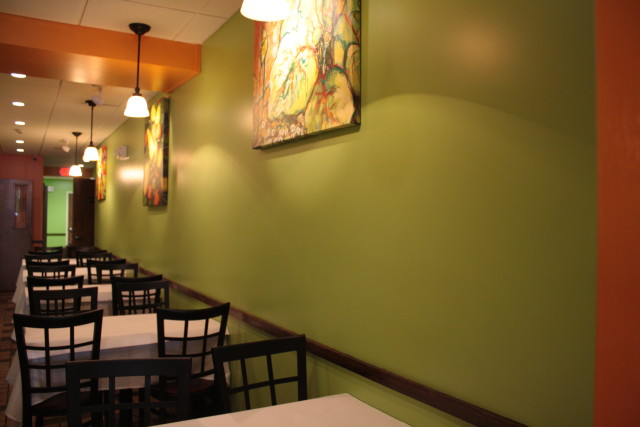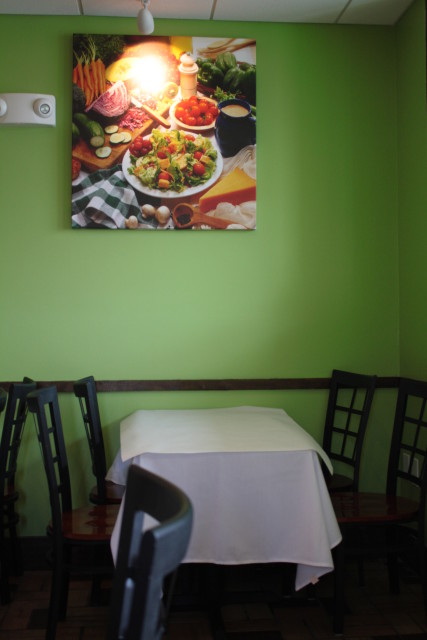 Although I am a HUGE fan of many other vegan eateries in the area, I feel like all their menus are completely the same. Green Leaf, however, has tons of unique choices like Artichoke Stuffed Mushrooms, Beet Burgers, Lasagna Pizza, Black Bean and Sweet Potato Enchiladas and the  Chimichurri Seitan Sandwich. All of these being some of their most popular dishes thus far, according to manager, Liz Whitaker. And for such a new place, they've been seeing lots and lots of smiling new vegan customers showing up at their door every day to sample their yummy meals.
So what did I have? This was a really tough decision for me. I went with a Spiced Date Smoothie, the Southwest Wrap,  Chimichurri Seitan Sandwich with sweet potato fries, Stuffed Artichoke Mushrooms and Raw Lime Cheesecake. Here's my thoughts on all five!
Spiced Date Smoothie: My date smoothies always suck-probably because my Vitamix hasn't arrived yet. But their version was perfectly creamy, subtly sweet and tasted a little like a liquefied carrot cake. Which if you love carrot cake as much as I do, this is a very, VERY good thing. This smoothie has bananas, dates, almond milk, vanilla and spices, and I ended up saving it for dessert.  A little too heavy for me for a breakfast smoothie, but I was thrilled to have it as a healthy, post-meal treat that reminded me of a milkshake.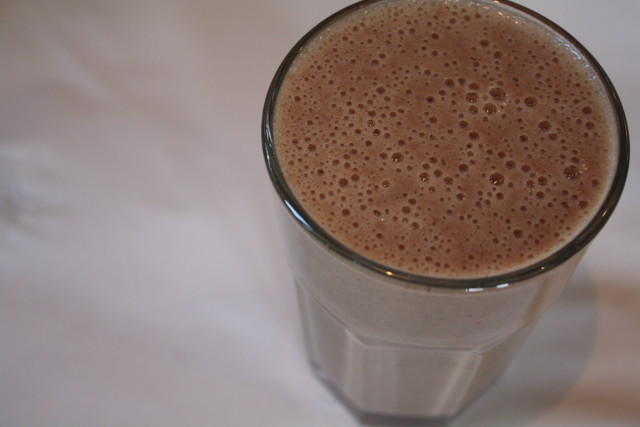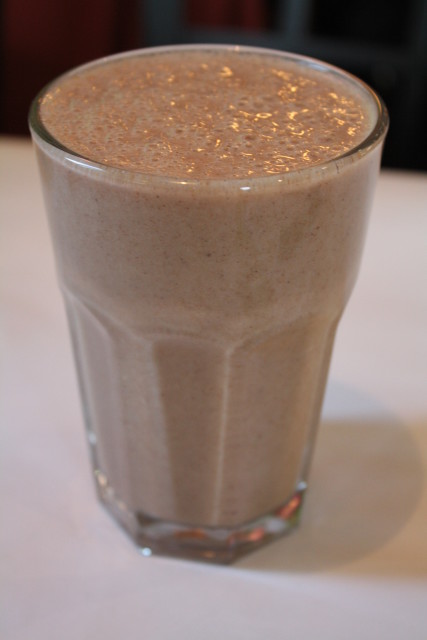 Southwest Wrap: Loaded with avocado, cilantro and arugula, this wrap was bursting with all my fave ingredients. The soy chicken was a realistic touch and would make any omnivorous patroon happy. The mango salsa gave it a well-rounded sweet aspect, and pulled the whole thing together very nicely.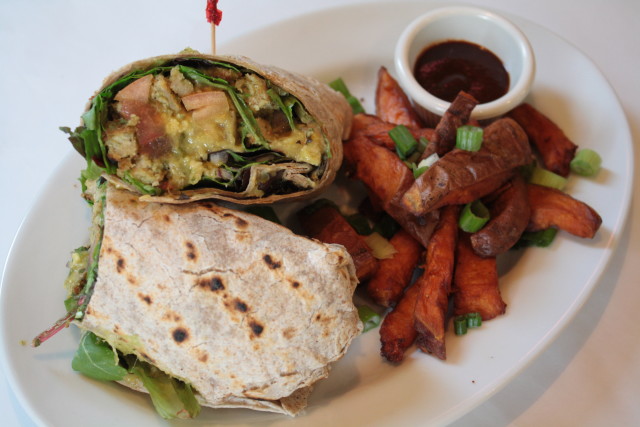 Chimichurri Seitan Sandwich: Confession-this was the first time I'd ever had chimichurri! And I'm glad I had it here because I totally fell in love. Just the color alone made me love it. According to Whitaker and my new friends I met, their seitan is organic and homemade, coming from a small company in Vermont, which is supposedly the absolute best. Considering gluten has been making me super sick recently, I surprisingly felt great after eating theirs. And the sweet potato fries? I'm usually tough to please, because I feel like I make pretty kick ass sweet potato fries, but these had just the right amount of sweet and spicy and they were served sprinkled with scallions. Scallions on anything is a sure fire way to win me over!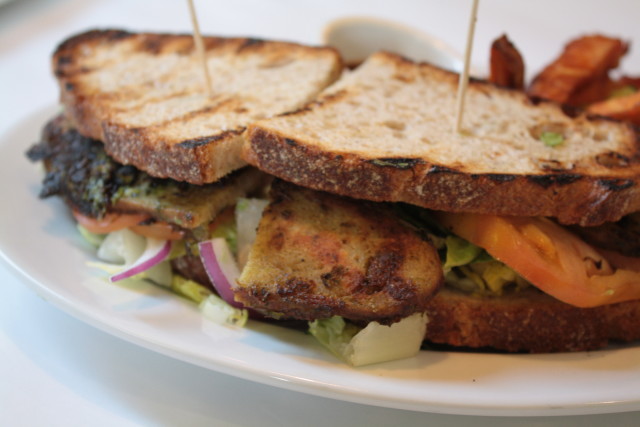 Stuffed Artichoke Mushrooms: I always dare new restaurants to make me a mushroom dish I'd love, since I still can't seem to adapt to them. And Green Leaf accepted that challenge.  These were absolutely outstanding and had a beautiful balance of smoky and savory, with hints of thyme, and a sweetness offset by their maple balsamic glaze. They 100% won me over, and may have been my favorite dish of the night. That's a bold statement coming from a mushroom hater!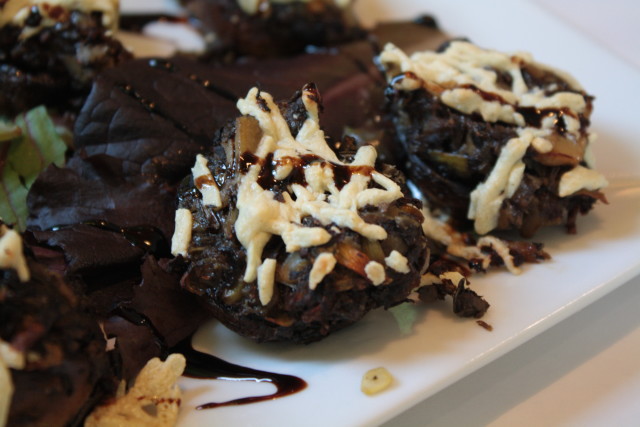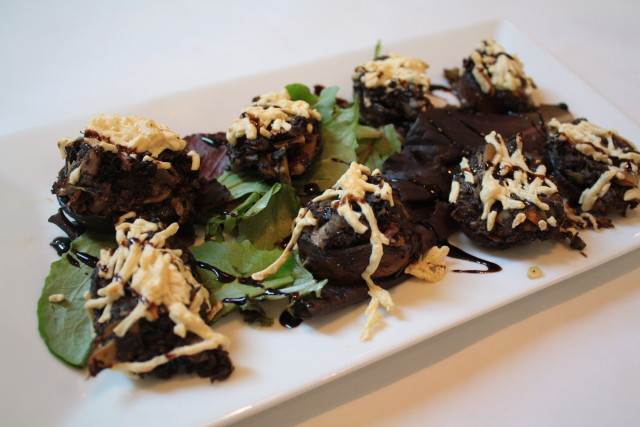 Lime Cheesecake: I was totally stuffed so I took this to go. I had to try someone else's raw cheesecake, although their cooked pumpkin version, chocolate mousse pie and carrot cake all sounded heavenly, too. Not to toot my own horn, but this was as equally delicious as my homemade version-which is a high compliment to give! It was perfect and it was nice to enjoy it without having to do all the prep work and wait two long hours for it to set. Definitely a winner!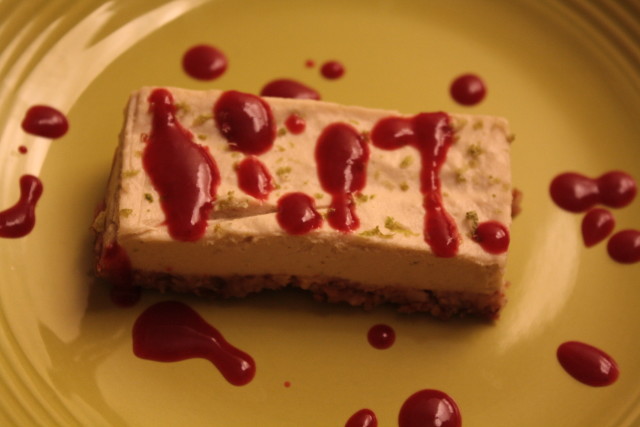 I enjoyed all this yummy food, while chatting with the other patrons and the extremely knowledgeable staff. That's the thing about vegan restaurants; everyone is open and friendly. How often do you go to chain restaurants and randomly start deep conversations with the people at the table next to you? Hardly ever, I think. Most of the staff themselves are vegan or vegetarian which I really appreciate.
"You wouldn't want a vegan or vegetarian working at a steakhouse, trying to recommend which meat to try. We wouldn't know what to recommend, right? So here,it's nice that most of the staff is vegan or vegetarian because they know what they're talking about when recommending food," says Whitaker of her impeccable staff (who is 100% plant-based herself).
And their staff has a lot of great recommendations to make. Although I was completely full at the end of the meal (OK, it was more like MEALS), Whitaker and another waitress had me totally craving brunch, which they claim is the best around. Just hearing about their Yukon Gold Frittatas, Sweet Potato Chocolate Chip Pancakes and Granola Crusted French Toast, had me drooling all over again. And believe me, I will be making another trip out there with weekend for their Cinnamon Walnut Fig Waffles!
For some exciting new vegan options in the MetroWest area, make sure to check out Green Leaf-you won't regret it.
Related posts: