Oh hey, remember me?
You might not, since it feels like blogging has taken a backseat to everything else going on in my life. Sure, I am cooking all the time, but haven't had much time to focus on new recipes. My clientele is starting to pick up for the fall season and I find myself relying on old favorites, rather than experimenting in the kitchen. My pool job is finally over and I feel myself shifting back towards a better cooking regime. More cooking for fun, too, I hope!
Pasta dishes are always the easiest though, aren't they? This one was a no brainer. I'm becoming a big pan of one pot meals and this one is a real winner. Pasta plus all my favorite Mexican staples…you can't go wrong!
3/4 lb organic pasta (curly or fusilli pasta is ideal)
3 1/2 cups vegetable broth
2 cups frozen organic corn
2 cups black beans
1 cup chopped red onion
1 green bell pepper, chopped
1 15 oz can organic fire roasted tomatoes with chiles
1 jalapeno, minced
1/4 cup organic taco seasoning (or a mix of equal parts cumin, paprika and chili powder)
2 tbsp olive oil
Sea salt and black pepper to taste
Cilantro, green onions and avocado for garnish
Put all ingredients except for garnish into a large pot, cover, and bring to a boil
Once boiling, reduce to medium-low and cook for 15 minutes
Let stand for 20-30 minutes before serving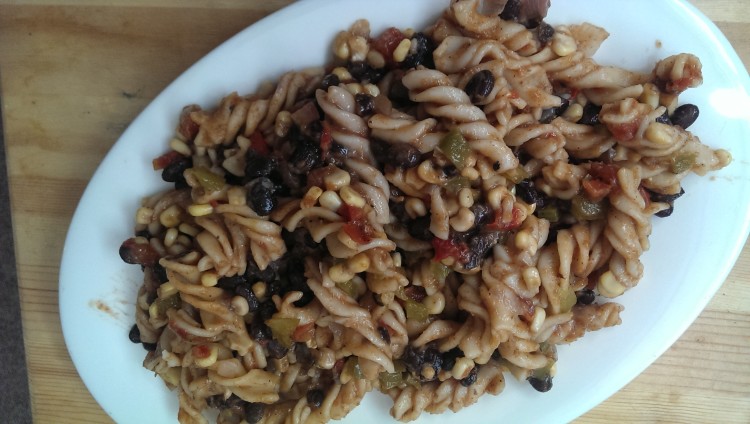 Related posts: