The only recipes I've been developing lately (other than soups for clients) are dessert ones.
Why, you ask?
Because every and any community education program I'm teaching at the next few months are allllllll about the guilt-free desserts course I teach.
What's ironic about this is, I almost never make sweet treats for myself. I much prefer salty snacks over sugary ones, and even fruit can be too much sweet for my style. That being said, I do ADORE most of my raw vegan creations over the baking attempts I make. Raw desserts are basically just a blended mix of nuts, seeds, dates and fruit and doesn't take much prep work outside the blender or food processor. Which makes it desirable to me. Baking, however, can be a huge pain in the ass. I hate measuring things properly and having to have precise measurements of things like salt, flour, sugar and baking powders/sodas. I get furious when an entire recipe test fails simply because I only used 1 tsp of something rather than 2. That would never happen with regular cooking or raw vegan dessert making.
Which is why I was 100 percent SHOCKED that these fudgy avocado cookies came out so well. And they were gluten free, to boot!
I took a look at a million different gluten free, vegan and paleo recipes and took elements from a few different ones to come up with this recipe. My grandma was the taste tester and she was overly impressed. Every person she talked to the day I made them, she went into great detail about the ingredients and how no one would ever realize they were healthy if they didn't know it. It took a lot of restraint for her and I not to eat the entire batch once they came out of the oven!
Makes about 18 cookies
1 1/2 cup rolled oats (ground into flour)
2/3 cup raw cacao powder
1 small avocado, mashed (about 1/2 cup)
1/2 cup coconut sugar
1/4 cup brown sugar
1/3 cup coconut milk
1/4 cup melted coconut oil
1 1/2 tsp pure vanilla
1 tsp baking powder
1/2 tsp sea salt
1 tbsp chia seed, mixed with 4 tbsp water (let sit for 10 minutes)
1/2 cup vegan chocolate chips
Preheat oven to 350 degrees
Stir together oat flour, cocoa powder, baking powder and sea salt
In another bowl, mash or use a hand mixer to stir together avocado, coconut oil, coconut sugar, brown sugar and vanilla
Add half the flour mix to the avocado mix and continue stirring
Add chia seeds and their water and the coconut milk and continue mixing until well blended
Add remaining flour and keep stirring until a thick batter has formed
Stir in chocolate chips
Drop about 1 tbsp of batter ontop a parchment paper lined baking sheet and bake at 350 degrees for 12 minutes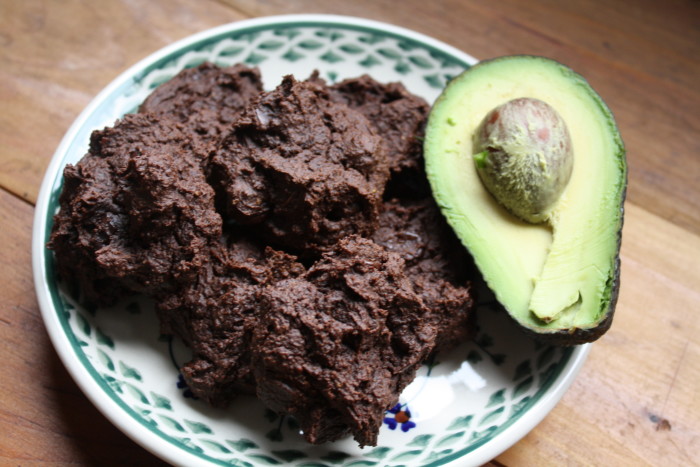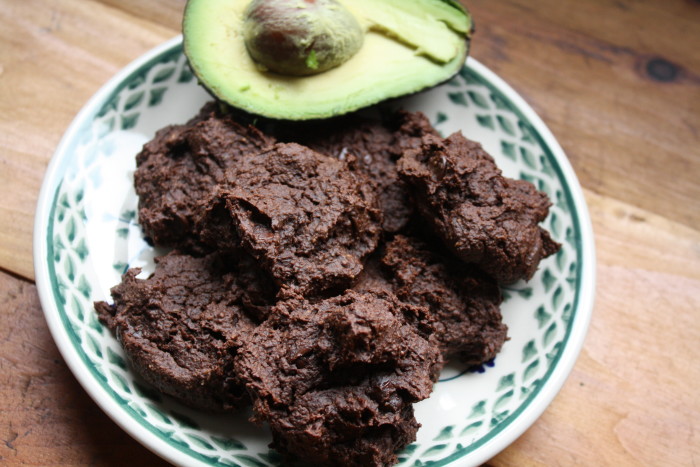 Related posts: