Unless you've been living under a rock your entire life, you're probably familiar with the incredible products from Bob's Red Mill.
I've been using some of their staple items like their quinoa, nutritional yeast, garbanzo bean flour and TONS of others flours, grains, granolas, beans and pre-made mixes for years. They are generally found at a crazy affordable price, are available almost ANYWHERE (though Market Basket and Ocean State Job Lot always have the best prices) and are usually vegan and allergen-friendly. Their possibilities are endless and it's one of the few products I commit to time and time again.
The folks over at Bob's were kind of enough to send me a few of their favorite vegan staples for me to get add to my daily meals, and I was stoked to try a few new products I hadn't used before. Goodies I got my hands on:
-Nutritional yeast
-Pea Protein
-Hemp Hearts
-Hemp Protein
-TVP (Textured Vegetable Protein)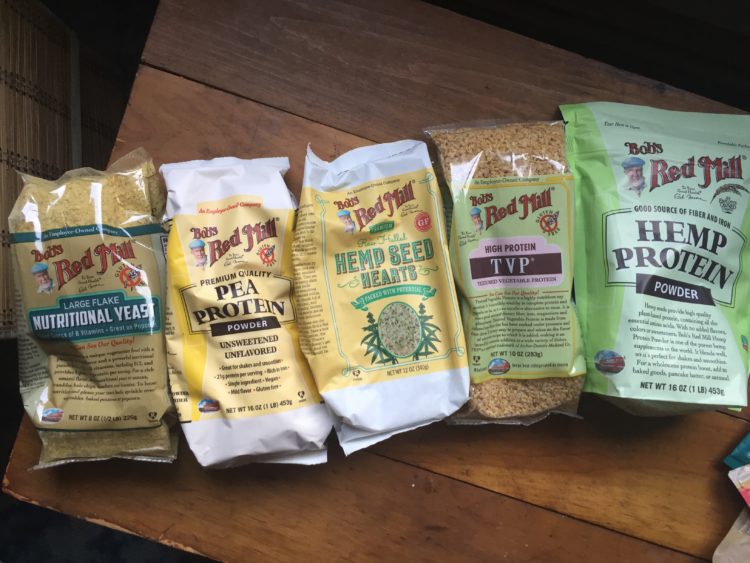 Now, the products obviously aren't totally new to me. I preach about the gloriousness of nut yeast on the regular and use it every damn day. Hemp hearts are also a constant staple in my diet, and they are also consumed every damn day. The pea protein and hemp protein were completely new to me, but I am now a huge fan of them. Probably the most shocking thing to me was the TVP, since it's a common vegan staple that I have NEVER had before! And man, was I missing out, cause this stuff is goooood!
I'll have a few posts coming up that highlight all these fabulous Bob's Red Mill products-including TVP tacos, pea protein smoothies and hemp heart oatmeal. 
But we'll kick things off with these amazing, high protein hemp peanut butter pancakes!
1/2 cup oat flour
1/4 cup gluten-free all-purpose flour
1 tbsp hemp protein
1 tsp baking powder
1/2 tsp baking soda
Pinch of sea salt
1/2 cup flax milk, plus 2 tbsp (Good Karma protein flax milk is also a new obsession)
2 tbsp organic peanut butter
1 tbsp melted coconut oil
1 tbsp maple syrup
1 tsp pure vanilla extract
In a mixing bowl, whisk together flours, hemp protein, baking powder, baking soda and salt
In another bowl, mix together milk, peanut butter, coconut oil, maple syrup and vanilla until smooth
Pour dry ingredients into wet and mix together until well incorporated
In a skillet over medium heat, cook pancakes in coconut oil until browned on both sides (makes about 2-3 medium size pancakes
I also caramelized some bananas in coconut oil in a skillet over medium heat until browned on both sides for topping!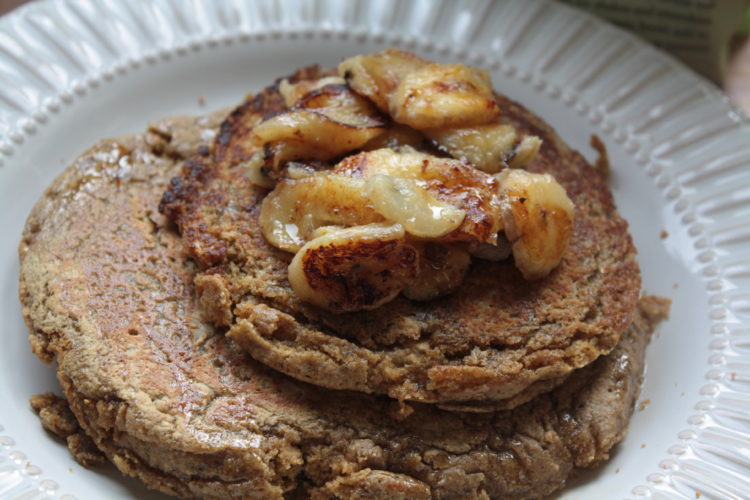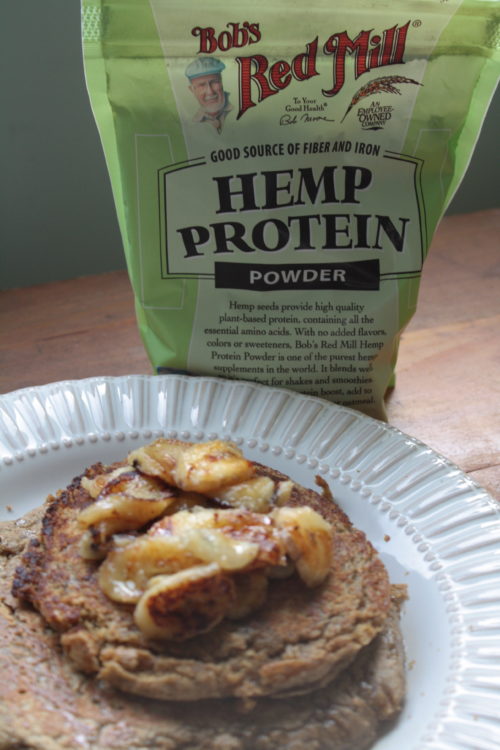 Related posts: