So in my transition to Boulder living, I wanted to make a stop in Asheville, North Carolina, since everyone I know who's been there, said I would absolutely ADORE it.
And they were so right.
It's honestly kind of like a mini-Boulder. Lots of incredible breweries, tons of amazing hiking and outdoor activities, SUPER sweet and friendly people, and an overall laid-back, hippie vibe. AND THE FOOD. OH MY GAWD, THE VEGAN FOOD. Every time we go somewhere new, I tell Steve whatever restaurant we just ate at, was the BEST ever. So yes, I say that a lot. And I mean it every time! The plant-based spots we keep finding just keep getting better and better, and Asheville seriously was a vegan hot spot. Most places had at least SOME really unique vegan option-usually in the form of biscuits and gravy, which was obviously so awesome. But there were plenty of places that were 100% vegan or had mostly vegan options on the menu. I honestly get so freaking happy when I get fed really incredible food, and I had numerous moments of pure joy at a few Asheville spots…and straight up almost cried and threw a fit at my favorite spot, because they ran out of food for brunch.
I get very emotional about my food, don't judge!
But seriously. Asheville is SO dope and I hope to visit again!
Asheville is home to multiple Green Sage Cafe locations and I was happy to be surrounded by such a fantastic spot, pretty much anywhere we went. It was our first stop AND our last stop, and I knew after the initial visit, that we'd be back a bunch of times. I like to branch out when traveling and hit as many new places as possible, but Green Sage was too good not to visit multiple times. Steve especially enjoyed their drinks and some of their not-so-vegan options. I ate as much as I humanly could each time, so I could experience most of their plant-based dishes in a short period of time.
Our first meal included perfectly carbonated kombucha and a vegan and non-vegan version of the same sandwich, which was BBQ chicken/tempeh with kale slaw and chimichurri mayo and sweet potato crisps. Steve LOVED his, but I know mine was better 😉 Really well seasoned and probably one of the best vegan sauces I've had in awhile. The space itself is really gorgeous, with tons of indoor seating, a couple of tables outside and plant-y decor.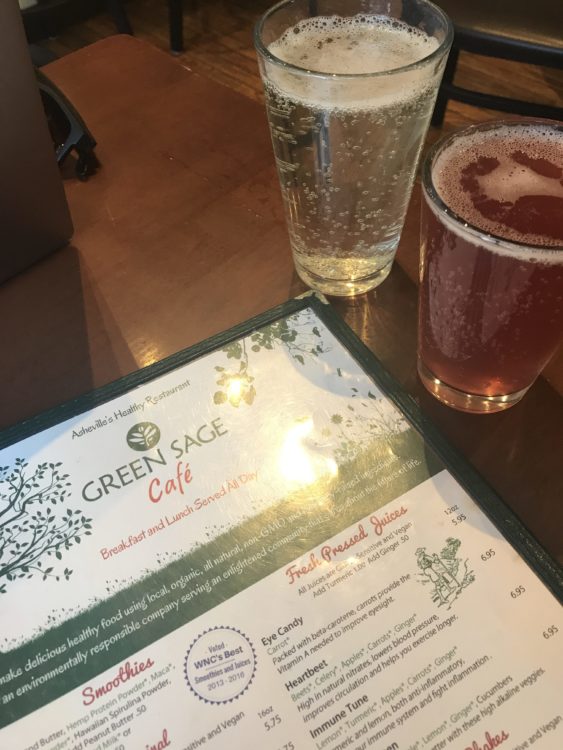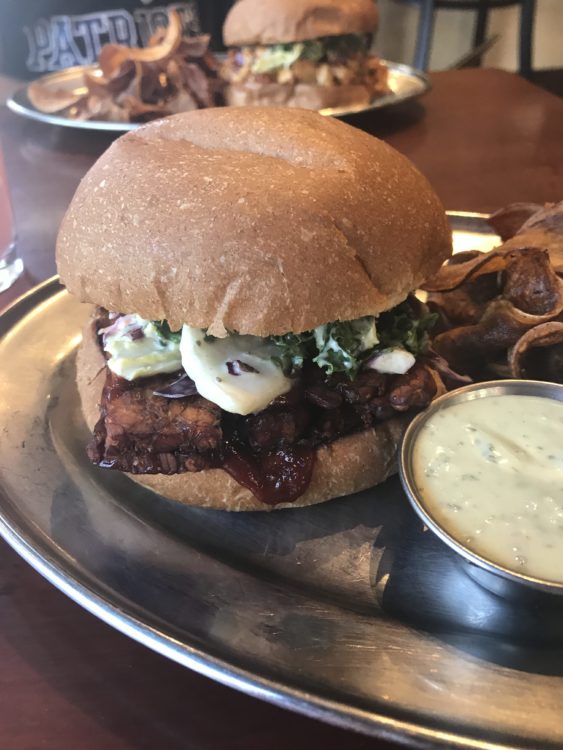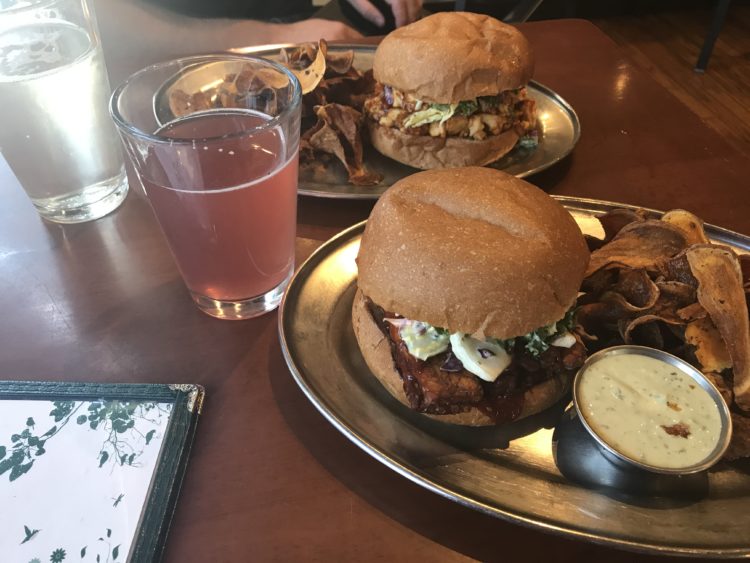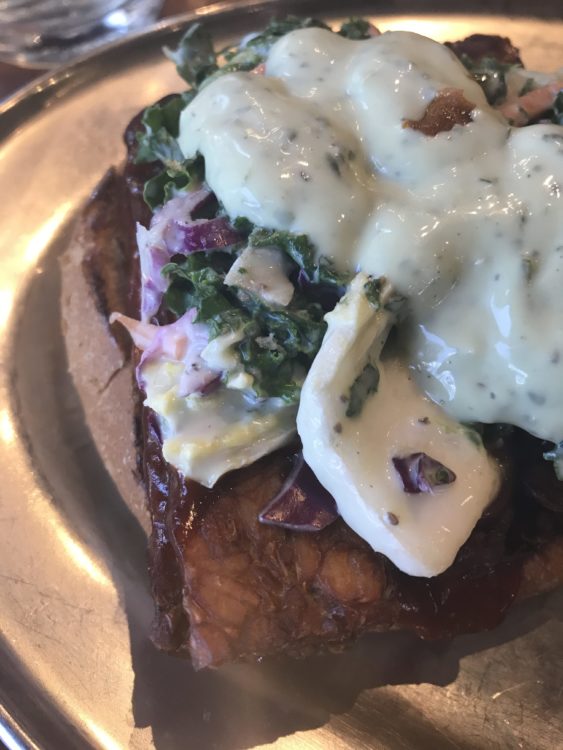 We were getting up early to hike the next day and I wanted a REALLY solid brunch before we set out. Lots of places had just smoothies or juices and granola, but I needed a big-ass meal. And so, going back to Green Sage for their Woodstock vegan brunch plate seemed like the ideal meal fuel for the day. Herbed scrambled tofu, root hash, chipotle maple tempeh bacon and a vegan biscuit. HOW PERFECT?! I've grown to hate most places tofu scrambles, but this one was delicious and ideally seasoned with lots of garlic and turmeric. The root hash was savory and crunchy, the tempeh bacon, smoky and with great texture, and the biscuit was obviously to die for. Steve had the same version, just subbing in eggs and also had a matcha latte he was really diggin.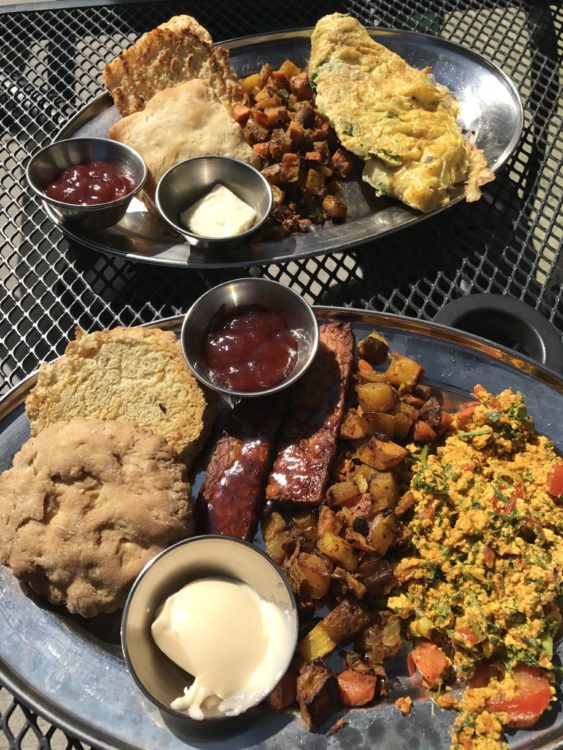 We went back AGAIN to grab lunch and to stock up on food for me to eat during our flight to Denver. I opted for the tempeh Waldorf wrap with sweet potato fries and chipotle ranch dressing. Again, REALLY stellar sauce, one that I would be happy to bathe in. The wrap itself was super good and I'll probably try to start making that for myself once I get our kitchen stocked here. I got the Huckleberry Bowl for the flight which was loaded chia seed pudding with lots of nuts, seeds, coconut and dried fruits. He got pumpkin bread, an iced almond latte and a fire lemonade, as well. I wanted to order at least a dozen more things!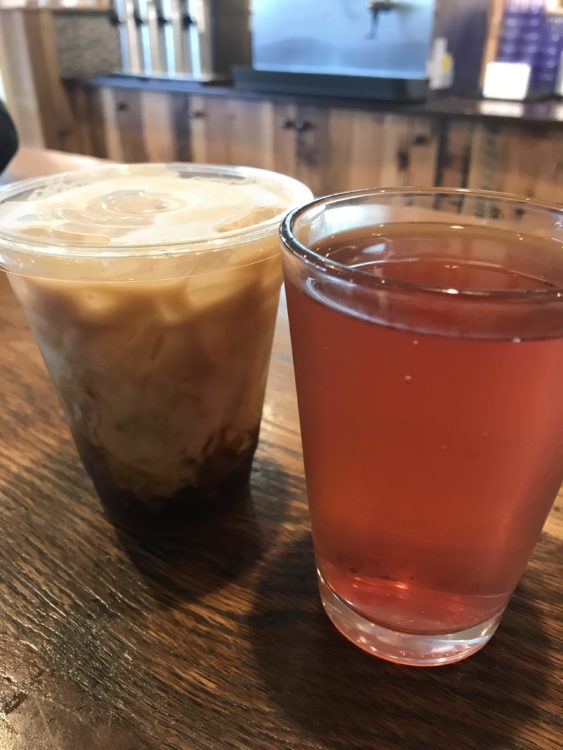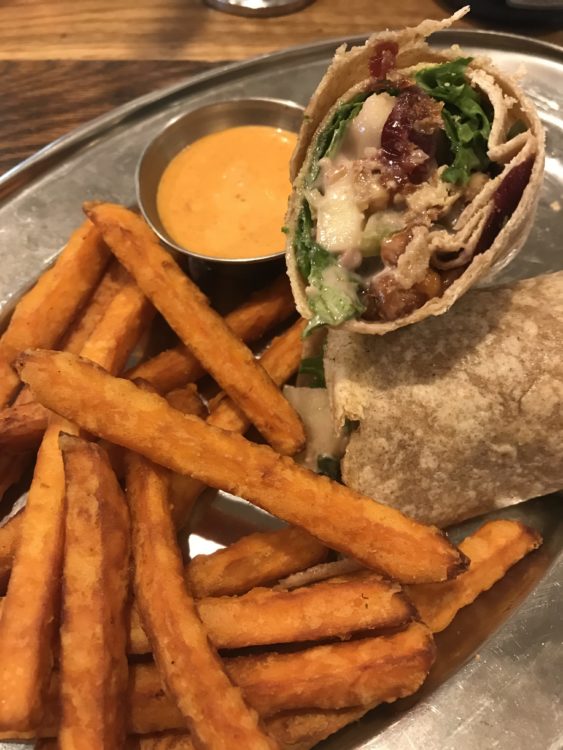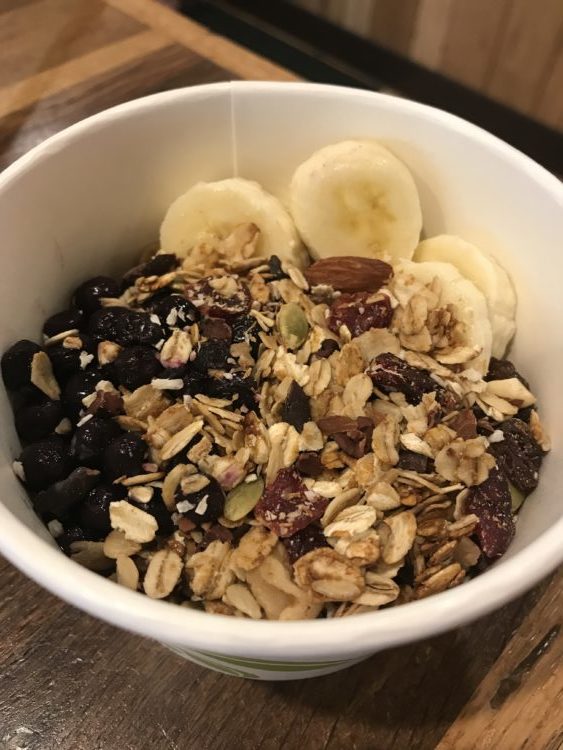 If you know me, you know I love pizza. And buffalo sauce. Put them together and I'm pretty much the happiest I could ever be. Aside from having awesome beer and great outdoor seating space, they had plenty of vegan options. Different locations have different options, too. Ours had Daiya and tofu cheese options, while some of their other spots have more items, like tempeh. I built my own za, with tomatoes, red onions, buffalo sauce and Daiya and it was SO good. The crust made it exceptionally tasty. And I judge almost every pizza on their crust alone 😉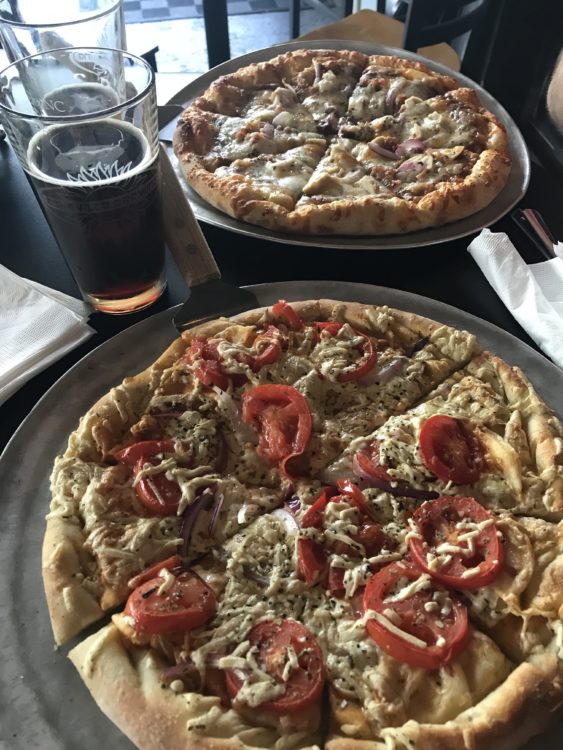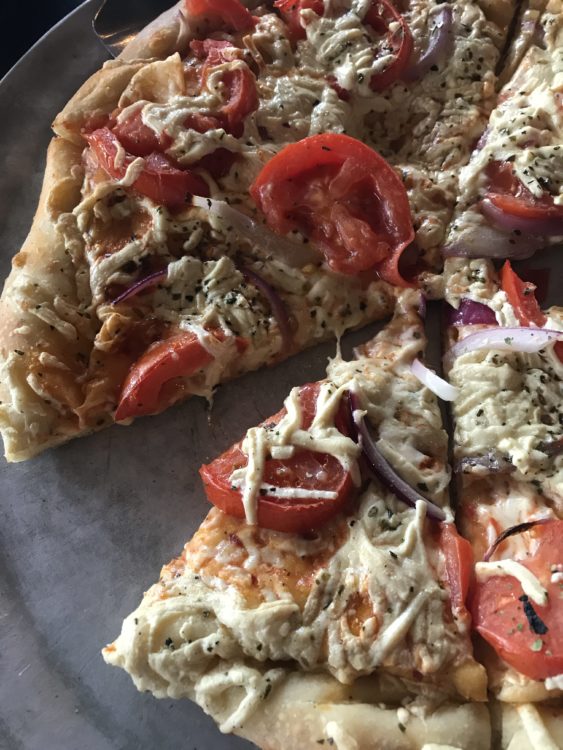 Southern food always seems to include some variation of biscuits. Which I am more than OK with, because I friggin love biscuits. And surprisingly, multiple spots in Asheville had vegan/gluten-free versions, and plant-based gravies and add-ons. But none quite like Biscuit Head. I made a smart move in ordering this to-go, because the line to get in this place late Monday morning was STILL over an hour long. But I kind of understood why after eating it. I had what was likely, the best vegan biscuit I've ever had, topped with sweet potato coconut gravy and veggie chorizo. I thought one wasn't going to be enough, but I was completely stuffed and satisfied after just a half of one.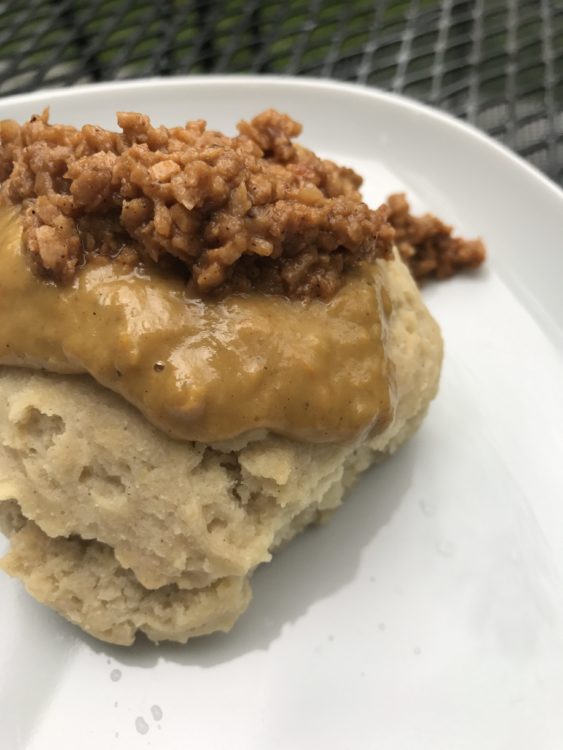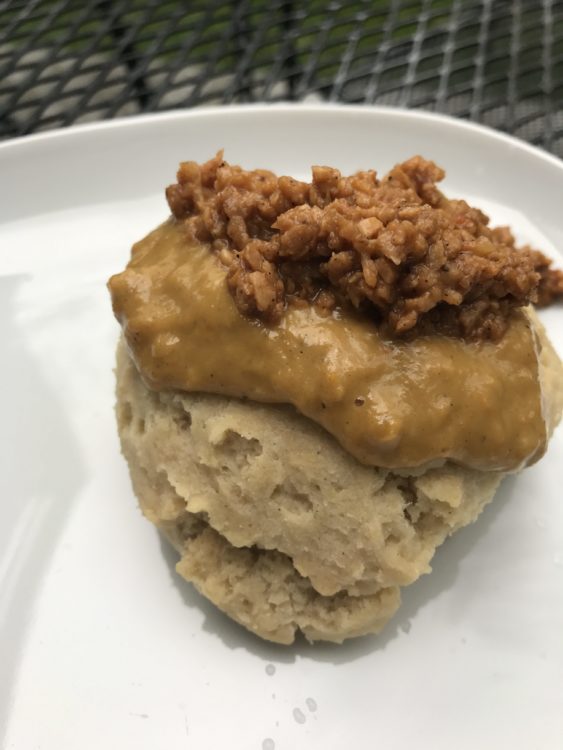 King Daddy's Chicken and Waffles
TOTALLY did not expect to find even slightly vegan options here, but was pleasantly surprised. They have a gluten-free/vegan waffle (I'm starting to feel like places are automatically just lumping vegan and GF into the same categories these days), which tasted exactly like the non-vegan version. They also had sweet potato hush puppies as a side item, and thus, my improvised vegan chicken and waffles was born. I just cut up the hush puppies and put them on top, smothered them in maple syrup and had a delicious meal. They DO have fried shiitake mushrooms which is one of my new favorite things (yes, I still hate mushrooms, though), but the ones here are pre-stuffed with cheese 🙁 Overall, a great, reasonably priced spot, especially if you're dining with omnivores.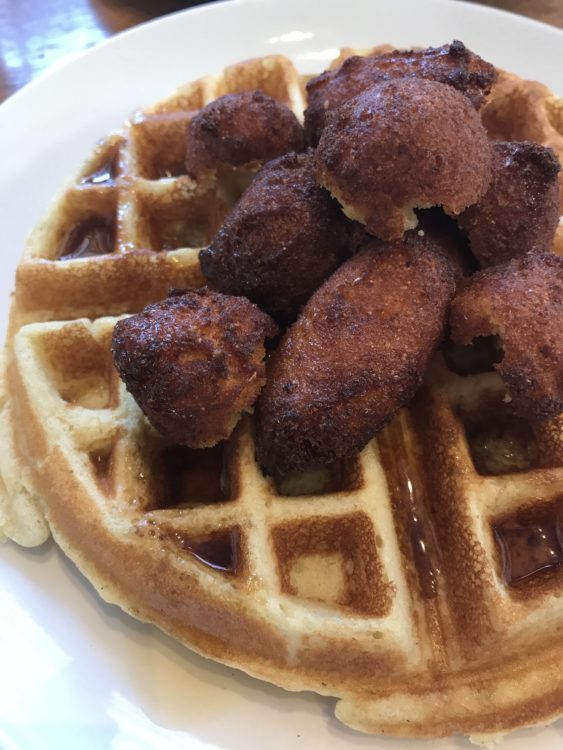 I know I'm going to be salivating writing most of this blurb about Laughing Seed Cafe. Because it's definitely one of those places that I proclaim to be one of my top five favorite restaraunts. We headed here for brunch after a long hike and I was so beyond excited for it. We got there an hour before brunch ended, where they promptly told us, they ran out of food. To which, I promptly lost my shit and almost cried. They have a kind of, in-between lunch and dinner menu with less items, that I didn't want to settle for, but Steve, thankfully, talked me into staying. And I am so grateful he did, because it ended up being unbelievable. We got a loaded tempeh Reuben, which usually doesn't impress me, but this one was insanely good, piled with homemade saukerkat, carrots and vegan cheese. And a side of pasta salad, that was above par. We also got a taco salad, which-SURPRISE- was one of the best salads I've ever had. Steve loved every bite, too, and also proclaimed it to be the best Bloody Mary he's ever had. I despise Bloodys, but decided to try this one, and actually ordered one since it was that good! Extra, extra points to Laughing Seed on that one. We also got a chocolate turtle cake to go, which we ate super late that night for our anniversary and it was of course, super rich and decadent.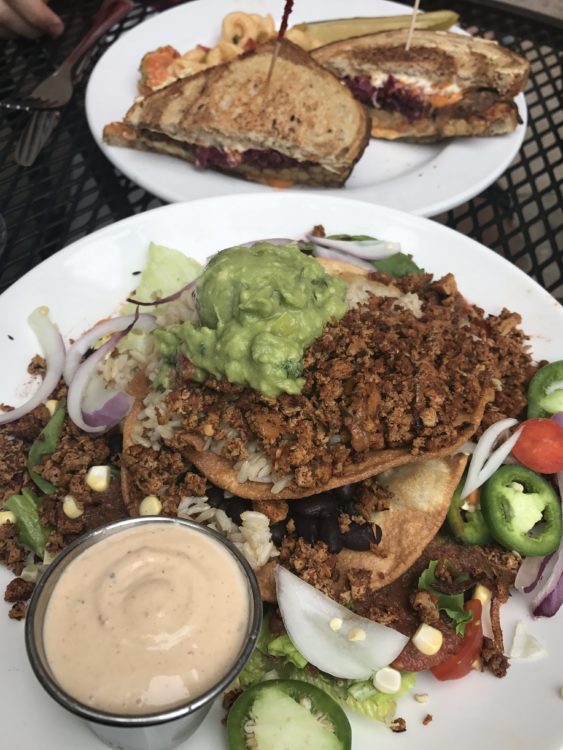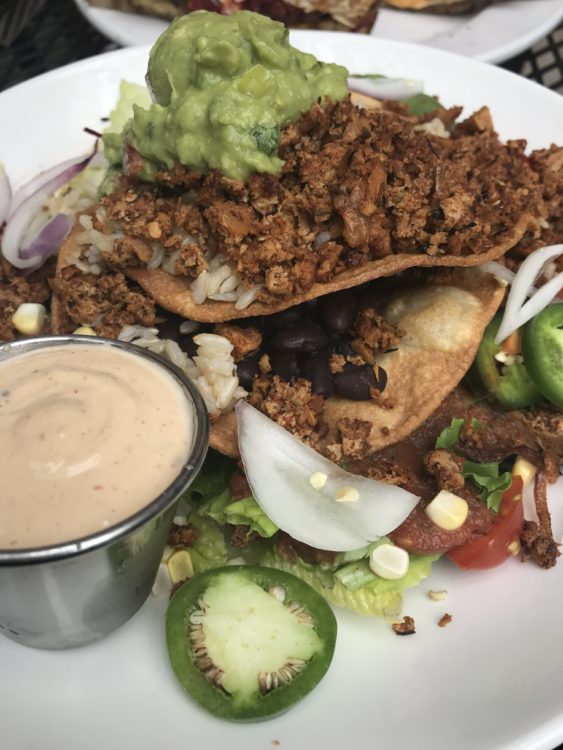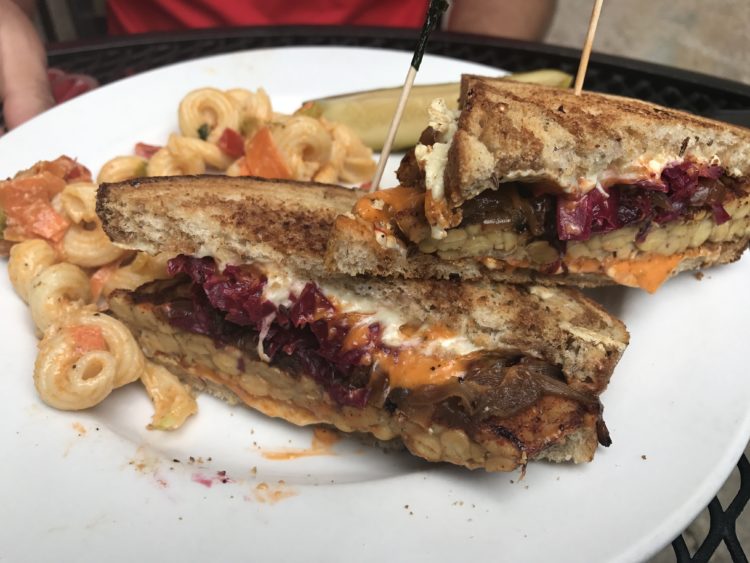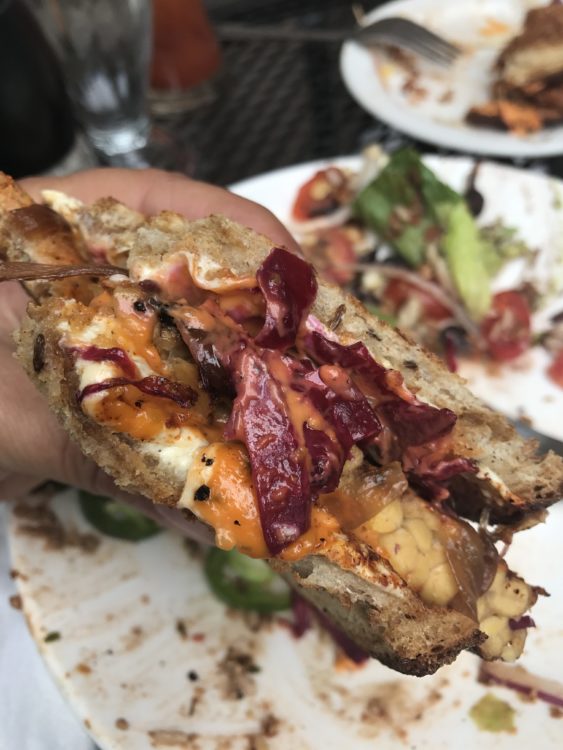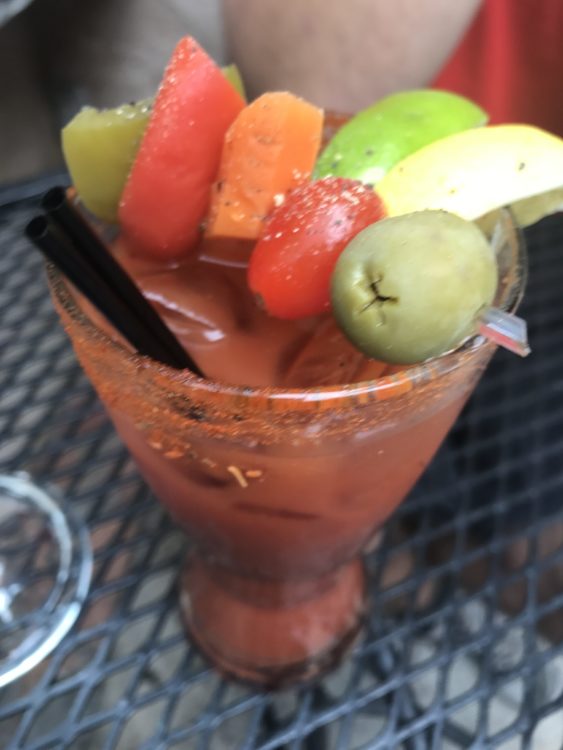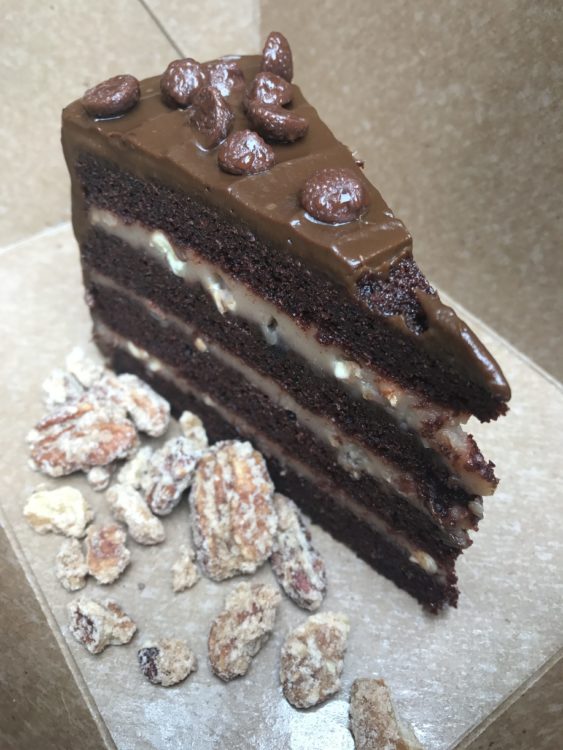 We went back again the next night for dinner and although I didn't enjoy it as much as lunch, they still had phenomenal dishes. We got a chorizo burrito with a chipotle ranch side salad and chips and a jackfruit platter. The burrito was bomb and I was obsessed with their ranch dressing. The jackfruit was on point, but the rest of it, was a little blah, just with toast, kraut and some under seasoned black eyed peas.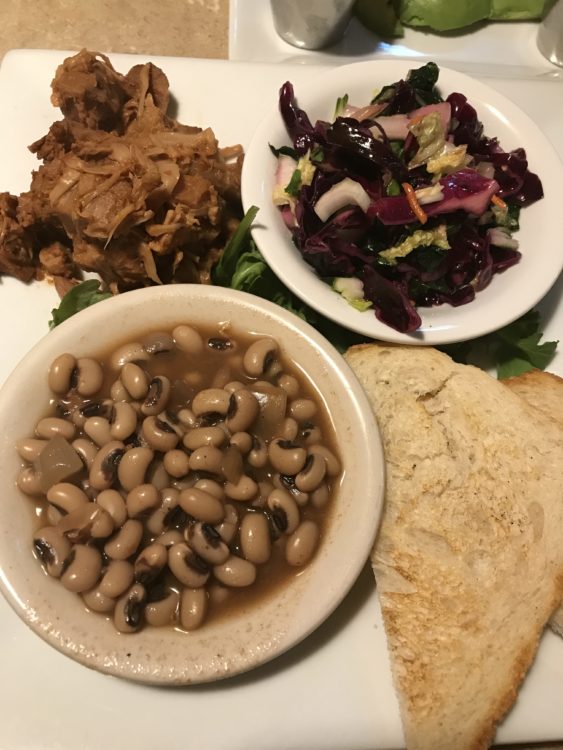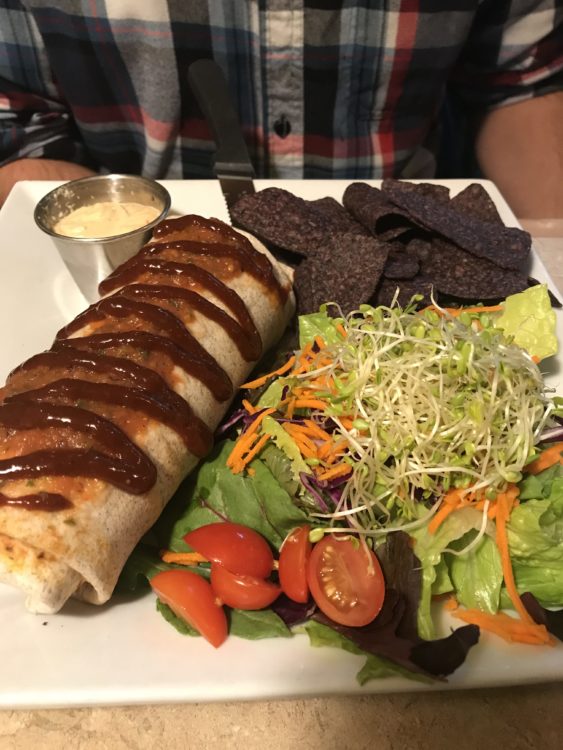 Believe it or not, I might have saved the best for last. Though I adored Laughing Seed and Green Sage, Plant is a completely different experience. It's a lot more upscale and much more plant-centric than other vegan spots I usually go to. Their dishes are on the pricier side, but are well worth it, and probably an ideal spot for a fancier, romantic dinner. I hadn't had a vegan cheese board until Plant, and I was so blown away by it. There was jellied cashew cheese with homemade foccacia and peaches and a zucchini rolled almond loaf, that was more like feta. I was thrilled with every piece of it, and Steve, who's a non-vegan cheese lover, was totally impressed as well.
We also got fried plantains with vegan sour cream and scallions, which were both beautiful and delicious. And we finished off with their seitan con queso, which was a perfect seitan entree smothered in luxurious spicy vegan queso, pickled veggies and roasted potatoes. It was one of the most aesthetically pleasing meals I've ever had and the knowledgeable and friendly staff made the experience that much more amazing.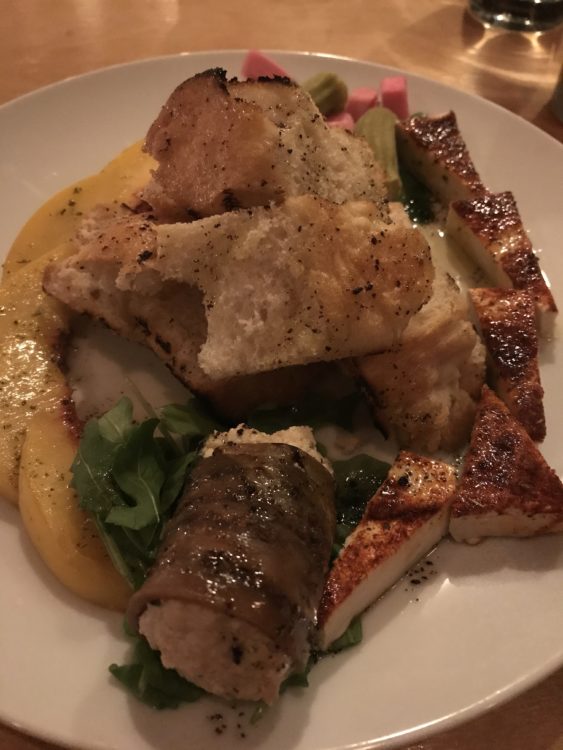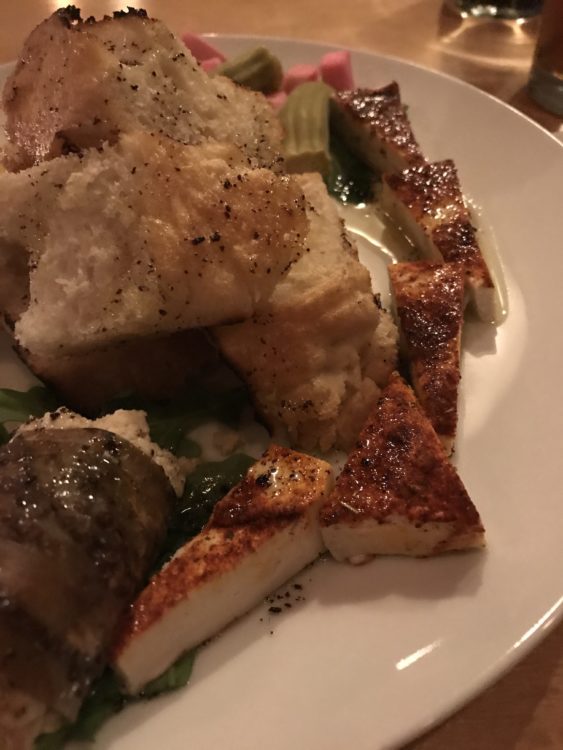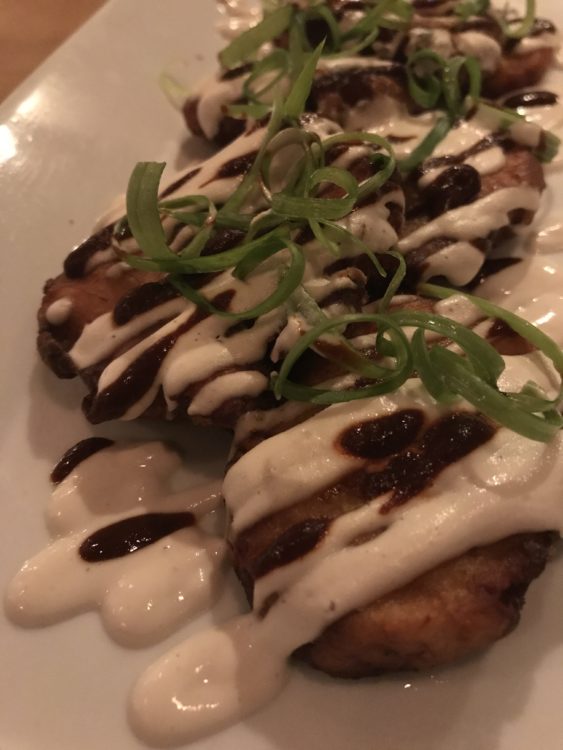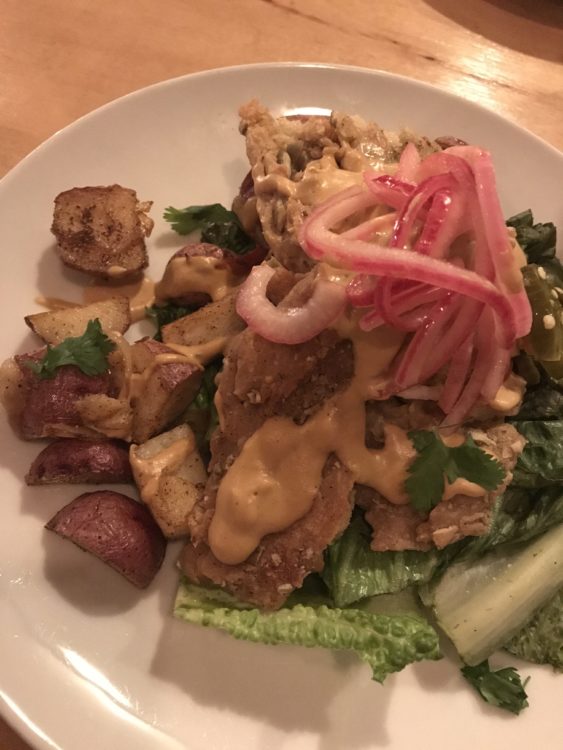 Asheville, I love you so much, and you made my stomach very happy!
Related posts: