GUYS. I've done it. I've finally done it. 
I HAVE FOUND THE BEST VEGAN PIZZA ON THE PLANET.
And lucky for me, it's pretty close to Boulder. And I fully expect to gain like 50 lbs eating at Piante Pizzeria in Breckenridge as often as I possibly can.
Before I even get into how freaking incredible their pizza is, let me name all of the other things I absolutely, positively adore about Piante:
The service. Super friendly, really knowledgeable and genuinely love the place and the food they're serving
The outdoor seating. A perfect view of the mountains. A cozy rooftop spot. AND they provide blankets for each person when it's chilly. The absolute cutest thing ever.
Their indoor decor. Really cute, rustic and vintage and filled with books, games and plants.
Don't ask me why, but I love when restaurants give you the bill in a book. Which they do here, and it was filled with notes from other patrons and we read a huge portion of the particular book they gave us.
Their beer selection. Since they offer great GF pizza, they also have my favorite gluten free beer, Holidaily, along with some really good other options and ciders.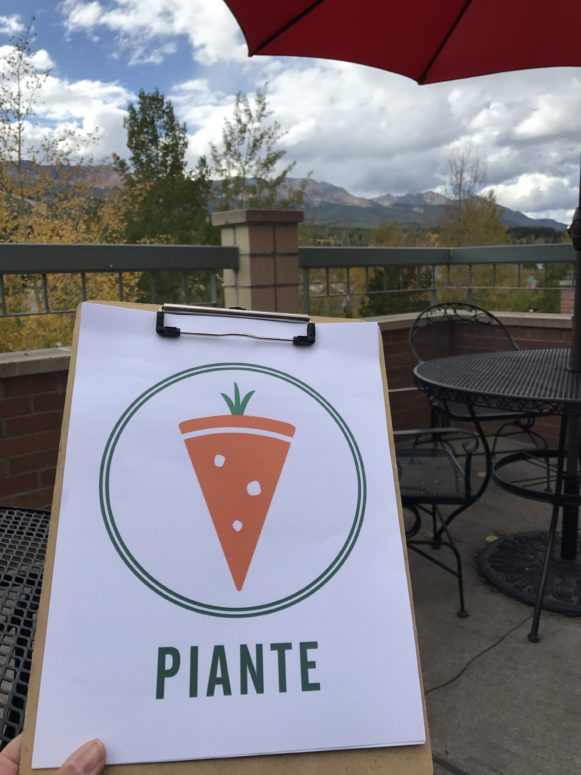 OK. Now onto the important stuff.
In addition to the great beer, the happy hour deals, and us being cute AF on a beautiful fall day, looking out into the mountains, the food really was the most incredible part of this whole experience. Like, the best, best, best, food moment of my vegan life. And it's almost too good to really, truly describe. But I'll try.
They start off strong with their appetizers, which include smaller eats like jalapeno poppers, garlic knots and bruschetta. Steve is a huge fan of pesto though, so we went with their kale pesto garlic bread, and I am so happy that we did. It was perfectly crispy, bursting with basil and buttery garlic flavors, and I couldn't eat it fast enough. I easily could have downed another two loaves of it before the actual pizza came out.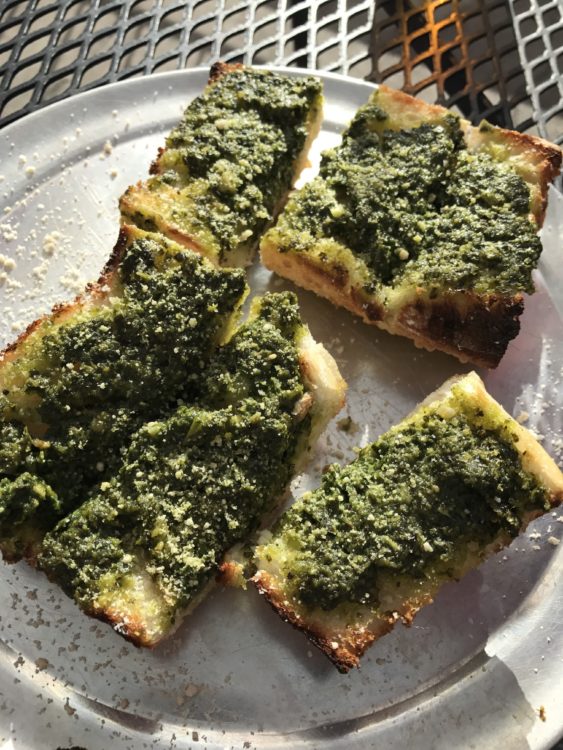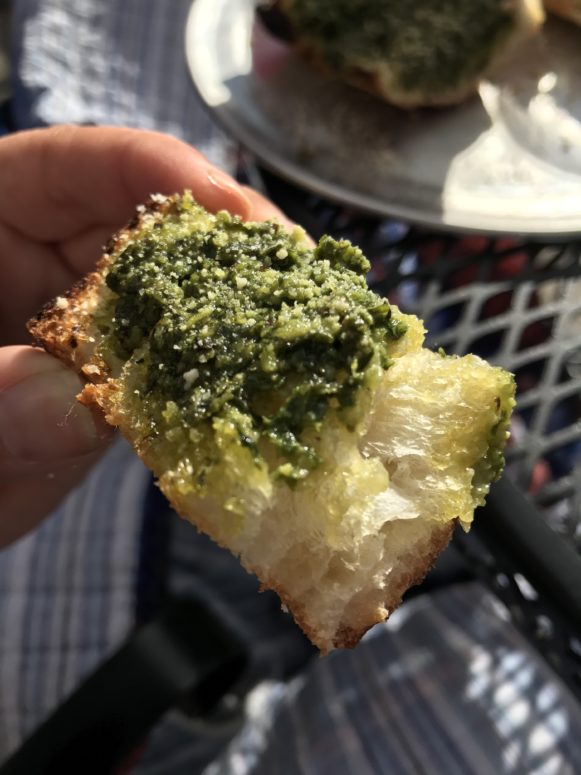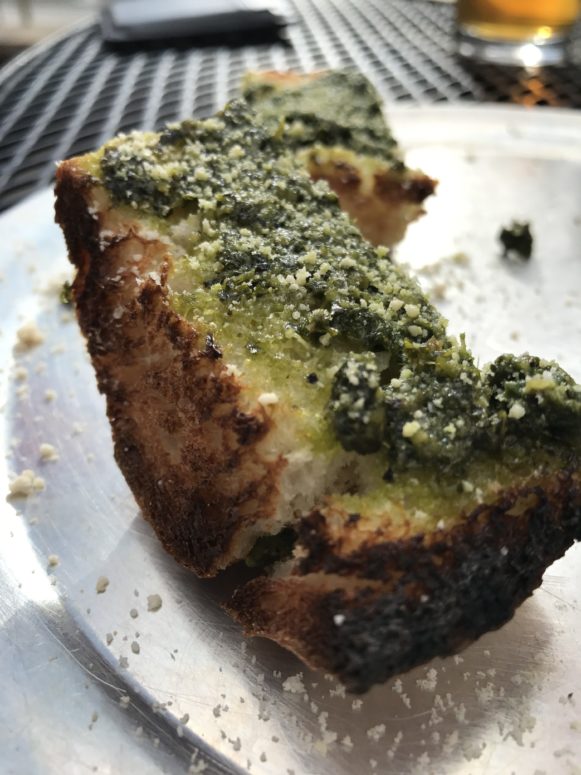 OH GAWD, the pizza. The pizza. Where do I start? I always feel like I'm missing white pizzas the most, so we went with two whites variations, though we were heavily tempted by their BBQ cauliflower and their buffalo pizza. But I make those pretty often at home, so opted for the two I never see at other vegan spots. 
The basic white pizza was my first choice which was house made organic cashew mozzarella and cashew ricotta with shiitake bacon and arugula. Come on, does it get any better than that? No, the answer is NO. It was definitely one of the best things I've ever ate, and the most realistic tasting vegan cheese I've ever had. The bacon and arugula complimented it well, and it made for the most delicious pizza on the planet.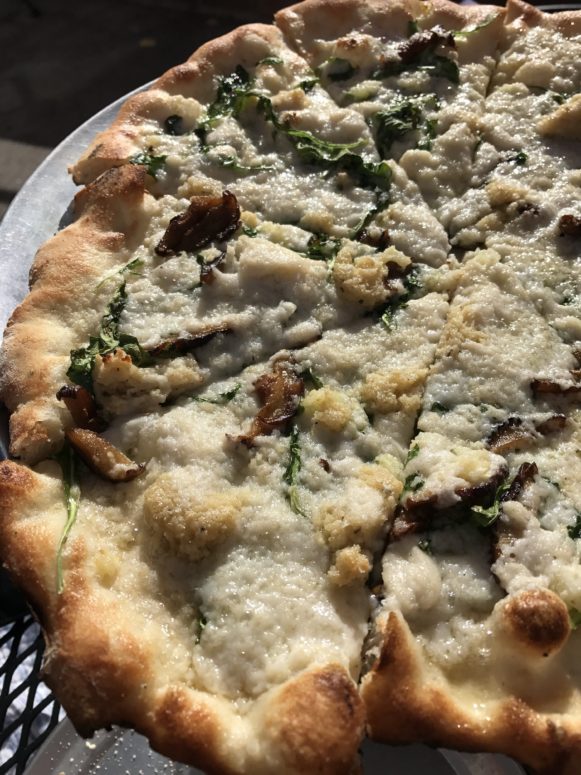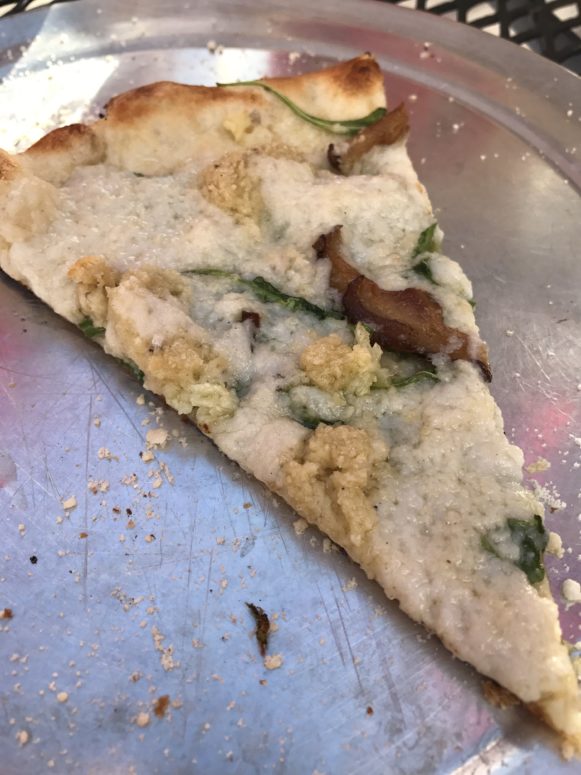 We followed it up with their lasagna pizza which had the same cheeses, but also had homemade San Marzano sauce, meat crumbles and basil on it, too. It was equally fantastic and it was really hard to keep myself from eating the entire thing in one sitting. And the crust! The wood-fired crusts on them were insanely tasty, crusty and doughy in all the right places.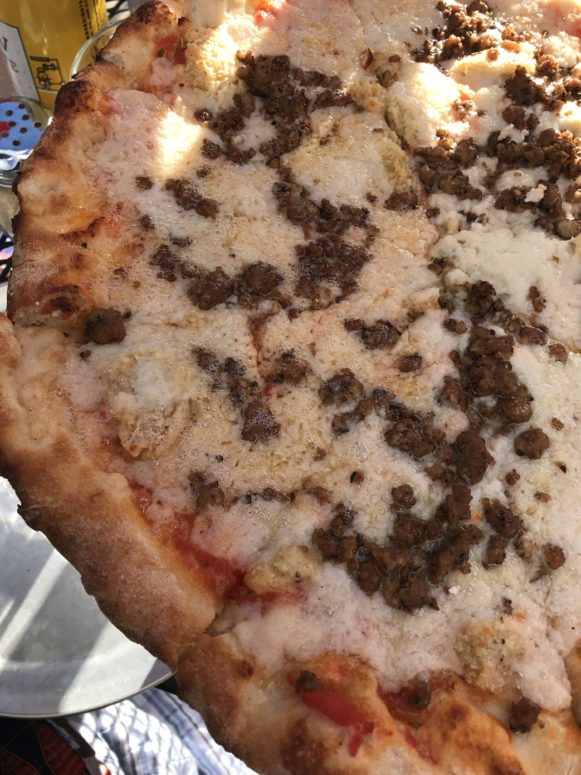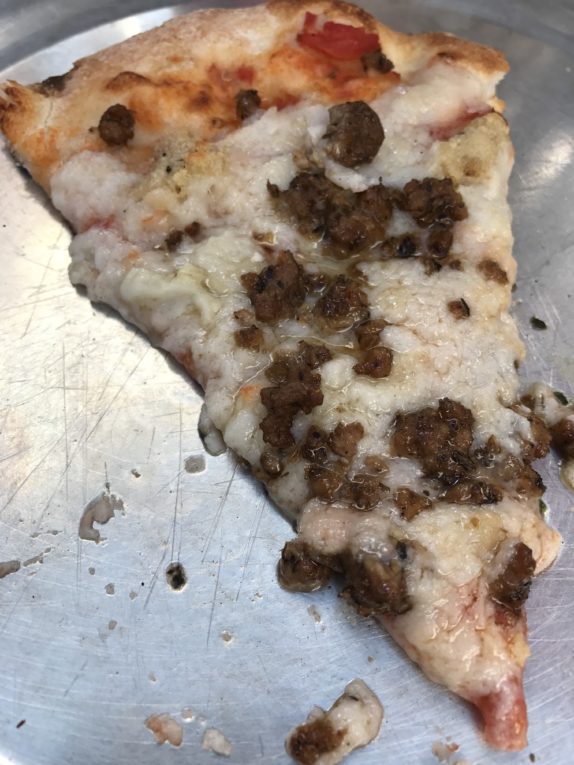 We were WAY too full for dessert, though I have been kicking myself in the ass ever since for not taking some of their treats to go. They've got sweet knots and cheesecake, but I mostly keep talking about their tiramisu, because I never see it vegan and I feel like it's one of the hardest desserts to veganize. Next time, Piante, next time.
We'll be coming to Breck fairly often throughout the winter so Steve can ski. And maybe I can attempt to ski, and probably break my leg, and have to post up at Piante instead. Which I'd be more than happy to do. Because if breaking my leg means endless pizza here, it is well worth it. 
Related posts: