I am SO excited for these!
I'd say 99% of my breakfasts are raw. But generally they're juice or smoothies, not actual meals that you would chew. I was skeptical about these raw pancakes I read about in Rawlicious, my new favorite raw vegan recipe book. Their recipe is a lot different from the one that I created, but I for sure thought that they would come out dry and dense or really gritty and with a weird texture.
And I am so happy to report that I was dead wrong.
Even as I blended the batter it literally smelled like regular old pancakes, fresh out of the pan. They had a warm, sweet fragrance and I even ate some of the batter straight up (another perk to raw food-no harm in eating the batter!). After dehydration they were even MORE amazing. They has a great smooth, doughy texture and kept their perfect circular shape really well. They were actually sweeter then their cooked counterpart and they could even be considered a dessert in my opinion. They made eight pancakes which is more then the usually cooked kind I make on the weekends.
You've seriously gotta try these!
2 cups pecans, soaked for 4 hours
2 ripe bananas
1/2 cup golden flaxseed
1/4 cup raw honey
1/4 cup maple syrup
6 medjool dates, soaked for 1 hour
1/3 cup raisins, soaked for 1 hour
1 tsp pure vanilla
If you have a great high speed blender pulse everything in that until smooth and creamy (no chunks  My blender isn't great so I ran everything through the food processor first and then transferred to the blender

Spoon about 1/4 cup of batter for each pancake onto dehydrator sheets and spread out into a normal pancake size
Dehydrate at 105 degrees for 12-14 hours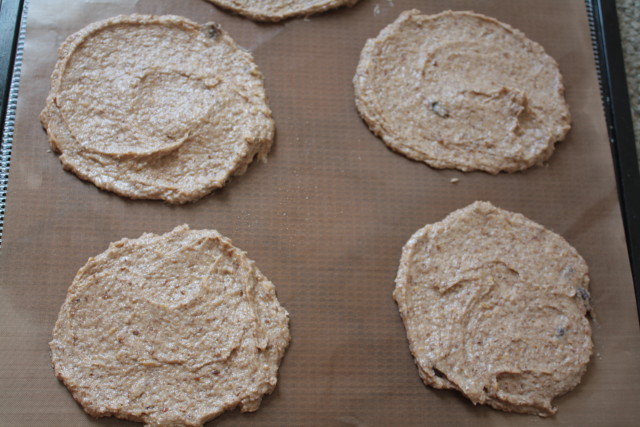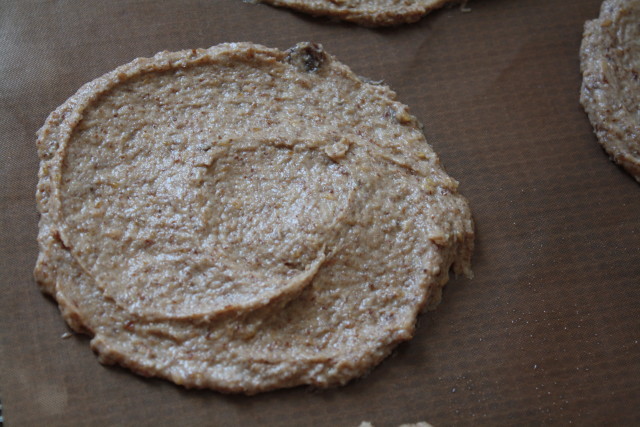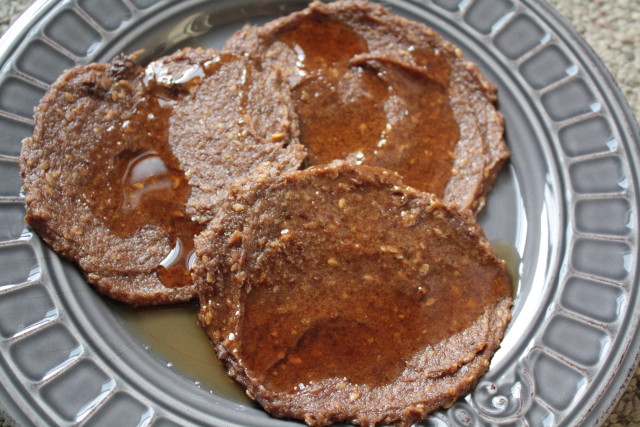 Related posts: