So pumped for a new yummy kale salad that almost tastes like candy!
If you hadn't heard already, when I'm strapped for raw recipes ideas, I usually find inspiration on Instagram or Rawmazing. And this recipe was actually a little of both.
I saw a pic of IG of a kale salad with almonds, pomegranate seeds and cranberries and its looked heavenly. I had a bunch of peaches laying around, and considering I never have pomegranates, decided to sub those instead. I added ribboned carrots and pecans with the cranberries and had a super sweet, delicious kale salad….but no dressing.
So I referenced Rawmazing and saw that she actually had almost the exact same salad on her site with a maple miso dressing. I had just invested in miso for the first time last week, with not many uses in mind for it. And here it was! The dressing pairs so beautifully with this salad and it's become my latest favorite.
1 bunch curly kale, de stemmed and torn into pieces
1 chopped dried cranberries
1 1/2 cups chopped raw pecans
2 carrots, peeled into ribbons
1-2 peaches, peeled and cubed
DRESSING
2 tbsp olive oil
3 tbsp maple syrup
1 tbsp miso (we used brown rice)
Sea salt and black pepper to taste
Toss all salad ingredients together

Whisk together dressing ingredients
Massage dressing into kale salad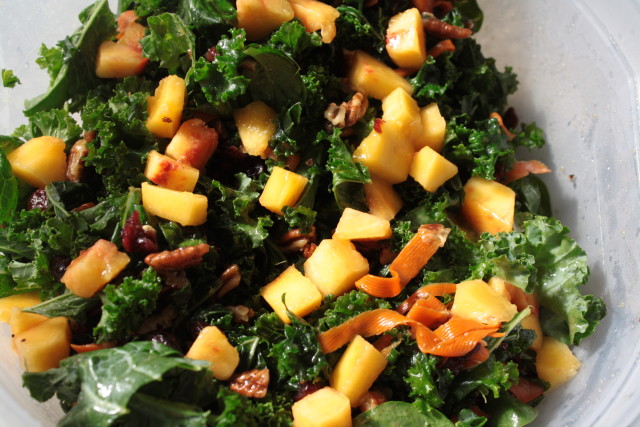 Related posts: