ANOTHER event update. You must be sick of them by now!
But hey, at least this one DOES include some yummy recipes!
I had an AWESOME time over the weekend at Johnson Compounding  & Wellness's Customer Appreciation Day. It was the 5th time I've presented vegan demos at their open house and I have so much fun every time. Lots of students come visit me, along with others I've met over the years and people who frequent Johnson's to see me. People ask great questions and I always leave with a huge smile on my face. This year was packed and we flew through so much delicious food in just a short period of time, which included my date caramel truffles, orange pineapple smoothies and carrot cake bites and brownie granola bars. The carrot cake bites and brownie bars recipes aren't in my archives-I make them SO much but never got around to posting recipes. So enjoy the recipes for BOTH of them and make sure to come see us at Johnson's next time around!
Carrot Cake Bites with Cinnamon Cashew Icing
3 cups gluten free rolled oats 
1 1/2 cups almond or peanut butter 
1 1/2 cups grated carrots 
2/3 cup raisins                                  
1/3 cup chopped pecans 
1/3 cup chopped walnuts 
2 tbsp ground flax or chia 
6 tbsp honey or maple syrup 
1 tsp cinnamon 
Dash of nutmeg 
CASHEW ICING
1 cup soaked cashews
1/2 cup coconut milk
2 tbsp maple syrup
1 tsp pure vanilla
Mix together oats, pecans, walnuts and flax/chia
Stir in peanut butter, honey and cinnamon until well combined
Fold in carrots and raisins until well mixed
Roll into golf ball sized bites and lay on a parchment paper lined baking sheet and let set in the fridge for a half hour
For the cashew drizzle, blend all ingredients together in a blender until creamy and pour over carrot bites once settled
CHOCOLATE BROWNIE GRANOLA BARS
1 1/2 cups rolled oats
1/2 cup raw almonds, chopped
1/2 cup raw pecans, chopped
1/4 cup quinoa
1 cup raw walnuts
2 cups dates, soaked in warm water for 10 minutes
3/4 cup raw cacao powder
1/4 cup almond or peanut butter
1/4 cup maple syrup
Preheat oven to 350 degrees
Lay oats, almonds, pecan and quinoa on a baking sheet and toast at 350 degrees for 10 minutes
In a food processor, pulse walnuts until a fine meal is formed
Remove, then add dates and cacao powder to processor and pulse until a dough is formed
Add walnuts back in and keep pulsing until a dark brownie mixture is formed
Remove from processor and stir brownie mix together with oat mixture (use your hands to get everything well incorporated)
Heat maple syrup and almond butter in a saucepan over medium heat for a few minutes, until melted
Add into brownie mix and use your hands to continue mixing
Press into 8X8 baking pan lined with parchment paper and let set in the fridge for 30 minutes to set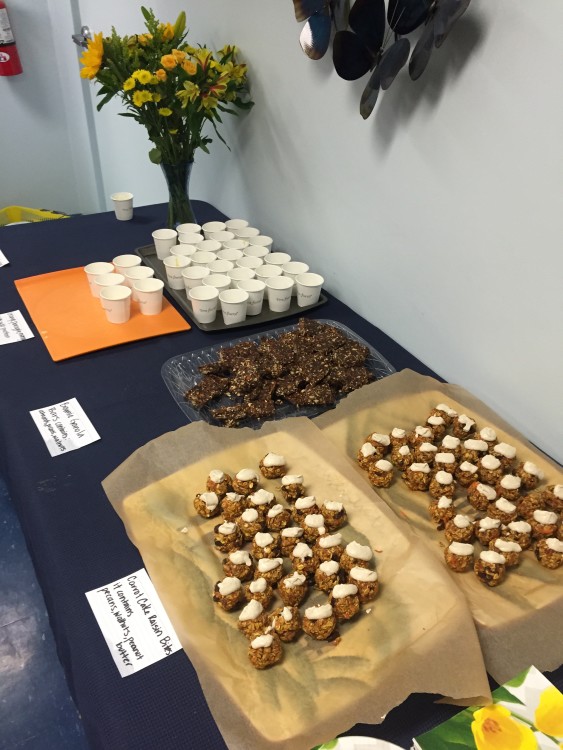 Related posts: