Because it's legit, one of the best ever.
Making new plant-based friends in Boulder is always my favorite. It isn't the MOST vegan-friendly city in the country, and so I'm always super excited to try local, small business owners who are cranking out delicious dairy-free food and treats. 
And Best One Yet is probably the sweetest I've come across thus far. Both the product itself and the woman behind the business.
Toting lots of delicious, decadent, gluten free and coconut-based ice creams out of a cute little vespa, Helen Williams has created some of the tastiest vegan ice cream I've ever had. And with minimal ingredients, because for the most part, I only seem to find non-dairy ice creams with a longgggg list of sketchy additives. Best One Yet is primarily based of coconut and organic cane sugar, and most are peanut-free and soy-free, to boot. She's got a rotating list of unique and seasonal flavors like Pumpkin Maple Pecan, It's My GF Birthday Cake, Rocky Mountain Road and Barry White's Chocolate Peanut Butter, among others. How does one even go about choosing from such delicious flavors?! You best bet is to get one of each. You won't regret it, I promise!
Helen is my favorite type of vegan-she leads by example. I pride myself on NOT being an overwhelming preachy vegan, who shames others for their dietary choices. Instead, I give people dope vegan food and convince them that plant-based food can be totally amazing. And Helen is also a shining example of that, too-providing the locals, with ice cream you would never even KNOW is vegan and letting the goods speak for themselves
I originally saw Best One Yet advertised at Rayback Collective which is my favorite go-to spot here in Boulder and a great place to sample food trucks, coffee and kombuchas. Add this vegan ice cream to the list, and I can pretty much live at Rayback at this point. You can also find these pints at places like Nooch in Denver, Lolita's in Boulder and at multiple farmer's markets and breweries come the spring!
Now…the important part. The flavors I've actually tried! I was luck enough to get my hands on the birthday cake version, the pumpkin maple and the banana walnut. Check 'em out below!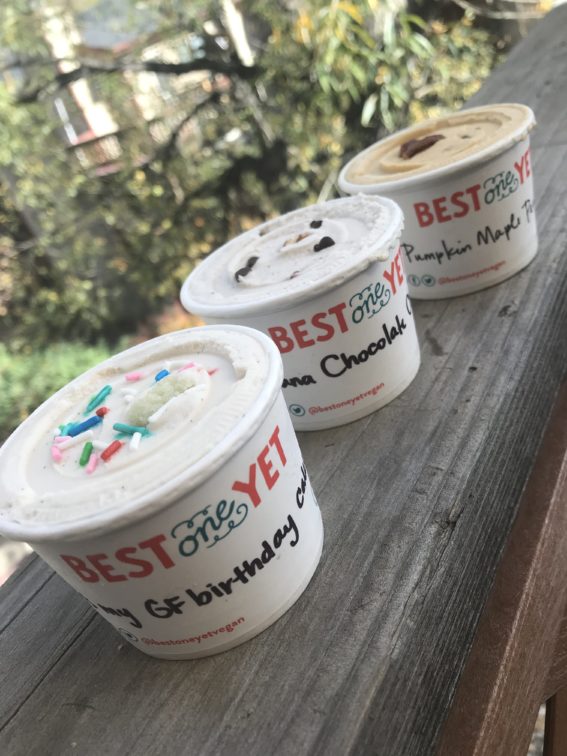 It's My GF Birthday Cake
Who doesn't love a good, classic vanilla birthday cake ice cream? Talk about nostalgia. This rainbow sprinkle adorned vanilla cake batter ice cream is loaded with chunks of gluten-free cake and tastes perfectly sweet! I expect most sugary-sounding flavors to be too much for me and have a fake vanilla undertone. This tastes like a homemade cake my mom used to make when I was growing up. Except obviously way healthier. I ate this one, straight-up, and right out of the container from breakfast one morning. No regrets-and even better, no stomachache like I usually get from vegan ice cream 🙂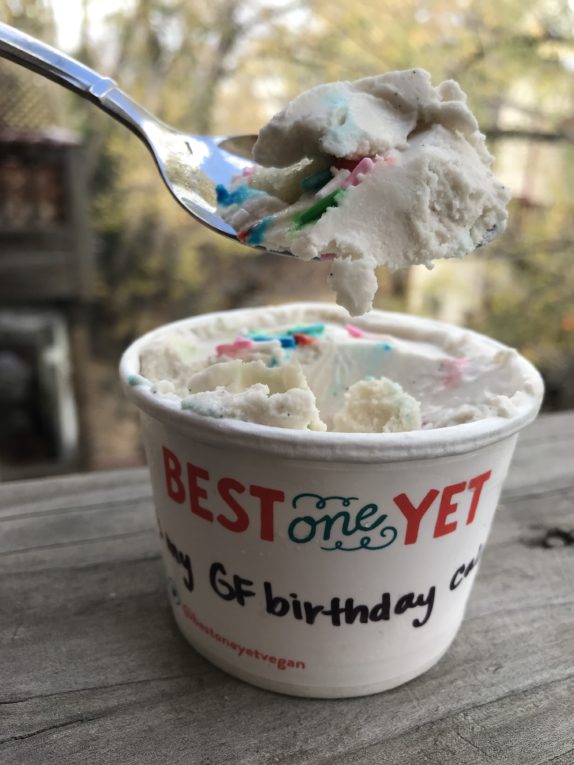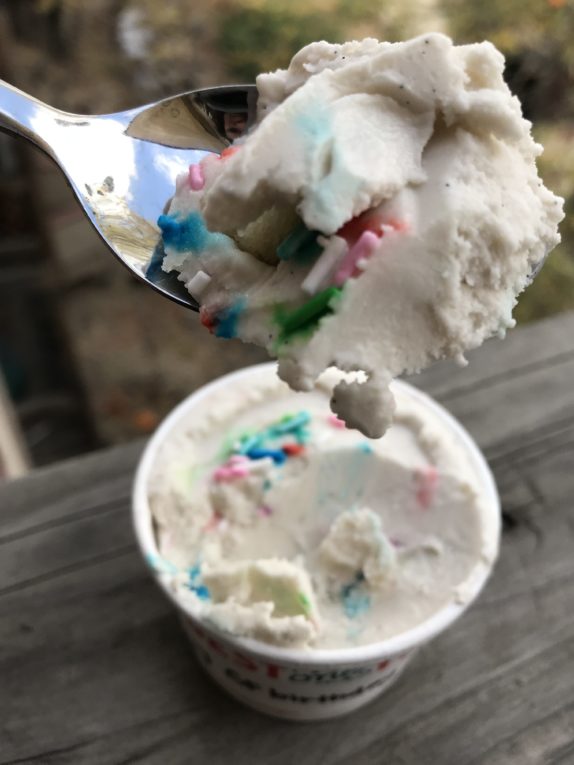 Pumpkin Maple Pecan
I ate this super seasonal flavor on Halloween night and totally regret not grabbing a pint for Thanksgiving! The pumpkin and pecan flavor would have made it ideal on top of a warm sweet potato pie or on apple crisp. The mega chunks of pecans, was personally, my favorite part. The spice factor is a little high for me, but if you REALLY love pumpkin spice, then this is the flavor for you. I ended up topping this one with some banana maple granola I made and I actually think the added sweetness made it a lot tastier for my palette and I gobbled it up. Plus, it's even healthier with granola…right? RIGHT.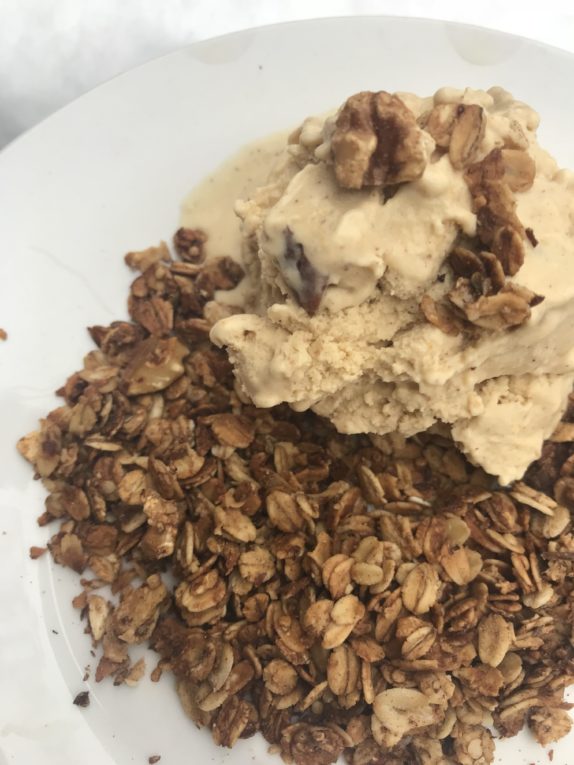 Banana Chocolate Chip
I also added my own twist to this one, to make it even more epic. I recently received a bunch of protein-rich peanut butter spreads from Hank's and thought it would combine beautifully with this banana chocolate chip version…and oh man, was I right. Peanut butter and banana go together even better then peanut butter and jelly, in my opinion, and this ice cream mix proves it. The creamy vanilla base, with the addition of chocolate chips, banana and the coconut peanut butter spread from Hank's made for an incredibly luxurious dessert, I could eat over and over again.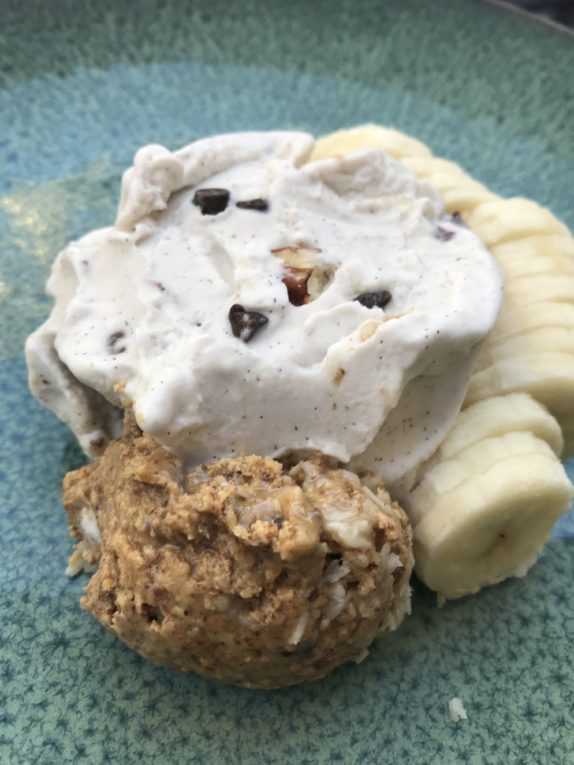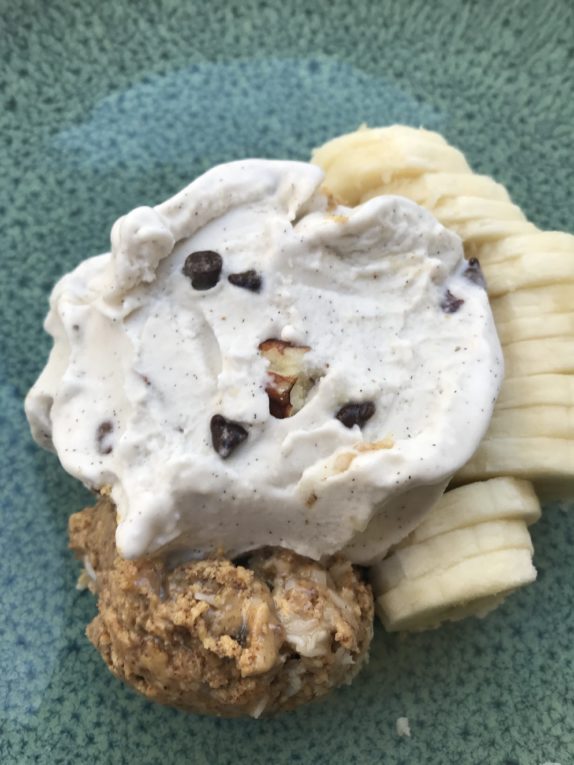 Check out Best One Yet for all their rotating flavors and availability at local spots!
Instagram: @bestoneyetvegan
Twitter: @bestoneyetvegan
Facebook: BestOneYetVegan
Related posts: